December 9, 2012 - 2:56pm
Stollen from Santa Claus!
I am posting for this for my creative sister Barbra.
Santa Claus made an early delivery because the Stollens from last month are but a memory. Since there was no time to really age the more traditional type, they are from the easy recipe from Good Housekeeping archives.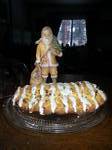 Greedybread has inspired two more breads for this week plus our Chanukah challenge of Yeast Raised Donuts. Looks like a great floury week coming up!
Happy Holiday Baking to you all!
Diane (Barbra's apprentice)