November 30, 2012 - 10:28am
100% Whole Sprouted Wheat Loaf
I stumbled on an unfamiliar flour at a Wholefoods before Thanksgiving:  One Degree Organic Foods (ODOF) Sprouted Whole Wheat Flour (Disclaimer: I have no affiliation with ODOF and am just a new and satisfied customer).  I was intrigued by the "sprouted" part, impressed with the packaging and bought a 5# bag to try for a couple of our weekly 100% WW sandwich bread (Reinhart) bakes.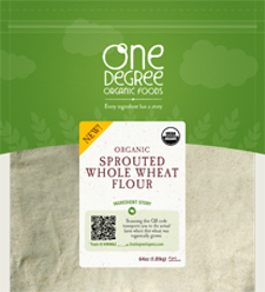 Here's the email I received from my wife (a 100% whole wheat bread aficionado-connoisseur) at lunchtime the other day:
Subject: we have a problem....

.....we need to go back to a Wholefoods ...soon!  That latest WW bread you made is fantastic!  Really, really tasty.....
Made my day. 
As I was setting up that bake however, I was disappointed to find that, even though ODOF's slogan is, "Every ingredient has a story", nowhere on their ziploc re-sealable packaging did it indicate whether the contents was hard or soft wheat, spring or winter, white or red (although I could see through the package it was red), or what "sprouted" actually meant in terms of the process (where on the continuum of tempering -->-- malting?), besides its claimed nutritional benefits.  The flour is quite fine (I'm NOT going to sieve it :-), smells very fresh and works up nicely at PR's 73% hydration.  It turns out that "The (ingredient) Story" refers more ODOF's invitation that the customer scan a QR code on the package to ID the farm(er) from which(whom) the contents originated (like meats @ Marks & Spencer Food Halls that give the stock/poultryman's name -- v. reassuring).  I emailed ODOF to comment on this disconnect between the ingredients' touted "story" and the missing hard/soft/spring/winter/etc. on the packaging.  I very promptly received the following generous reply from Danny Houghton, VP of Marketing & Sales @ ODOF (that he subsequently approved of my sharing on TFL):
Our process starts with Organic Hard Red Spring Wheat.The reason that we choose to go to the work of documenting the farm and showing you, as a customer, exactly who is growing the organic ingredients we sell is to engender a level of trust in the food that we're selling. My guess is that the wheat milled into the flour you bought was from organic farmer Roy Brewin in Taber, Alberta. Chances that other organic whole wheat flours next to ours on the shelf might originate in China, where organic certifications are rather suspect and handed out to the highest bidder. The narrative of the farmer that we share with you can build confidence that the One Degree products you buy are sourced in North America, where our organic standards guarantee that you're getting a quality product. If we have to go outside of North America to source, we show you exactly who and where those products come from, and do an on-site inspection visit to ensure that their organic crops are safely grown.

Once we purchase the hard red spring wheat from a farmer (in your case, Roy Brewin), it goes through our sprouting process, which involves a series of 5 washes and a soaking time of approximately 32 hours (varies a bit depending on the nature of the wheat crop). This washing process eliminates many of the dusts and molds that often cause allergic reactions for end consumers, and releases a burst of vitamins and minerals that make the sprouted grains more nutritious. Complex sugars are also reduced to simpler compounds that make the grains easier to digest, and the level of phytic acid, known to bind to natural minerals and eliminate them from the body, drops significantly, allowing your body more time to absorb those nutrients.

Once the sprouting is complete, we gently dry the grains down and then mill them into flour. Temperatures in the drying process are always kept below 104 degrees Fahrenheit to ensure that all of the nutrients generated in the sprouting process are retained before milling. When milling, no germ or any other part of the resulting flour is removed, ensuring that the end user receives all of the nutritional benefits inherent in the product.

You had asked about how our sprouting process differs from malting. While we're bakers and not brewers, I think the difference probably lies in the type of grain used, the amount of time its allowed to soak, and the additives (like yeast) used during and after the sprouting process is complete.
He went on to say they are a small start-up and appreciate customer feedback, etc.  And was anxious to know how my bread turned out (it was fermenting at the time).

I don't recall what the 5# bag cost, but I'm sure it's up there with the more expensive wheat flours on the shelf, though not off the charts like the specialty flours at W-S, D&dL or other high-end victual purveyors.  And in ODOF's case, I paid for business practices I consider worth supporting.

I'll definitely look for more of this flour on our next visit to a Wholefoods.

Happy Baking!

Tom