November 26, 2012 - 1:38pm
ITJB FR Week 10 - Pumpernickel pg. 69 / plus a Rye to honor Eric!
We 3 gmas baked quite a challenge today... it all started with the scheduled Pumpernickel bake and went on to braid in the Rye bread bake to honor Eric Hanner... and then there was dabrownman's Chacon challenge... so we multi-tasking grammas decided if you can do one at a time... why not all three at once!!! We could probably answer that question now that the day is over... but what a fun day it was... I am going to "twist" the pictures in this presentation so as to give you more of the chronology of the day, rather than she did, she did, I did... as I usually do...  Here are the doughs we created.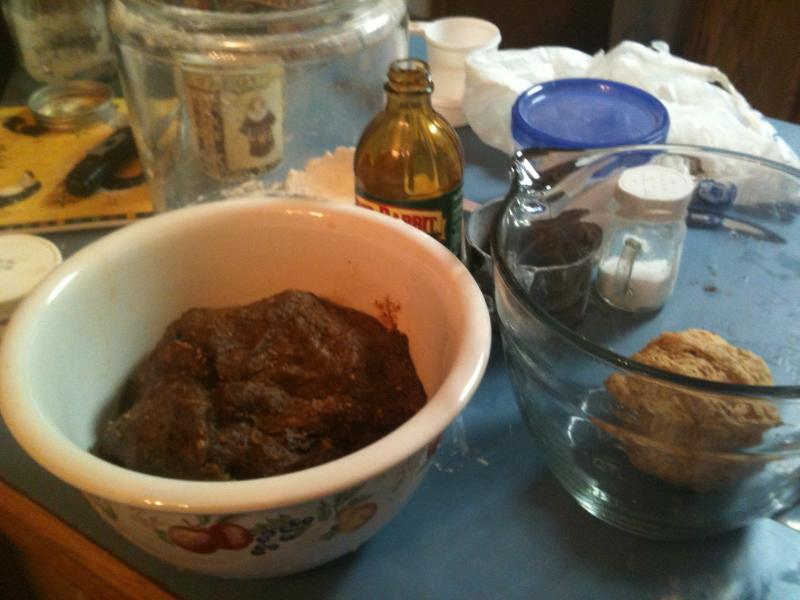 These are Barb's doughs. She used a powdered caramel color and made her pumpernickel really dark. Looks so good and rich.
Next comes Helen's doughs pumpernickel with caramel color ITJB pg. 81 and a light rye.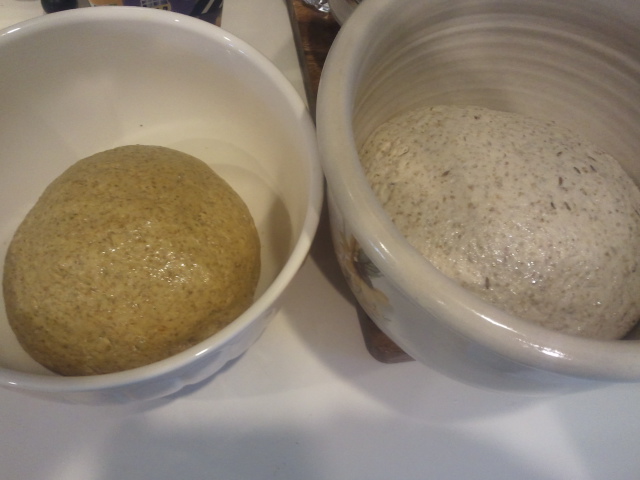 the light rye matches the bowl so well it is a mystery shot... look closely, and you can see where the dough ends and the bowl begins.  
My dough is a pumpernickel, which srangely is the light dough, lighter caramel color...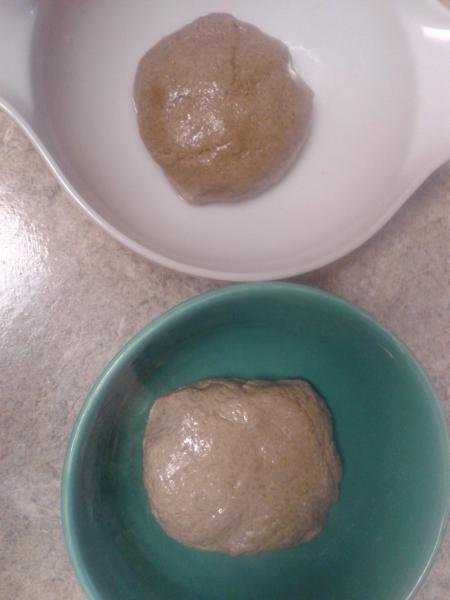 the dark is a "German Dark Rye" ... still holding with the contrasting colors... just doing it differently.
Now the proofing and shaping starts... here is Barb's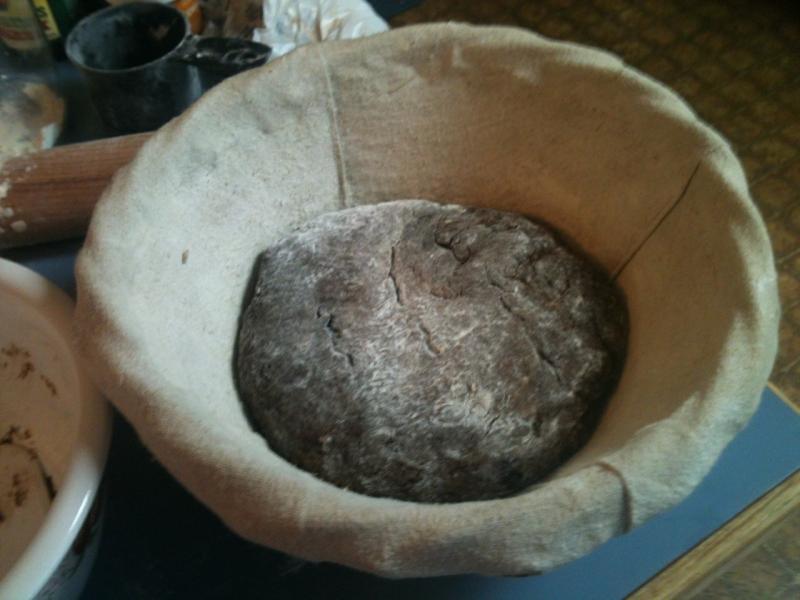 pumpernickel in he brotform first and then topped with nine rolls to represent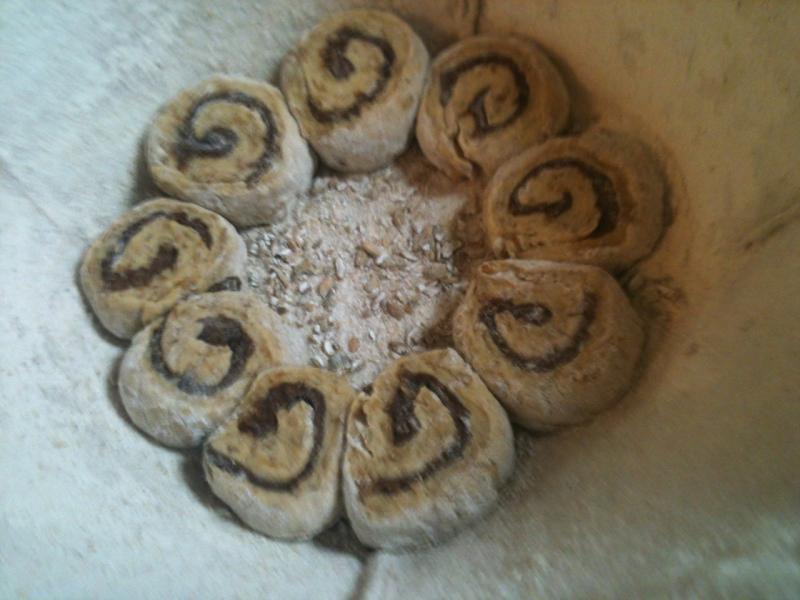 each of her grandchildren...   the jewels in her earthly crown, and the joy of her heart.  She said there is room in the center for more grandkids, but I am not spreading the word!!! LOL
Next are Helen's most amazing braids... if ya'll need your breads braided send em to my sister.  The double knot in the center is great too.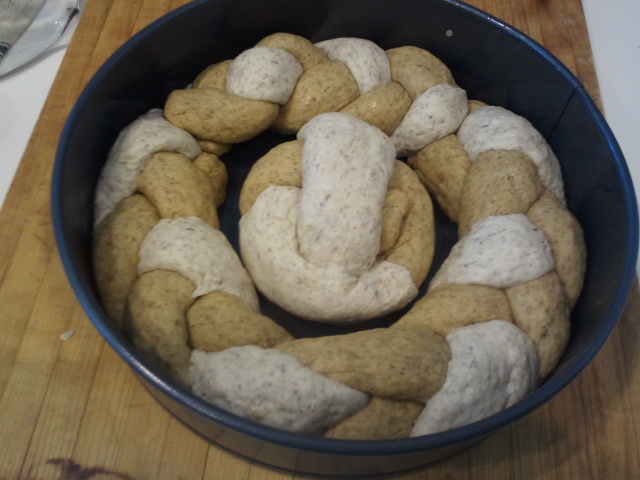 These are my braids. They really stetched and moved a bit while braiding... but I DID get them in the pan! As with last weeks bake it explains why my girls wore their hair short as children.   ;-)
Below is Barb's finished loaf... and those grandkids are looking really awesome!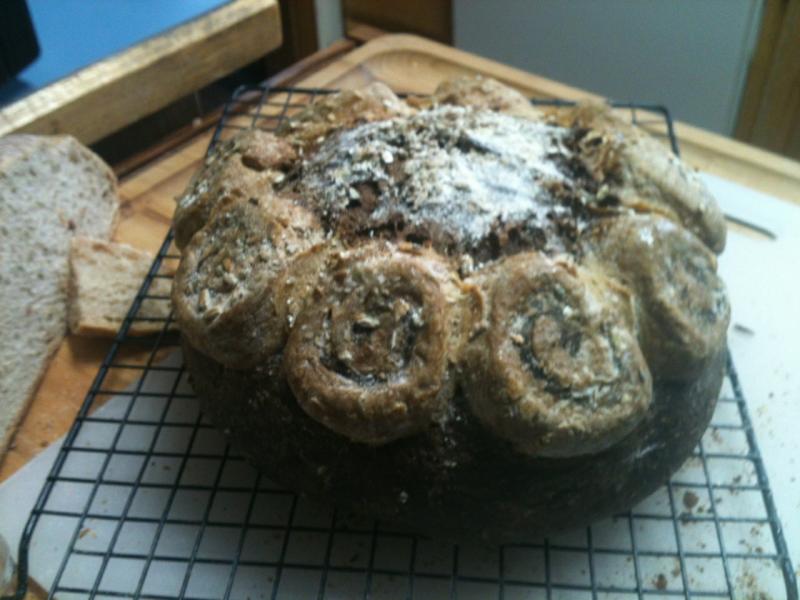 Here is an update... with Barb's crumb shot... good thing she left room in the middle... heard she is inheriting two new great-grandsons in 2013 and a new granddaughter-in-law...
Do you think she suspected?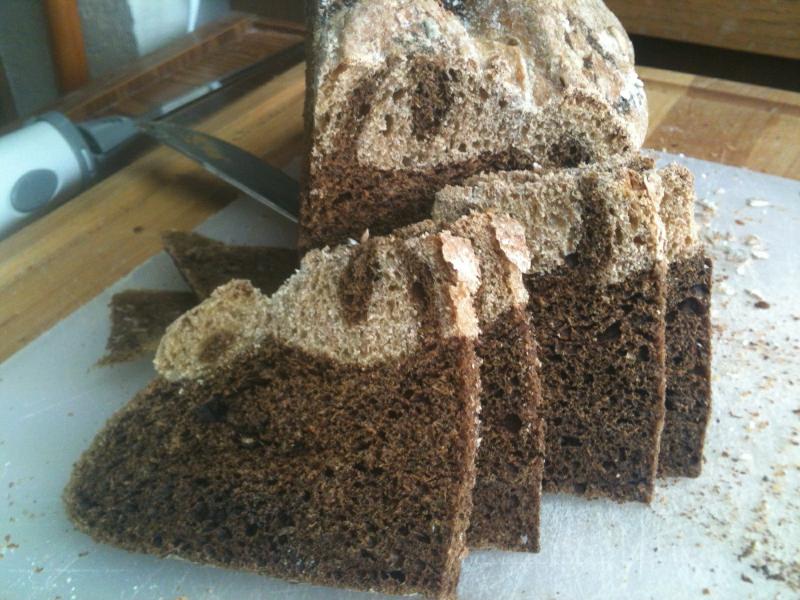 Helen's finished loaf is very nice too... it looks like it has a really spectacular texture and shine.
Quoting Helen; "This was a fun bake. You can't quite see that it was a braid of light rye and pumpernickel around a giant double knot of light rye and pumpernickel. It was nice to use the skills we have learned in previous challenges. I will definetly make this bread again!"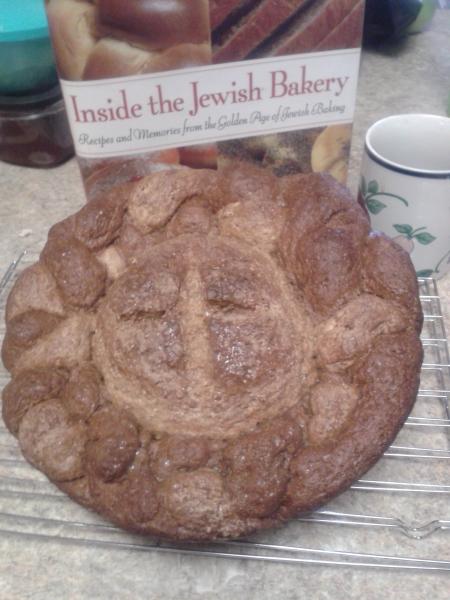 We close with my loaf -  the crust is chewy and thick and the taste is very nice...  We really enjoyed the creative-ness of this week's challenge. We had a great time together thanks to modern technology, phones, texts, emails;  we shared the day... as we shared the week of planning leading to it. 
I am a sweet foodie... and really looking forward to next week's bake... BOWTIES, on page 237. .. See you here for the sweet stuff!
Bake on! Diane