November 12, 2012 - 10:36pm
Today, I baked. I baked a no-knead loaf, a sourdough loaf, and batch of Hamelman's Cinnamon Raisin Oatmeal bread.
Something else exciting I worked on this weekend...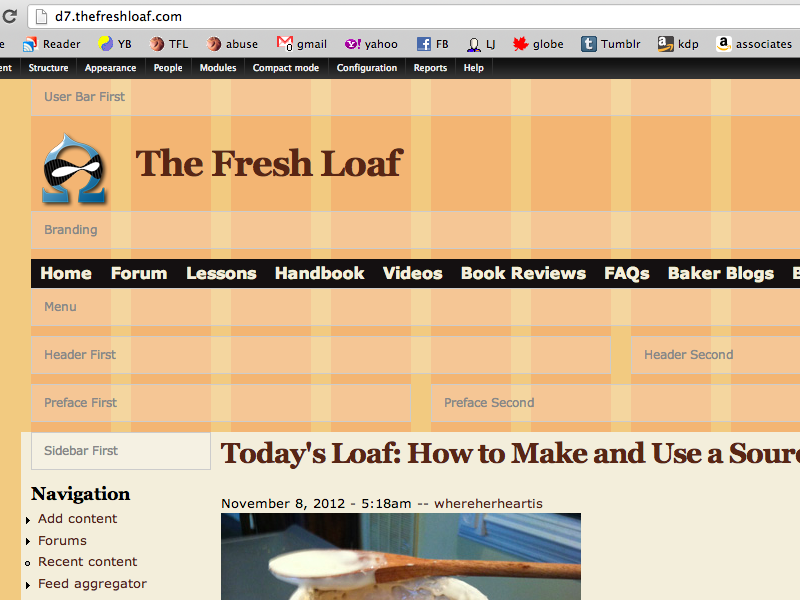 That doesn't look like much, but it is early stages of porting TFL to Drupal 7, the newest version of the CMS that powers this site.  Drupallers will recognize the Omega theme at play here, which is a responsive theme that will make the site render well on mobile devices like cell phones and tablet computers.  There is still a lot of work to do but I'm excited to finally be started on it.  
Community members have no need to worry.  My hope is to keep the site behavior as familiar as possible, though if I could make things like image handling a bit simpler that would be a big plus.  I will also give folks a chance to try it and give me feedback before I roll anything new out.  And it is still going to be a while... my best guess would be January or February, after the holiday craziness is behind us.
That's about it.  Vancouver has been lovely this fall.  If you care to see pictures of the places we've been exploring, you can do so here in our Vancouver blog.
-F