November 5, 2012 - 2:36pm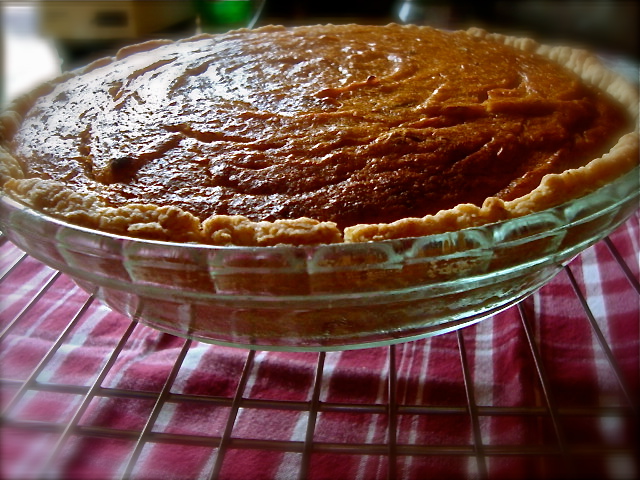 I baked this pie early in October, because it's our very favorite pie anytime of the year...especially when the yams 'Garnet' perfered, are good and heavy with their rich fresh tasty yummieness.
Looking at txfarmers lovely custard pie has encouraged me to post this recipe to share for this 'pie season' and hope some of you might enjoy it for the coming holidays as much as we do. 
To say this is our favorite pie is a bit of an understatement...In the South this pie is often eaten along with the meat course, but obviously can be served as dessert.
An Old Southern Recipe - Matilda's Sweet Potato Pie - revised
4 medium- size Garnet Yams - About 2 lbs. -
'Baked' rather than boiled - to bring out the sweetness even more.  Cool and slip the peels off
1/2 Cup of Butter - softened
2 Cups of Sugar
4 Eggs - 
1 teaspoon cinnamon
1/2 teaspoon cloves -  You may wish to adjust the spices to your taste.. but remember..this is not pumpkin pie spices..extra clove is a good thing.
1 teaspoon vanilla
1 Cup of Buttermilk ---- yum, yum
1/2 teaspoon baking soda (added to the buttermilk)  
2 unbaked 9 inch- pastry shells or 12 three-inch tart shells
Whipping cream (optional)
Prepare your pie crust and place it into your  pie pan  'I prefer glass 'amber or clear' pie dish' for my pies.  Refrigerate until filling is completed.  
1.  Whirl your cooled, skinned, baked yams in a blender, food processor or mixer just until smooth.
2. Add remaing ingredients (not the pastry) mix until combined and pour into your pastry shell.
3. Baked in a pre-heated hot oven... I set mine for 425F..place my pie onto a parchment lined cookie sheet..on the bottom of the oven.  Cover my pie crust rim with foil or pie rim cover..put it in the oven..bake for 15 minutes..move to a lower shelf..reduce the oven to 350 and bake until center is nearly firm..test with a wooden skew for doneness.  Bake aproximately 40 minutes to an hour..depending upon how thick my filling is in my shell.  Removing the crust cover the last 10 minutes apx. of baking time.
Remember and 'watch and test' rather than clock your pie/crust for doneness.  The top should just begin to brown and feels firm to the touch.
Serve warm or cold with a dollop of sweetened whipped cream.
Serves 12 apx.
Note:  This pie freezes very successfully.
Happy Holiday Baking!
Sylvia