October 27, 2012 - 3:36pm
Pulla, Finnish coffee bread
Pulla, or Nisu as it is known by some Americans of Finnish extraction is my all time favourite sweet bread and has been all of my life.  The recipe I still have in my file was hand written by my mother, from my granny's original recipe.  I have loved this bread as long as I can remember --  back to my grandmother's lap!
I won't post the recipe here as a search of this site turned up identical, authentic recipes.   These loaves are great with coffee or tea for breakfast.  I particularly like a cafe con leche, or a spanish expresso shot with hot milk!  Both the finished loaves and proofed dough freeze well.  I'm afraid I can't comment on the keeping properties of this bread as it simply disappears before your eyes!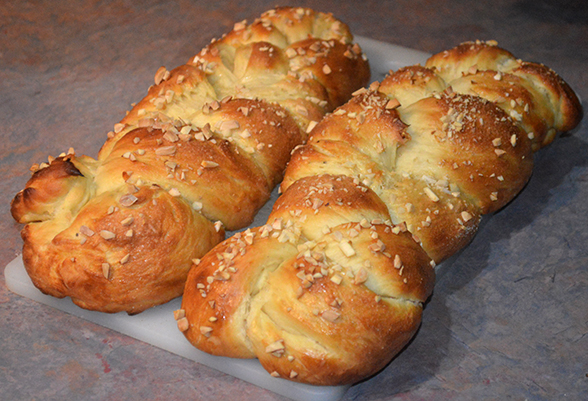 Traditional is an egg glaze and sprinkled, crushed sugar cubes.  The chopped almonds are not traditional, but once I tried it, almonds are now an in-dispensible part of the recipe! 

This recipe makes 3 loaves.  I proofed all 3, baked 2 and froze the third loaf, glaze, almonds and all, wrapped in heavy foil, then in plastic.  The night before baking, the frozen pulla goes onto the counter, resting on parchment and supported by a linen couche, covered with plastic and a towel.  In the morning, bake as usual.  Un-frozen dough, above, ready for the oven  Voila: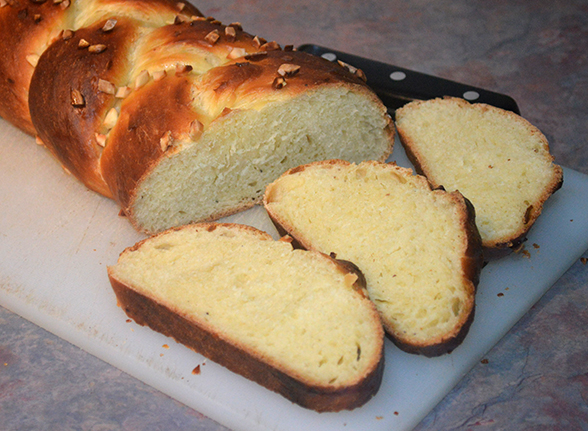 I could not tell the difference between the fresh baked and baked from frozen pulla!  This is an easy recipe and doable by novice bakers on the first try.  Braiding the loaves is not really difficult.  If you can braid hair or rope, you can braid dough . . .
Bake ON TFLoafers!  Brian