My oven setup (fan-only oven)
I have got a very simple fan-only oven (BEKO), and it took me a while figure out how to put it to its best use - with lots of inspiration from TFL.
This is how I bake my bread:
Usually use an oven stone and a metal baking sheet.
You can see the backplate of the oven cavity in the picture below - the shelf positions and the hot air outlets are highlighted: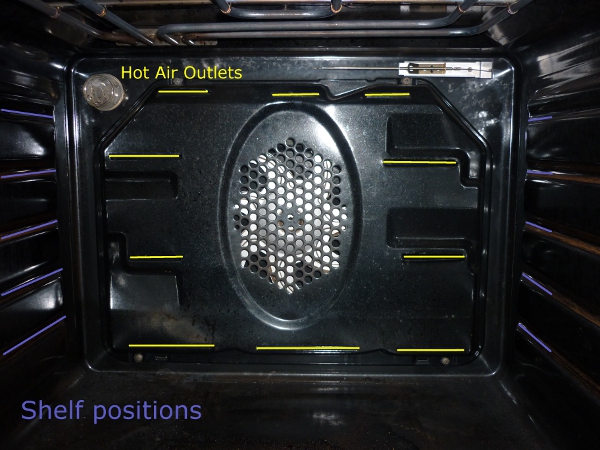 I noticed that airflow changes a lot when loading the oven in different ways - it is not always the bit nearest to an outlet that gets burnt first!
I am now using 2 basic setups that work well. In both scenarios I have a small pan on the oven floor into which I pour boiling water (about 1/4 cup) once the oven has been loaded. The oven keeps moisture very well, and using more water cools it down too much.
Scenario 1: For a batch of 4 X 500g boules or 2X 800g boules or up to 6X 500g tins: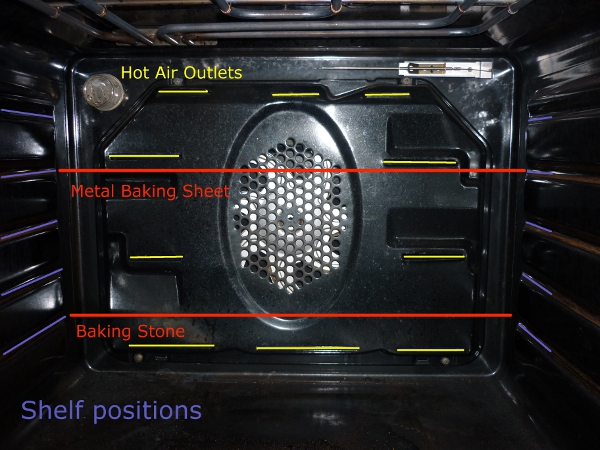 The baking stone receives a lot of heat from below and stays hot during the bake. The side of the boules facing the backplate gets more heat.
Therefore after 10 minutes I shuffle the breads around: turning them 180 deg. and sqapping the loaves on the stone with the loaves on the baking sheet. Usually I turn down the temperature at this point and bake for another 20 minutes. The bottoms of the loaves that started on the baking sheet might still be3 weak after that, so I usually turn those loaves over and bake them for 5 more minutes.
Scenario 2: For a batch of 1 X 100g or 2 X 500g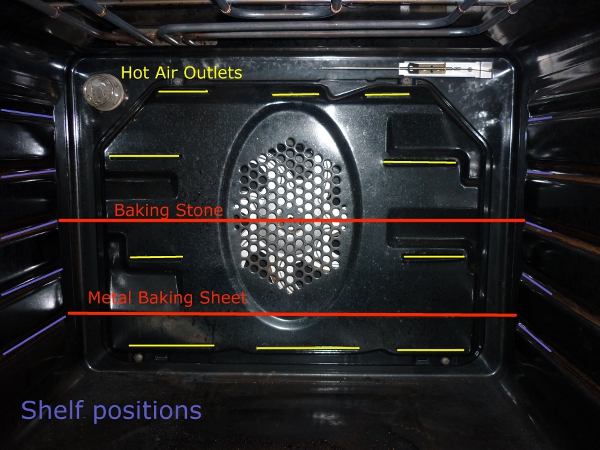 I place the loaf (loaves) on the baking stone, and rotate them after 10 minutes.
The baking sheet helps distributing the hot air and helps getting a more consistent bake.
I hope this might be helpful,
Juergen