September 23, 2012 - 11:54am
I had hand surgery on both hands this year and for a while I couldn't hold/grab much. Thankfully, the surgeries were not simultaneous so I always had 1 useable (tho weak) hand. I didn't know how I'd live without my fresh bread and kneading and scooping out dough was going to be impossible, even with a KA mixer. Good thing I discovered batter bread.I could tilt the bowl over the sink and pour and scrape the batter outso it fell into the pan in the sink under it. The crumb is not my favorite as it is a different texture but the flavor was good and the technique worked easily. Here is the recipe I used and some pics. I hope the format sticks:
BATTER BREAD- SINGLE LOAF -WHOLE WHEAT 
 

INGREDIENT

 

 

VOLUME

 

WEIGHT

 

 

WATER-WARM

1 ¾ C

386g

 

 

WHOLE WHEAT FLOUR

2 C

265g

 

 

GROUND FLAX

2 TBSP

12g

 

 

RYE FLOUR

2 TBSP

14g

 

 

INSTANT YEAST

1/8 TSP

pinch

 

 or 2 tbsp starter
The best flavor is when you make a preferment overnight. The starter (125% hydration-batter consistency) is used in adjunct with yeast to raise this loaf.
Mix well-BEAT FOR 2 MINUTES.
Let sit at room temperature 2-12 hours as a preferment.
Mix in with just a few strokes:
 Then add:
| | | | | |
| --- | --- | --- | --- | --- |
| HONEY | 2 TBSP | 60g |   |   |
| OIL | 2TBSP | 28g |   |   |
| SALT | 1 TSP | 8g | Increase to 12g |   |
 Then add:
 Cover and let rise to double.
Stir down with a brief mix (25 strokes by hand)
Pour into a greased 9x5x3 inch loaf pan
Cover loosely-let rise til at the top of the pan-it will deflate easily!
Preheat the oven to 400 degrees F
Bake at 400 degrees F for 15 minutes then decrease temp to 350 for 45 minutes
Remove from pan and cool completely on wire rack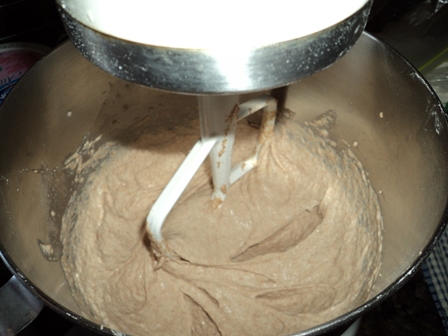 This (above)is what it looks like mixed-cake batter-not much gluten noticeable.
I didn't have a pic of the full rise but here it is stirred down-gluten much more noticeable in how the dough pulls into lines.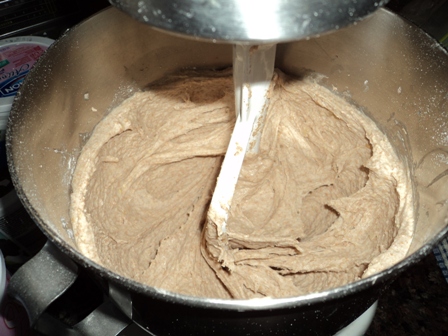 There is the pan with the dough in it-I had only very painful use of my left thumb and pointer finger and limited use of the middle to ring finger. It made life interesting.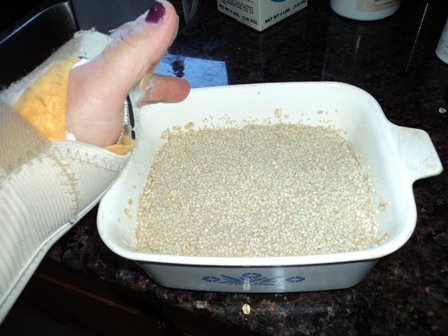 Full rise.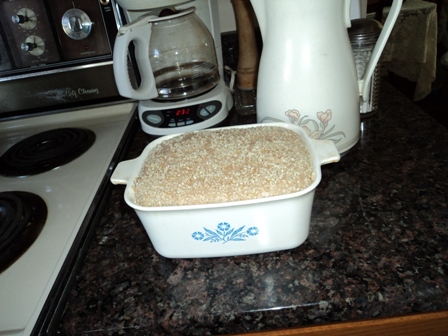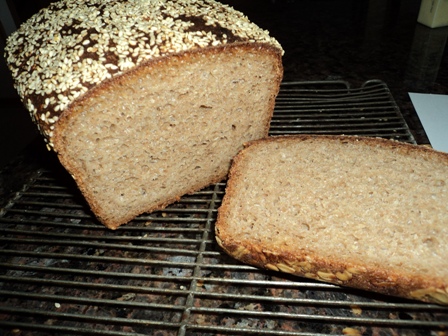 And since we have Breakfast Bread for breakfast every morning, I did a variation of Breakfast Bread using the same base and the raisins,craisins,walnut and spices I use for that bread.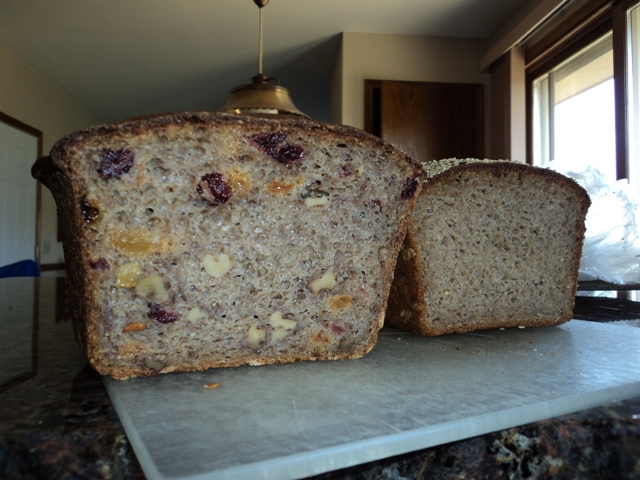 Enjoy!