September 16, 2012 - 7:04pm
Hey Everybody,
Well guess what?  Buddy of mine and TFL member Bob (TFL screen name bobkay1022) made a guest appearance at The Back Home Bakery this week.  Just in case you aren't familiar with Bob, both he and his wife of 41 years primarily reside in Arizona, but spend much of the year traveling the U.S. in their motorhome.  Although he bakes at home in Arizona, he has also baked during his travels using a convection microwave in his motorhome.  Bob and I have corresponded quite a bit in the last few years having first become aquainted with each other here on TFL.  As I knew he would be in the northwest part of this country sometime this summer, I extended an open invitation for him to visit should he make it to the Flathead Valley.
Anyway, they rolled in to the area on Friday morning and were invited to join us at 1:00 AM for a Saturday morning session getting ready for the Kalispell Farmers' Market.  Bob heartily accepted the invitation while his wife thought better and instead decided to decline.  Bob will also be joining me on Tuesday morning to get his hands in some dough and help prepare for the Whitefish Farmers' Market. 
Here's a couple of photos of us on Saturday.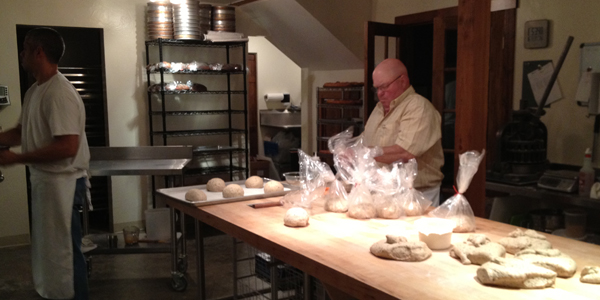 Bob packages up some pizza dough for the market.  'Take-and-Bake' pizza dough is now one of our biggest sellers!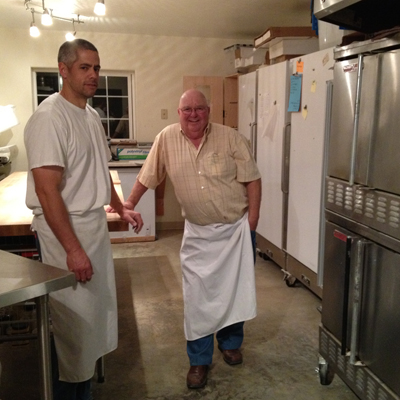 Here we are striking a pose while we should probably be working.