September 11, 2012 - 3:18pm
I tried Jason's Quick Cocodrillo Ciabatta on the weekend and was less than impressed with my result.  The loaf spread out rather than sprang and I suspect insufficient gluten development.  My previous bake at the same hydration turned out great, but had both dairy and honey as part of the liquids.  I want to nail a proper ciabatta, so decided to make some changes to Jason's basic recipe.  First I used half whole buttermilk in the liquid, reduced the amount of semolina and as I don't have a lot of experience working with very wet doughs, cut the hydration to 85% and cut the recipe in half, so I can bake a loaf a day and get the hang of things.
My procedure was to mix all but the salt and instantant yeast until combined, then autolyse for 20 minutes, pouring 1/2 tablespoon of olive oil over the dough.  I then added the salt and instant yeast and mixed well for 2 minutes, 5 minute rest followed by a bit of a messy stretch and fold for 2 minutes on an oiled countertop with oiled hands and using an oiled dough scraper to remove the dough from the counter.  After a 10 minute rest I began a series of 4 stretch and folds with 10 minutes rest as per PR in ABED.  After the fourth fold, I let the dough bulk ferment for 1:15 or so and then a final stretch and fold.  After 1 hour on the counter the dough went into the fridge for the night.  I baked in the am after 3 hours out of the fridge and did a very gently letter fold os per PR in BBA and proofed for 45 minutes on a piece of bakers parchment, trimmed closely to the dough and supported by a well floured linen couch, then baked as per hearth baking, steaming using that wonderful towel method.  The result was most satisfying and perhaps the most attractive and tasty loaf I have ever produced, but I say that usually say that after every bake . . .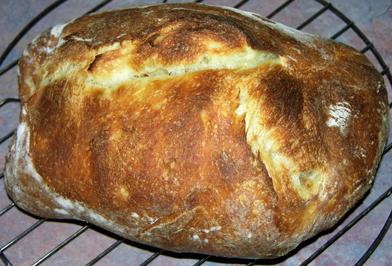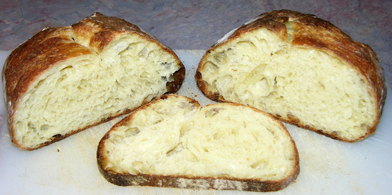 Today, I am mixed the same formula at 90% hydration and had good gluten development after the 2nd fold and excellent windowpane after the final fold following the 1 hour bulk ferment.
I will post the results of the 90% hydration ciabatta after tomorrows bake and mix a 95% version using the same formula.
Formula
50 g durham semolina
200 g strong bread flour
113 g whole buttermilk
100 g water
1 tsp, 8 g salt
1 tsp, 2 - 3 g instant yeast
1/2 Tbs olive oil
Happy baking folks!
Brian