September 10, 2012 - 2:41pm
Hi
Here goes my first attempt at posting a recipe.  Alas I forgot to take any photos of this bread which is not altogether very helpful.  The recipe is also pretty rough and ready but this is a hard bread to get wrong.
For those that aren't familiar with Stottie bread it is a flat bread that originates from the north east of England.  It takes it's name (I assume) from being 'stotted'  (bounced) off the floor of the oven.
Ingredients:
250g ripe starter (@ approx 80%)
200g potato flakes
650g bread flour
16 grams salt
Water ?  I'm sorry I can't be specific I never weigh it.
Method:
Mix potato flakes with paddle attachment and enough cold water to re-hydrate into creamy consistency.
Switch to dough hook and add starter and another cup of water.  Mix to incorporate.  Add flour and salt and mix for a further 2-3 mins at 1st speed.  Then mix for 4-5 mins on 2nd speed until a soft but silky dough is achieved.  Add extra water as required.
Tip dough into an oiled container and retard overnight.
The mix you have the following day will have 'pudged' significantly into an unholy box of gloop.  Allow to return to ambient temperature before spooning ladle fulls of approx 450 g onto a well floured board.  Quickly, using a dough scraper, work the dough into a rough circle before flipping over onto a floured peel.  Speed is of the essence!  Place the dough directly onto the oven floor, pre-heated stone or up turned tray.  Spray the oven and wait approx 8 mins before flipping over.  Cook for a further 8 mins or so until both sides have a gentle brown colour.
I tend to cook these at the end of a bake with the oven temp at around 400 degrees fahrenheit.
Real mashed potatoes can obviously be used but for convenience I use flakes which contain only potato, salt and cream powder.
People tell me they taste great when split, toasted and topped with soft poached eggs.  I personally have never eaten them as I am allergic to milk!  Once things settle down at the bakery and I stop flying by the seat of my pants I will make some with real potatoes, omit the cream, and give them a go.
Sorry for the lack of specifics.
Below are a couple of pics I took this weekend.
Andy- thanks for the pointer re- wood sourcing.  It has been decided though to make a concerted effort at cutting and using the willow that grows on the site.  This may be easier said than done as it has not been touched since being planted 15 years ago!
Thanks to all for the kind comments.
Robert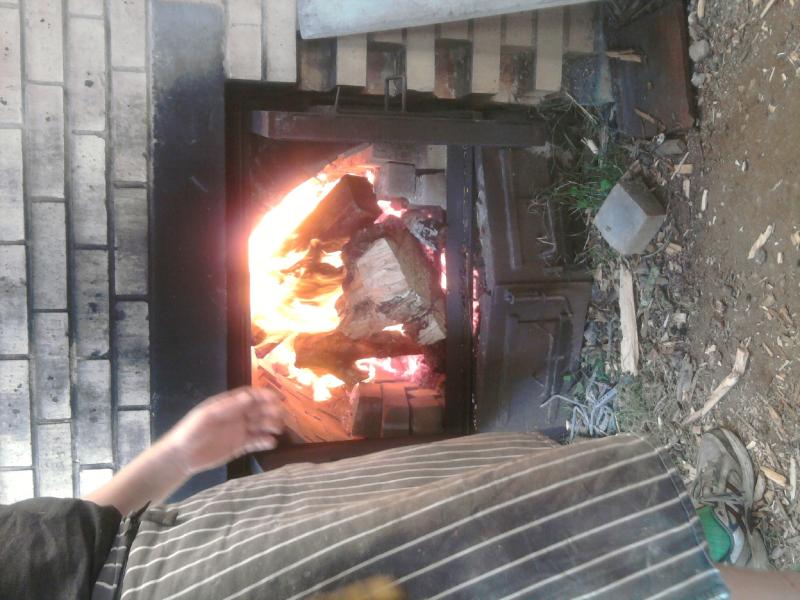 The oven was fired for 10 hours which turned out to be too much.  Most of the bread over proved while I was trying to cool the oven down fromm 800 degrees ft.
Inside the cavern!  I had to give up cooking directly on the oven floor as it is too hard to get all the loaves out from the back- it is 11 feet to the back wall.
1st attempt at croissants and apple/raisin pastries.
PS:
Today was a particularly satisfying day as I handed my notice in at work.  No more wages so this bakery had better work!