September 9, 2012 - 5:02am
Nothing new here, my old favorite: Hamelman's Whole-wheat multigrain.  This time, though, and as I have come to appreciate sourdough preferments, as opposed to yeasted ones; I chose to skip the Instant yeast altogether. I have also chosen a new collection of grains for my hot soaker: Rolled oats, millet, Semolina,  and sunflower seeds.
The initial fermentation took 3 hours, while the final fermentation was  5 hours. I increased the hydration as the dough was stiff, and ended up with an over hydrated dough. To adjust, I added 50-50% whole wheat flour  to bread flour to arrive at a medium to loose hydration. It was wet, still.
The preferment % was reduced as a result of adding more flours to around 9% from 12%.
My Rye Sourdough is dead. I have rushed it once by adding more than comfortable warm water, and since then it seemed to go down the path of demise. Luckily, I can create one easily from my white levain.
For a change, i wanted to bake this bread in a pan.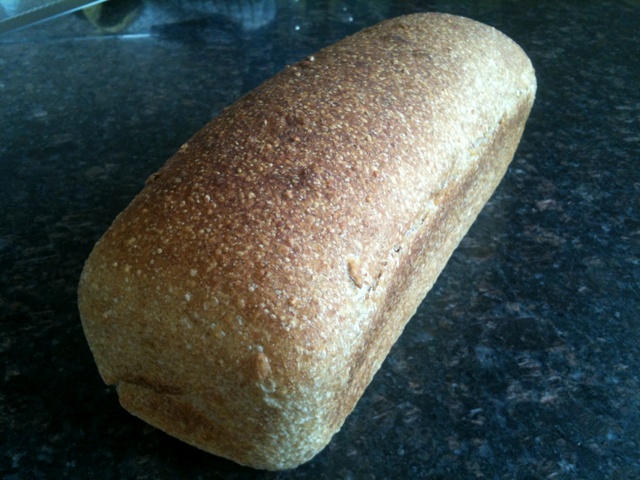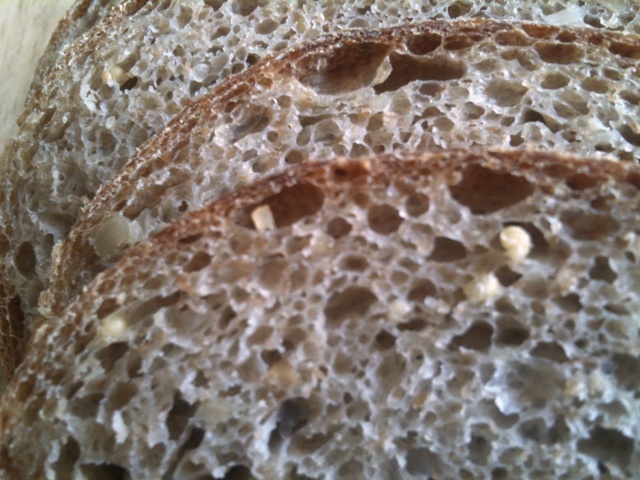 Although i have not tasted the bread yet, i could describe it as follows:
Soft crust, with rich sourdough aroma. Crumb is open, cool and moist, with an appreciable sour aroma.
I have yet to decide whether or not the 100% sourdough version is better tasting than the sweeter yeasted version.
Update: The flavor of the bread was great. the extended final fermentation did mask the subtle sweetness and wheatiness of the bread, and the sour tang was clearly present. Lovely bread, nevertheless.
Khalid