September 7, 2012 - 12:27pm
Vollkornbrot from Hamelman's "Bread"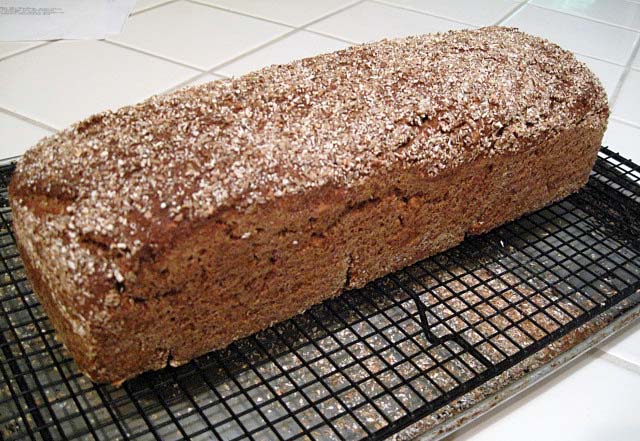 Hamelman's "Vollkornbrot" is a 100% rye bread with sunflower seeds. The flour Hamelman calls for is "rye meal," which I just happend to have in quantity due to my error in ordering "medium rye meal" when I had intended to order "medium rye flour" from nybakers.com. Well, as Kubler-Ross wrote, "There are no mistakes, no coincidences. All events are blessings given to us to learn from."
As it happens, I have intended to work on baking 100% rye breads for some time, my  past attempts having been less than wonderful. Clearly, my unconscious mind highjacked my nybakers.com order. So, after blessing my unconscious ... or something like that ... I proceded to takle this project.
Hamelman's formula for Vollkornbrot calls for 68.4% rye meal and 31.6% rye chops. I had abundant rye meal (see above), and I had a pound of cracked rye from Central Milling, which I used in lieu of rye chops.  60% of the rye meal is pre-fermented. The cracked rye is included in the form of a 100% hydration soaker. The overall hydration of the dough is 82.1%.
Other than substituting cracked rye for rye chops, I followed Hamelman's formula and procedures to the letter. The dough was drier than I expected, but still very sticky. It had no difficulty holding together. I shaped it on a wet board with wet hands and, after shaping a log, placed it in a pullman pan and smoothed it out with a spatula. The top was dusted with more rye meal, as instructed by Hamelman. I baked it with steam for 15 minutes at 470 dF then for another 60 minutes at 380 dF. I then dumped the loaf out of the pan and baked another 15 minutes with the loaf sitting on a baking stone. This was to firm up the crust, although it was very firm already when taken out of the pan.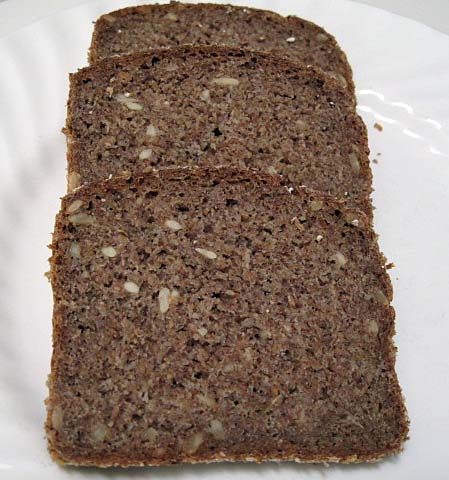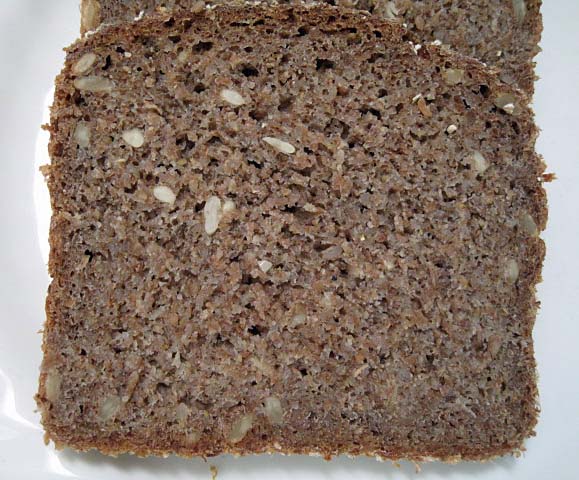 After baking and cooling on a rack for several hours, I wrapped the loaf in baker's linen and let it rest for about 30 hours before slicing. The crust was very firm and chewy. The crumb was very dense, as you can see, moist but not gummy. The aroma and flavor were earthy and slightly sweet. I had some for breakfast with cream cheese and smoked salmon and enjoyed it. I think this bread would make great Danish-style open face sandwiches.
I have never had this type of bread before, except once long ago from an imported package. So, I really don't have a good model with which to compare my bread. From what I've read and pictures I've seen, I think I hit the target. I wish I knew how close to the bullseye I got. This bake was certainly superior to my few previous attempts at a 100% rye bread.
I'm hoping TFL members with more experience than I have of this type of bread will offer constructive criticism and suggestions.
David