September 2, 2012 - 9:49pm
txfarmer's "36 hours+ Sourdough Baguettes"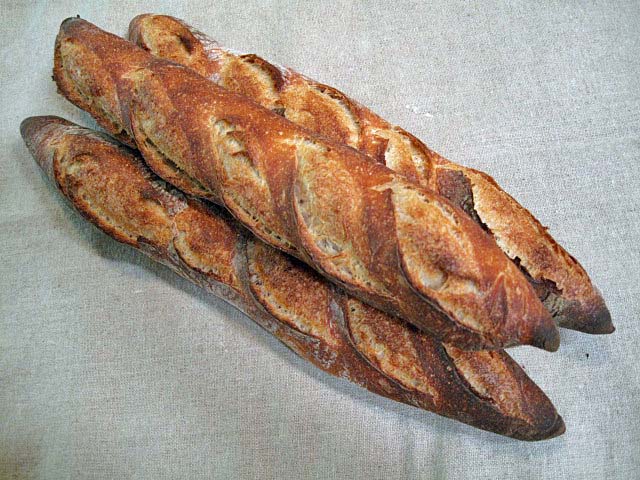 Watching the development of baking skills and the endless creativity of TFL members gives me enormous enjoyment. When I find members using formulas or techniques I have contributed and taking them to new and exciting places, I am especially thrilled. I can think of no better example than what txfarmer has done with the Anis Bouabsa and Phillip Gosselin formulas I first explored as part of my "baguette quest" in the Spring and Summer of 2008. Her "36 hours+ sourdough baguettes" (See 36 hours+ sourdough baguette - everything I know in one bread for her original, basic formula.) have been visually stunning as well as technically intriguing. It was with great anticipation that I followed her formula and procedures this weekend to make a batch myself.
My only modification of txfarmer's procedure was that I fermented the dough prior to dividing and shaping at 85 dF for 1 hour. I generally scale baguettes to 250 g to fit my baking stone. Her formula makes about 900 g of dough. I divided this into 3 pieces of 299 g each and shaped them to (barely) fit on my stone. I baked the baguettes for 12 minutes with steam at 460 dF conventional bake then for another 12 minutes at 435 dF in a dry oven using convection bake. In hindsight, I should have baked them for about 2 minutes less. They sang when taken out to cool and smelled delicious!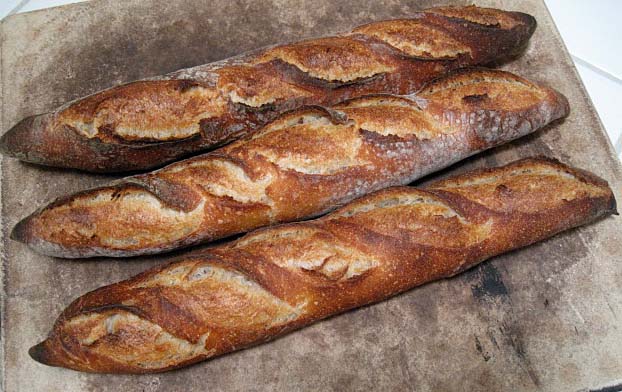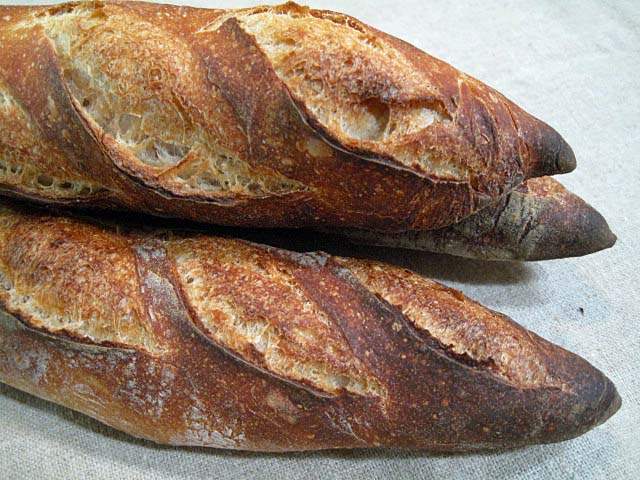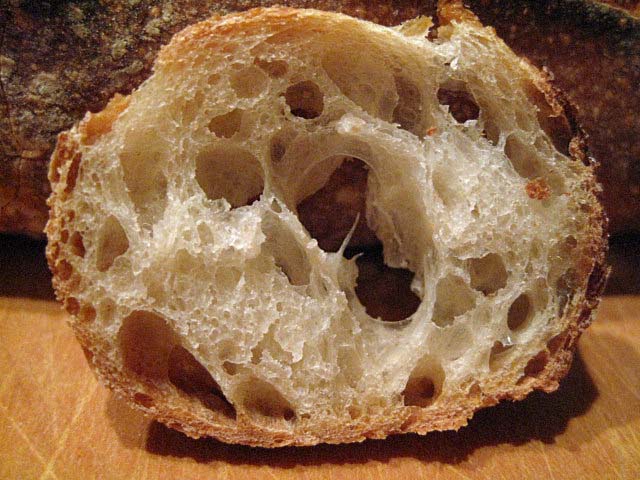 The crust was very crunchy and the crumb satisfyingly open, although not as open as some of the amazing baguettes txfarmer has shown us. The flavor of the bread was complex, nutty and sweet with moderate sourdough tang.
I do believe I have a new favorite sourdough baguette.
 David