Cherry Yeast Water - question on activity
I've got a batch of cherry yeast water I've been brewing since 2 days ago. I recently put it in a bigger home, fed it a little snack of brown sugar (just a few sprinkles since I thinned it out when I transferred it,) and it's already developing bubbles. In fact, it's got enough bubbles developing on it that when I gave it a shake to mix it, the top popped off (since I've got the top on loosely to let out some CO2.)
Am I looking at bacterial activity, or is this just a really quickly-developing yeast? Or is this typical?
I've read the "Wee Bonnie Beasties" thread (which was a great primer on what I needed to do to get started,) used tap water (even though it says not to,) and used organically grown (and therefore not chemically sprayed) cherries, crushed, with the stones removed. The "WBB" thread gives a lot of great info and links, but it seems to skip directly from "here's how you make it" to "here's how you test it." There's nothing specific (that I can find - which is why I'm asking the experts :) about how you can get an idea whether it's active or how you tell whether it's been cultivated enough to use (short of using it, of course.)
Picture of the little buggers: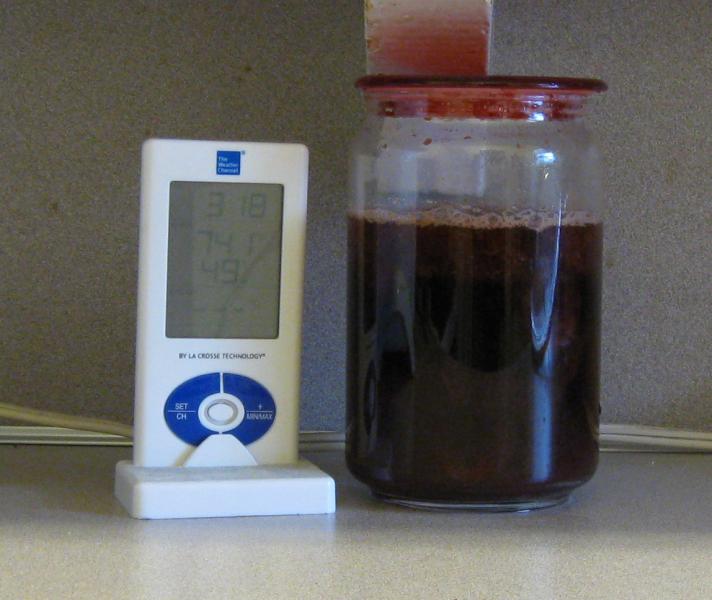 Temperature has been roughly between 69 and 75 while it's been brewing. Note, the mixture is so dark that a high-powered LED flashlight held behind it won't shine through it, even after settling - again, not sure what this means, if anything.
Hopefully my questions are clear, and hopefully I'm not missing an easy search term. :)