some success with atta bread, but suggestions welcome
Hello,
Just wanted to share some success I had with atta (Indian whole meal flour) bread. I had posted ages back in this forum that I was struggling, and with lots of suggestions and loads of experimenting, I've finally managed loaves that seem alright!
I used atta- made from hard winter wheat berries that we buy in bulk every April which I got ground at a local flour mill. The recipe was part Laurel's kitchen and part suggestion from another local bread baking enthusiast. The recipe was as follows:
Atta- 4 1/2 cups
Water- 1 3/4 cups
Curd- 1/4 cup
Ghee (clarified butter)- 1 tbsp (We had just made fresh ghee, and had some of the buttermilk granules that get solidified in the process of making ghee, so I used that)
Fresh yeast- 1 tsp
Honey- 3 tbps
Salt- 2 tsps
Method:
I warmed the water, added honey and yeast. Then I added the curd and 1 1/2 cups of flour. This mixture I stirred 100 times (I suppose this becomes somewhat similar to the roux method I have read about somewhere). Then I added the rest of the flour and salt, and mix until it just comes together.
SHAGGY DOUGH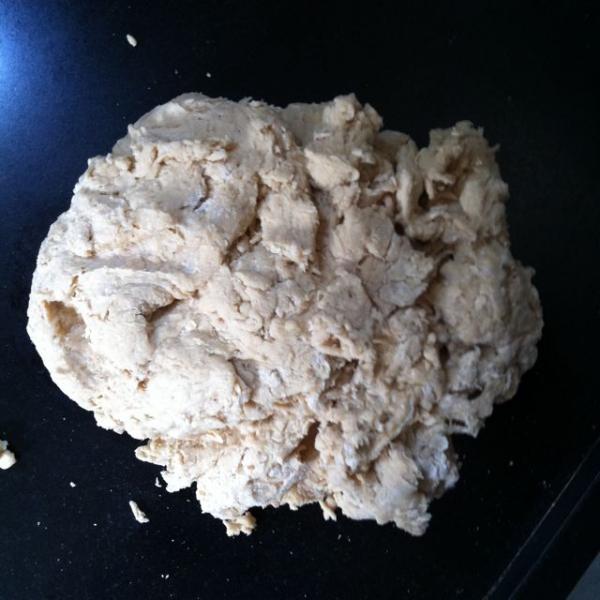 I then kneaded the shaggy dough I had for 300 strokes. It was quite a sticky dough and completely stuck to both my hands. To knead then, I scoop the dough with both my palms and then push away from me, then scoop again and push. So even though the dough is stuck to my palms, it gets a good workout.DOUGH AFTER 100 STROKES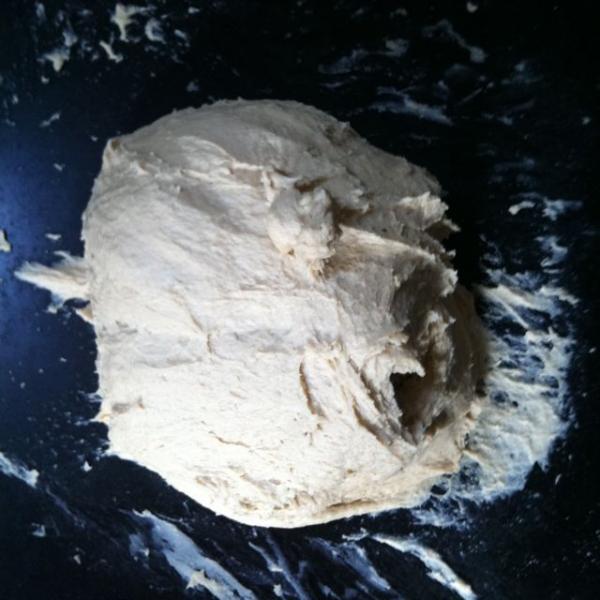 DOUGH AFTER 250 STROKES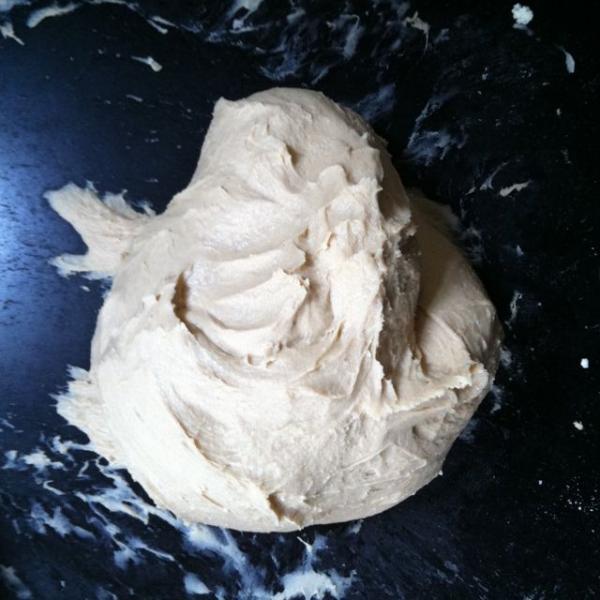 READY FOR FIRST RISE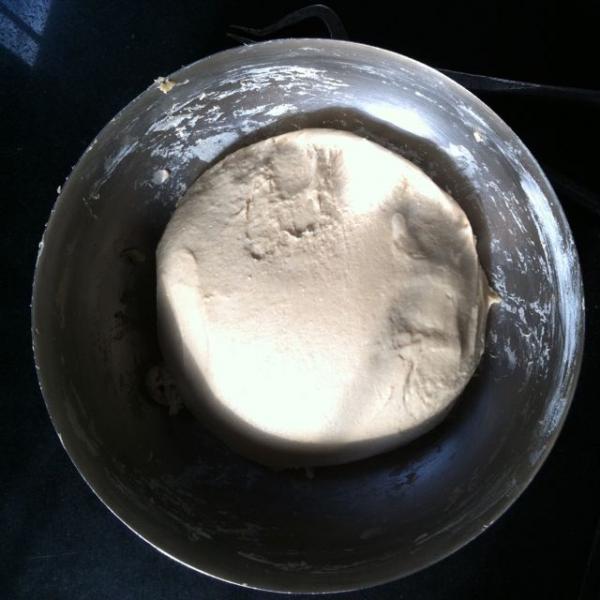 I let it rise for about 1 1/2 hours. 
AFTER 1 1/2 HOURS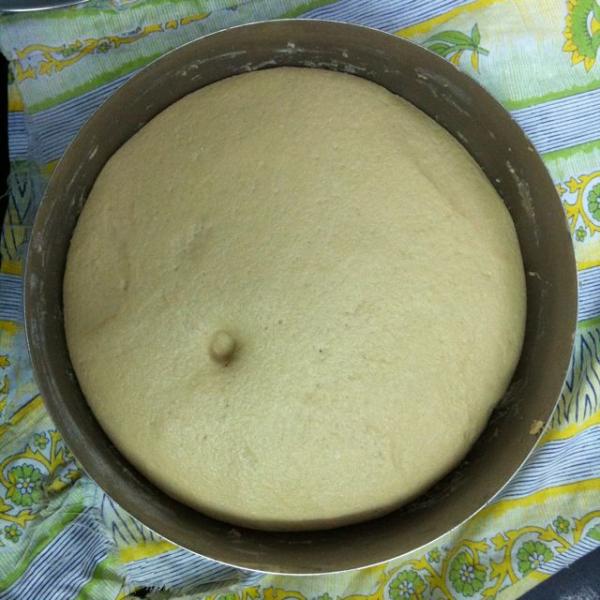 DEFLATED DOUGH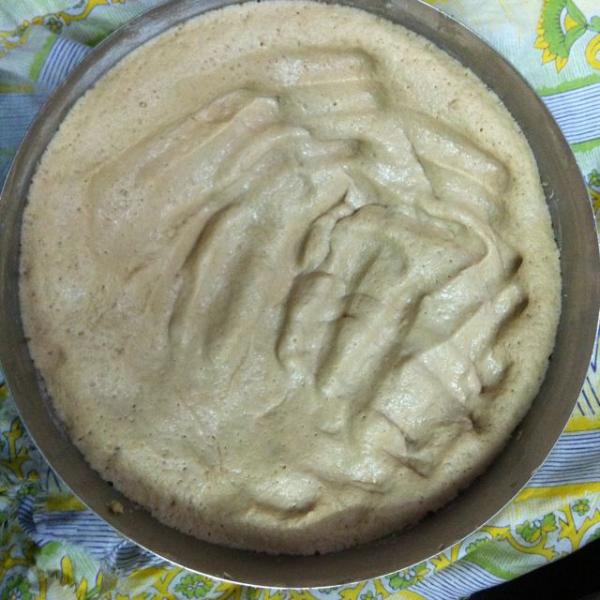 READY FOR SECOND RISE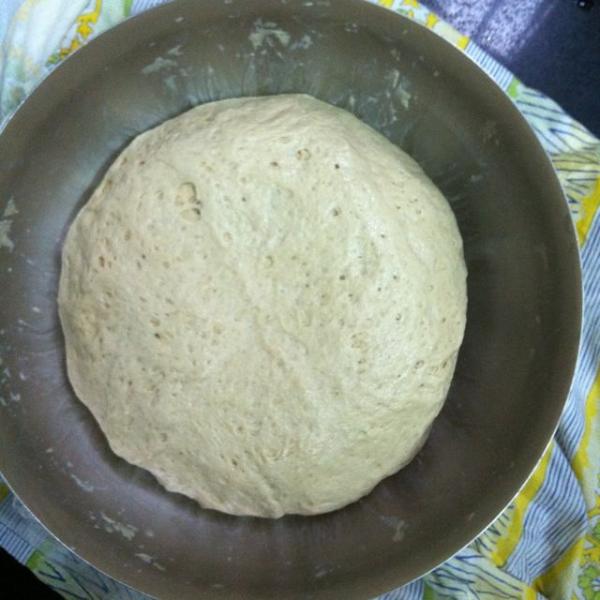 Then I deflated the dough, rounded it into a ball and let it rise again for about 45 mins.
Then I deflated again, and rounded, as Laurel's kitchen suggests, and then stuck the dough into a loaf pan. By this time, the dough is no longer sticky, but I'm hopeless at shaping loaves, and just dont know what to do with a slithering mass of dough!
DOUGH IN PAN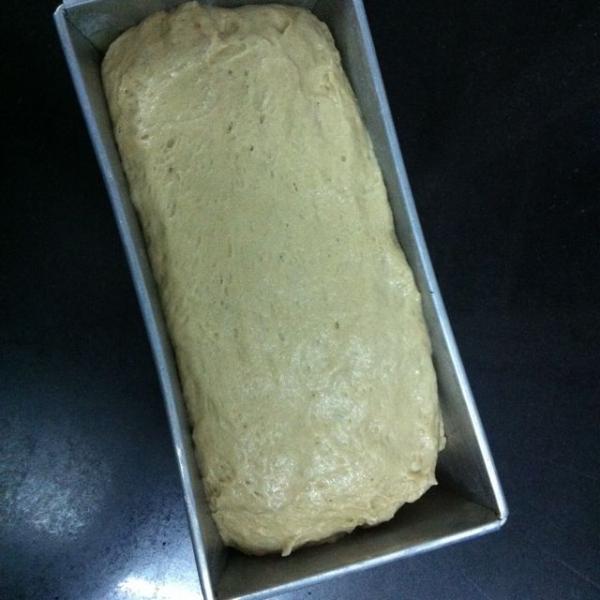 I let it rise until about 1 cm above the rim of the pan. Then I sit it on the oven while the oven pre-heats. I have a tiny oven that takes about 10 mins to heat up. Then I put the loaf in together with 6-7 ice cubes to steam the oven up, and voila!
BREAD RISING IN THE OVEN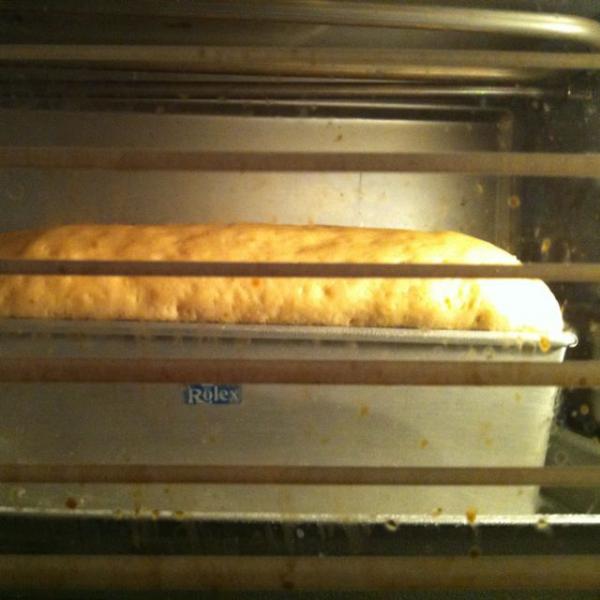 FINAL LOAF
Some mistakes I learnt from:
1. The dough is sticky, but needs that much moisture since the temp outside was a hot 36 C.
2. I was baking with 3 cups of flour for a long time, but dint realise my pan was too big for it. If there isnt enough dough to fill the pan, the bread does not rise as much. Since working with 4 1/2 cups, I'm getting a much better rise.
3. This loaf conatained the dregs from clarifying butter (making ghee). In an earlier loaf, I used the whey left over from making paneer (a sort of Indian cheese, I guess, where we add something acidic to boiling milk and it curdles). The acidity definitely helped with the yeast action.
4. The oven spring I get is minimal, but adding ice cubes helps since the crust doesnt form quite as quickly, allowing the bread a little more time to rise. This is particularly useful in small ovens like mine, where the crust gets quite close to the filaments. I could be wrong here however.
5. The kneading takes practice. After about 2 yrs of irregular baking, and at least 50 loaves of various qualities, I can just about say that I'm beginning to get a hang of it. So when unsure, its best to count- 300 strokes of pushing the dough away with the heel of your palm, and then bringing it together is a must. When I started 300 strokes took me 15 mins, but now I have a satisfactorily silky dough in 10 mins. 
My big questions at the moment are:
1. You can see the crumb- should I expect a better rise with 100% atta bread?
2. How do I shape the loaf? The dough is silky but slithers, and its quite a lot. I manage to shape it on flat surface, but have no clue on how to get it in the pan.
3. I have read about maintaining the surface of the dough to get a better rise. But since my dough is so sticky, I can almost never maintain the surface. Anything I can do about this?
Sorry for a long post, but hope this helps other who may be trying to bake with atta dough in India, where good wholewheat loaves do not exist!