Our granddaughters, Naomi (6 years old) and Sasha (3 years old), have been staying with us for two weeks. Making bagels was in our contract. We saved this activity until just before their parents return, so they could have them fresh-baked. The parents return late tonight, so we made bagels today to bake for their brunch tomorrow.
Naomi had had an introduction to bagel shaping by her great Great Uncle, Glenn, a few weeks ago. She was a quick learner. Now, little sister wanted to make bagels too.
Sasha got to shape the first bagel, before going for her nap. Naomi provided support.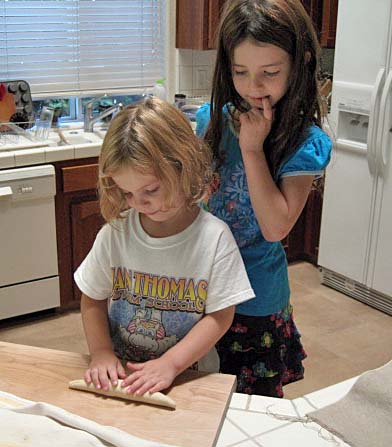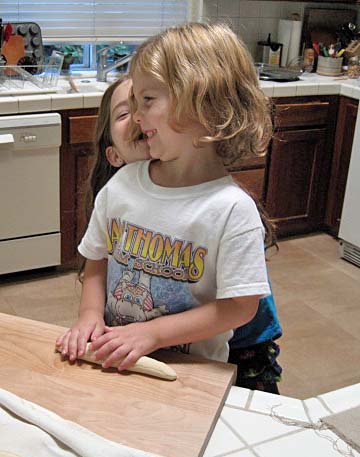 Naomi really remembered everything Glenn had shown her. She needed minimal help - like keeping the board damp enough to give the dough some traction.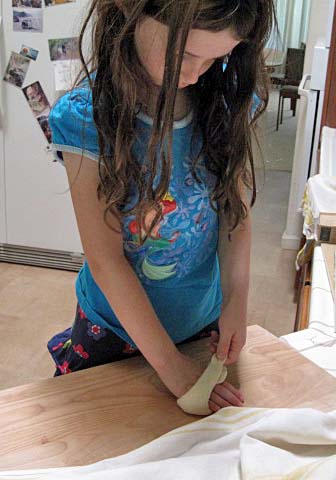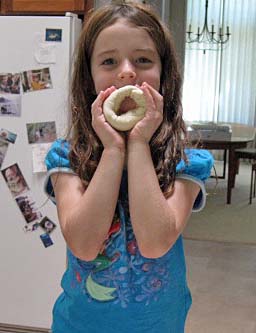 Naomi really shaped most of the bagels, but she did let me make a couple.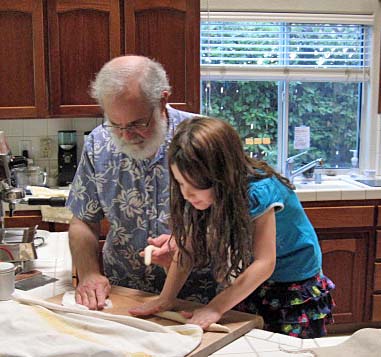 From the "It's never too late to learn" department: When she saw how much fun we were having, Grandma Susan had to grab a piece of the action. She received excellent instruction and did pretty well, for a beginner.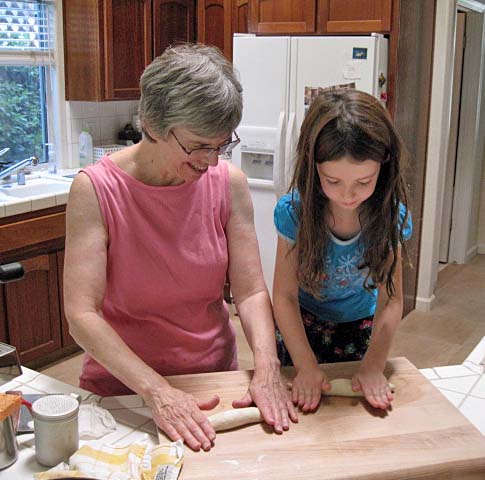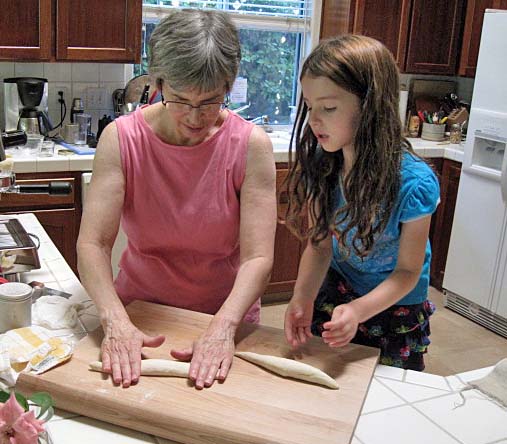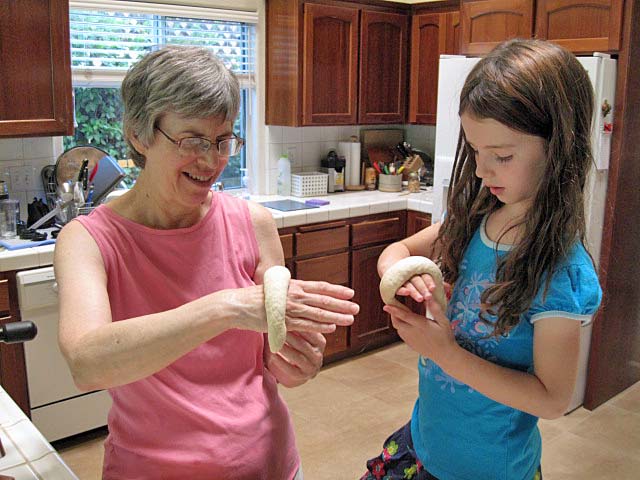 Since I had so much help with the bagels, I was able to get a couple bâtards of pain au levain baked this afternoon as well.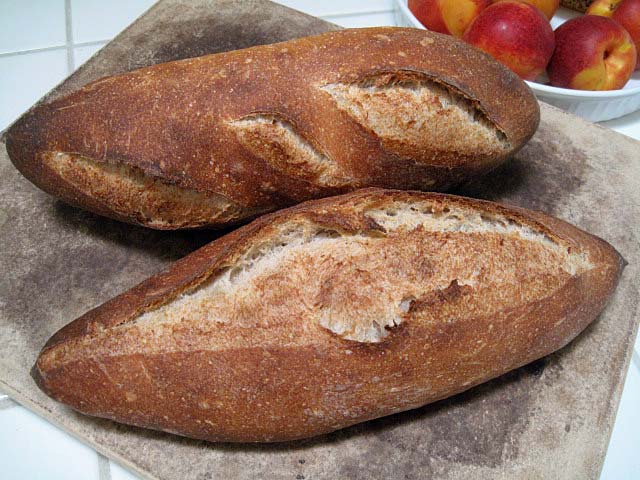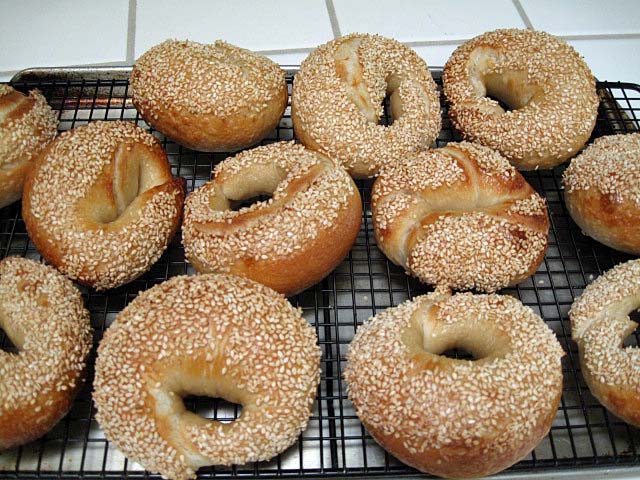 While they lacked something in symmetry, these were the best tasting bagels I've every baked. I used the Krakow Bagel formula from ITJB recipe testing. It is the same as the New York Bagel formula in the book, except it adds a 60 minute bulk fermentation step before dividing and shaping. I tried brother Glenn's flour mix - 25% KAF Bread Flour and 75% KAF Sir Lancelot Flour. Also, the bagels were eaten within an hour of baking. The crust was crisp. There was just the right amount of chewiness. The flavor was perfect, with a bit more sweet flavor than usual.
My apprentices each ate ate two whole bagels with cream cheese and cold smoked salmon. (Their parents wouldn't let them eat more.)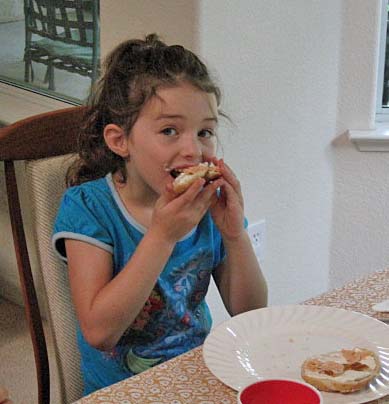 Naomi eating her "twisty bagel."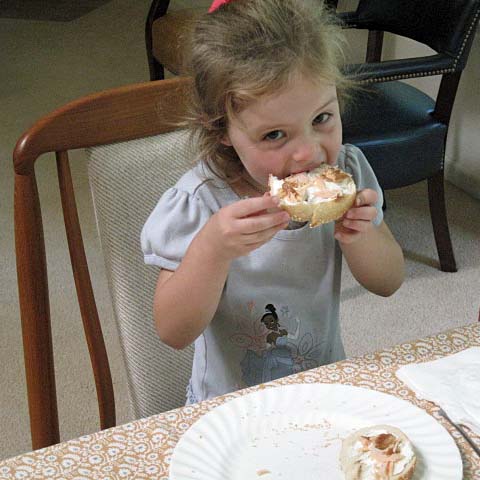 Sasha could hardly wait to eat her bagel
Sasha and Naomi's parents were given a copy of ITJB. I am pretty sure they will be baking bagels in Las Vegas.
David
David