Greetings and Sourdough with apricots, raisins, and chocolate
Greetings all of you fine people of The Fresh Loaf! I'm a long time reader, first time writer located in the fine state of New Hampshire. I caught the fever about three years ago from a good friend of mine, and found that the only remedy is to keep going with it.

As I'm sure many of you can relate, bread has become a physical embodyment of how I understand life. Reading some of the blogs on this site, I see that I am in similar company! There are already so many inspiring, eloquent (floury?) words written about bread as a primodial soup for the meditative, spiritual, and compassionate. I don't see it neccessary to add my own. My intention is to live beyond the words with my practice, as I know many of you do. So, about that...

This entry is about my latest favorite experiment with sourdough: raisin-appricott-chocolate sourdough.

I used the 1,2,3 sourdough method (One part starter, two parts water, three parts flour), which works great. It is very easy to convert and gives you a nice 68% hydration dough, if you use a 75% hydration starter like I do. I also created a ratio for the levain: 1, 1.5, 2. I wanted a 75% hyd levain, as I have heard that a slightly stiffer levain gives you a little extra sourness.


1. First build: Levain

50g of my native NH Sourdough starter. I keep it 75% hydration with mostly rye flour. It's at a ripe young age of about 2 months now and really starting to develop some character!

75g filtered water

100g White bread flour

Again, it is a 1, 1.5, 2 ratio (mother, water, flour). I love simple ratios, and this one ensures that your 75% hyd mother makes 75% hyd starter.


2. Second build: final dough

150g levain from previous step

300g filtered water

450g white flour (KA all purpose)

~25g honey

Mixed these together and let sit and autolyse for about 1 hour, then mixed in...

10g salt


Did two stretch and folds an hour apart, then refridgerated overnight. With the high ratio of white flour, gluten development was very noticeable even just after the mixing, especially considering that KA AP seems to have a higher gluten content for an AP.


3. Finishing and Baking

Took the dough out of the fridge and let warm for an hour. I then stretched the dough into a squarish sheet, covered it with chopped up dried apricotts, raisins, and chocolate chips, and rolled into a log that would fit into my large loafpan (lightly oiled).

I let this ferment in the loafpan for about another hour and a half, then just for fun and appearance I brushed the top with an egg yolk wash. I baked it at 400 deg. for maybe 30-40 min. until the loaf was dark and shiny!

Now, I'm not one who uses loaf pans regularly, preferring to practice the skill it takes to get exactly the form you want in a free-standing loaf. For this reason, I left the loaf out of the pan in the cracked-open oven for a half hour or so as it cooled just to make sure that excess moisture from ingredients and the thickness of the dough didn't leave me with a wet or doughy center.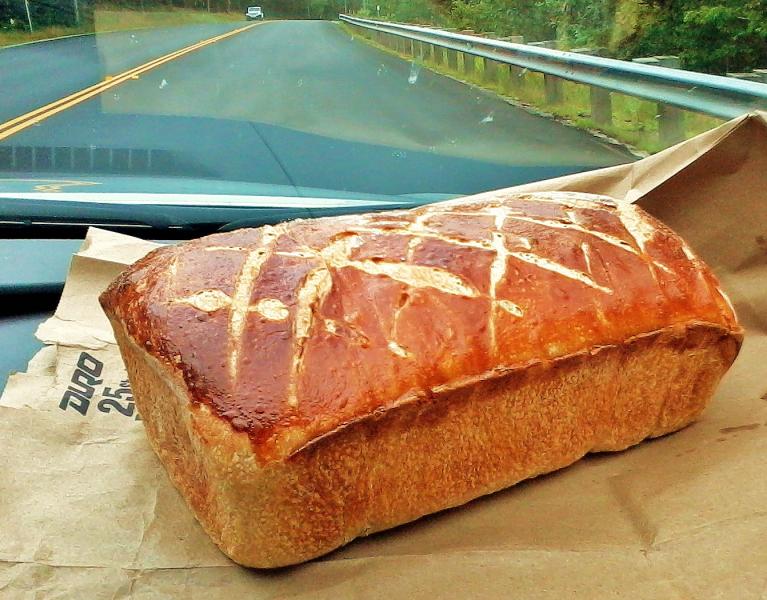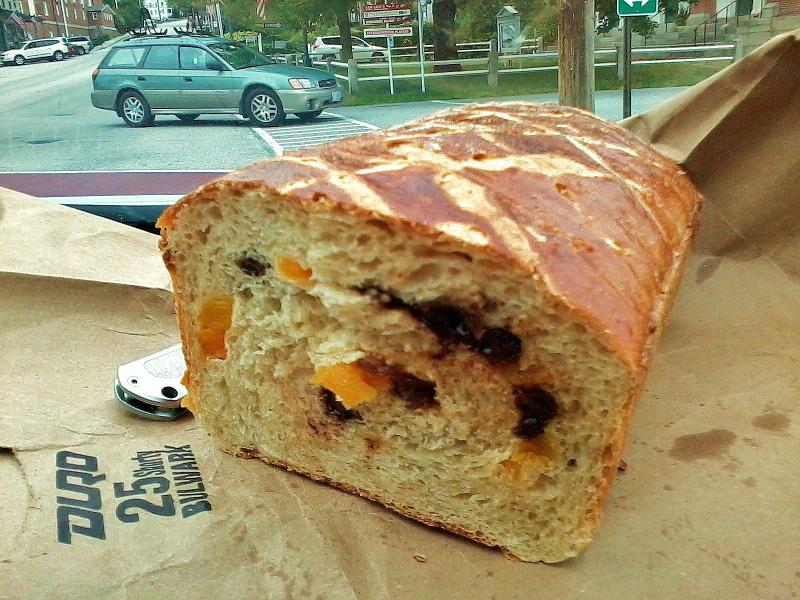 The bread came out with a fantastic crumb and good distribution of ingredients. These pictures are on the road to a tango seminar, where the bread was promptly devoured. One of my favorite things about baking is the amazement when people ask: "you MADE this?".

I think that simple ratios are important in learning to bake, teaching people how to bake, and helping to limit mismeasures and unintended dough adventures (although these can make for amazing new discoveries...). When I'm feeling more adventurous, I go for a no recipe, no measure approach and try to let it just come naturally. This is a good exercise as it helps you develop the intuitive feel for your bread.

Anyway, I would be honored if others would give the recipe a try and let me know what you think!
-Breadman Alex