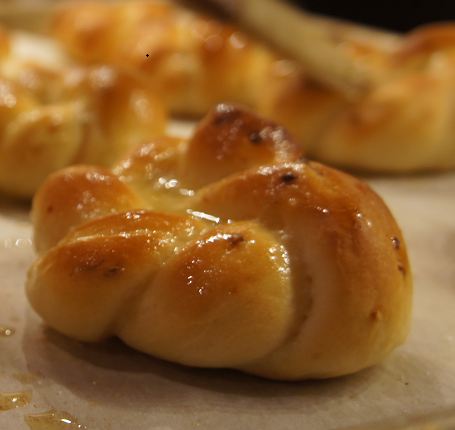 This recipe for these buttery, garlicky knots is perfect for a meal with a great, simmering sauce.  Don't be alarmed by the amount of garlic cloves in the recipe.. the saute of the mince in butter over low, slow heat really brings out the nuttiness and rich flavor of the garlic.  The rolls themselves are ethereal and light and infused with the scent of garlic.  I love how these rolls make my whole kitchen smell like roasted garlic.  They are, out of this world.  This recipe was adapted from Cook's Illustrated. 
Garlic Butter Bowknots
Makes 12 knots
10 garlic cloves, finely minced
6 tablespoons unsalted butter, divided
1 teaspoon plus 3/4 cup water , heated to 110 degrees
1 1/8 teaspoons instant or rapid-rise yeast
8-9 ounces all purpose flour (or 2 cups measured with the spoon and level method)
1 teaspoon table salt
Kosher flake salt for sprinkling on top.. or dried parmesan cheese
1. Before you begin cooking anything, warm your oven to about 200 degrees, then shut off the oven.  Leave the door closed.  Prepare a large mixing bowl by spraying it lightly with PAM, or rub with oil.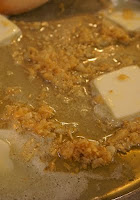 2. Next, make the garlic butter.  Mince about 10 average size cloves of fresh garlic.  In a sautee pan over medium low heat, melt 1 TBS of the butter and add 1 tsp of water.  When butter is melted, add the garlic and stir continuously, coating the garlic with butter.  Continue stirring and cooking for about 8-10 minutes or until the garlic takes on a straw coloring and the aroma is earthy.  Add the remaining 5 TBS of butter and swirl to melt in pan.  Allow this to cool for 10 minutes.  Using a fine mesh strainer, pour the butter and the garlic solids through the strainer into a small bowl.  Set aside the garlic solids - you'll want to add them to the dough.  Set butter aside in a separate bowl.
3. Now for the dough.  Whisk remaining water, 1 tablespoon of the melted garlic butter, all of the reserved garlic solids, and yeast in liquid measuring cup until yeast dissolves.  Don't worry about proofing the yeast if using instant.  If using Active Yeast, proof for a few minutes in the water only, then add the butter and garlic. In bowl of stand mixer fitted with dough hook, mix flour and salt until combined. With mixer on low, add water/yeast/garlic mixture in steady stream and mix until dough comes together, about 1 minute. Scrape out all remaining bits of garlic.  Increase speed to medium and knead until dough is smooth and comes away from sides of bowl, about 6 minutes. If you need to add more water, add it a tsp at a time until the dough is fully incorporated and no longer appears dry.  Turn dough onto clean work surface and knead briefly to form smooth, cohesive ball, about 4-5 minutes or until dough passes the window pane test.  Transfer dough to prepared bowl and turn to coat. Cover with plastic wrap and place in turned-off oven until dough has doubled in size, 40 to 50 minutes.
4. SHAPE KNOTS Line a large baking sheet with parchment paper. Punch down dough gently on a lightly floured surface. Roll dough into 12- by 6-inch rectangle and cut into twelve 6-inch strips.  I found it easier to cut the dough in half.  Next, cut each half of dough into an additional half and then cut each of those half sections into thirds. With flat hands, roll each strip into 12-inch ropes. Tie the rope into a basic, single knot.   Then take one end of the dough and wrap it around and under the dough knot itself.  Tuck in the tip and push it up through the middle so the tip is exposed.  Take the other end of the dough and bring it OVER and tuck the end into the hole facing down.  Place on prepared baking sheet. Cover loosely with plastic wrap and return to turned-off oven until doubled in size, about 20 minutes.

5. Prepare oven for baking by removing knots from oven and discarding the plastic. Heat oven to 500 degrees and your rack should be just above the middle. Bake rolls until just set, about 5 minutes. Remove knots from oven and brush each with about 2 tablespoons garlic butter.  After brushing,  sprinkle the rolls with a bit of kosher flake salt and dried parmesan cheese if you wish.  Rotate the pan and return to oven, and bake until golden, about 5-6 minutes more.  As soon as rolls come out of the oven, brush knots with remaining garlic butter and cool 5 minutes in the pan.  Use all of the butter.  Serve warm, right out of the oven.  These are great to bake after your sauce and pasta are already cooked ahead of time.