ITJB Black Bread p.64 - Experiences (Success at last)
This is not for the fainthearted.
When I got ITJB (Inside  The Jewish Bakery) and flicked through, my rye addiction kicked in, and the unusual process (kind-of Auermann three stage) of the Black Bread intrigued me. This was the first recipe I tried from ITJB - and failed spectacularly.
The top half of the (freestanding) loaf was nice, but turning the temperature down as stated in the recipe let the loaf sink in, and the lower half was dense and badly undercooked.
Encouraged by a PM by Stan, whom I contacted, I gave it a second try - and failed again - this time I attributed it to family business interfering with the proving schedule.
After a long break from this recipe - and some recalculations, and lots of learning about rye and my oven I tried it again last weekend, using my proofing box. This time I baked in a tin, and extended the hot phase of the bake.
The bread came out very wet - looking undercooked, almost greyish in the middle (cut after 12 hours). I was disappointed and tended to attribute this to the superhyrated dough: 117% (if my calculations are correct).
BUT ...
I had made 2 loaves and kept one aside, in a plastic bag.
Today (4 days after the bake) I opened the bag - amazing smell. I cut the bread - still moist, but the crumb had changed completely. Beautiful chocolate brown, with a rich, tangy taste: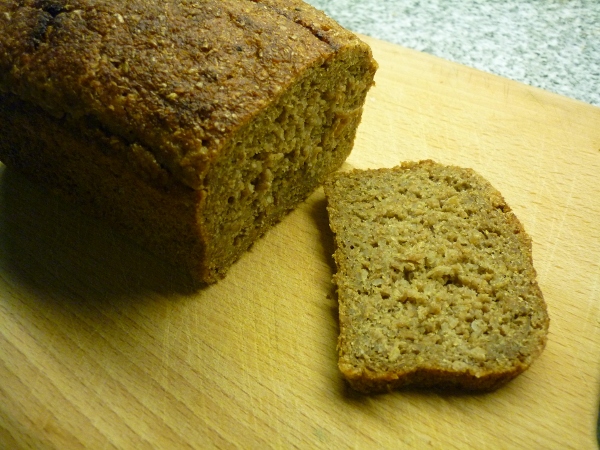 My advice if you want to make this bread:
1. Don't Panic
2. Follow the recipe (take oz amounts as a base - I calculated the bakers % from those)
3. Use loaf tins first
3. You might want to extend the hot phase of the bake by 10 minutes (and/or consult ananda's posts about Borodinsky bread for ideas about the baking regime)
3. Wait at least 3 days before cutting into it!
ITJB rocks!
Juergen