Hello All!  After my disappointing encounter with pumpernickel and deli rye, I decided I needed to drown my troubles in Semolina.  Again from BBA (it is the only bread book I own, being a very new bread baker) I wanted to try the Pugliese and the Pane Siciliano.
I was having a difficult time finding fancy durum in SF so the first Pugliese I made was from 100% KA bread flour.  (I would have sworn I took pictures of those loaves but I can't find them) In any event I was able to discern a different flavor to this bread and I really enjoyed it.  Then I discovered that the store where I usually buy my bulk products had extra fancy durum all along. But instead of using the name on the bags (from Giusto), they label it as fine semolina on the bin label.  Me being a complete tyro had no clue..  So then I decided to make up the difference by making Pugliese with 100% Extra Fancy Durum: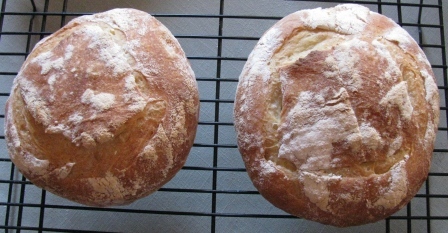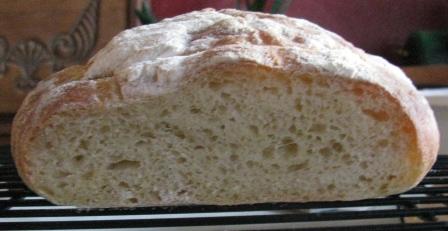 This is the first bread I've made that had holes this size.  My understanding is that the French and Italian bread formulas from BBA should have large irregular holes but mine always has a tight crumb.  Anyway this had a nice tangy taste but I believe I'll use the 50 - 50 bread flour/durum that BBA recommends.
Oh, and if there is a contest here on who is the world's worst bread scorer I want to enter!  I'm absolutely certain of winning first place.
Embolden by the Pugliese, I decided to tackle the Pane Siciliano.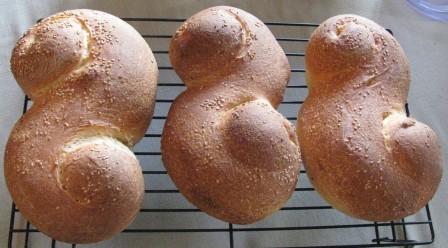 Even larger holes.. although I have no idea if that's the way this crumb should look.  Also the crust looks shiny in the BBA book but so far my crusts never have a shiny look unless I give them an egg wash.  But I'm reading the hundreds of thousands of pages here and elsewhere and hope to achieve better success..   I find this bread lovely and perhaps my favorite so far..
Dennis