ITJB Round 2 Week 8 - Classic NY Water Bagel (pg.99)
We 3 sisters met the ITJB Round 2 Week 8 challenge with vigor! Actually my talented sisters, Barb (gmabaking) and Helen (gmabaking2) had a bit better luck than me... although my bagels turned out great! Barb has made Bagels several times and is the family expert... for Helen this was her first time... I too have made bagels but never with quite the "I love Lucy" experience in my kitchen.... The dough making process went great on day one... mixed up that great stuff and made decent looking circles and chilled them overnight... all is going well.... Early the next morning, via texting and phone calls, we added the malt to the water, put on to boil... turned on the oven to preheat... sat down with a cuppa joe in the other room... and then ...
I saw the smoke rolling out of my kitchen!!!!! Would have been good had I remembered that I sprayed the oven with oven spray, intending to clean it BEFORE making the bagels! ... So I dove for the controls... turned off the oven, turned on the fan, opened the oven door... cooled it just enough to prop wooden spoons in the door hindge to hold up the heating element in the bottom... while kneeling in front of the oven I threw a hot wet rag into the oven and pushed it all around - repeatedly with another wooden spoon.... whew! clean oven... standing up.... I watched the malt all boil over the top of the pan... into the electric burner plate!!! So... I pulled the pan off the burner... propped the circular burner up, yep with one of those wooden spoons... cleaned the malt out... added more to the water... can't say it was exactly 2 TBS at this point... brought it all back to a boil and finished without even waking up my husband who was sleeping in that Saturday morning... which is pretty good because I really wanted to scream!  That was all the drama... and it would have been terrible if it hadn't been so hilarious!!! 
So, here are our pictures... they look very similar... you will notice we are including free advertising for the ITJB Cookbook if any of you want to turn these photos into posters for your kitchens or restaurants. ;-)
Barb's in Colville, WA. (gmabaking)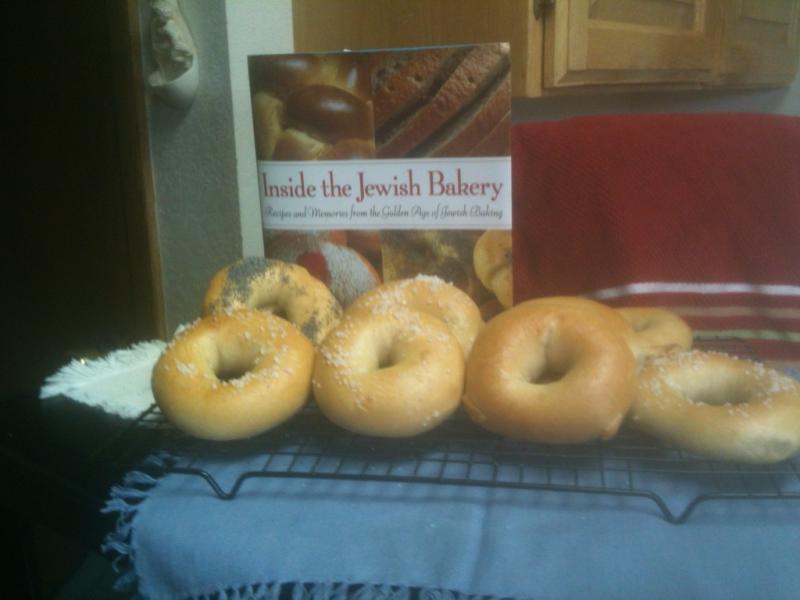 Next, Helen's in Ft. Worth, TX (gmabaking2)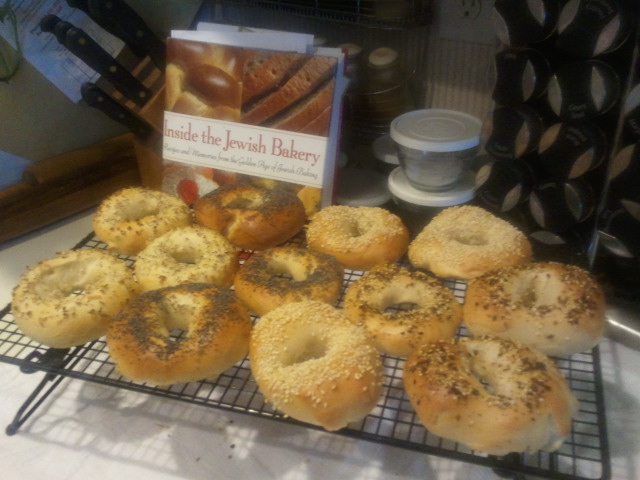 and now mine. (gmagmabaking2)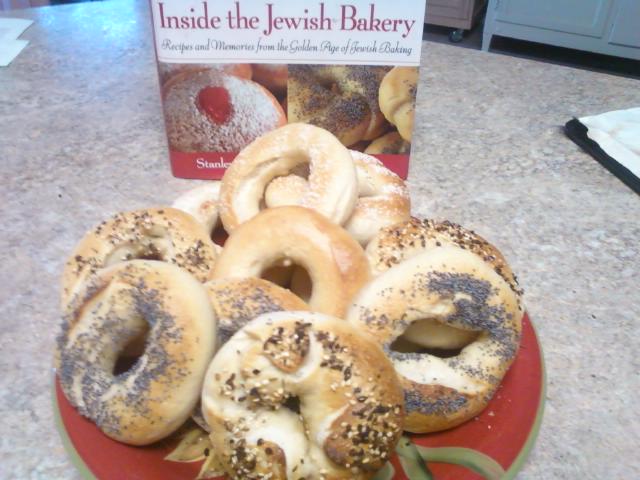 We used a variety of toppings... one with garlic and onion, poppy seeds, sesame seeds, kosher salt, and onion filling like we used on the biayls... This really was a fun bake! As Helen said, "Who knew making bagels could be so easy!"
See you all here next week for mini-schneken!
Thanks for letting me share my "I love Lucy" story.
Diane