Ballooning bialys--I keep trying!
I've been hard at work, trying to recreate the "classic" bialy (did it once, so why can't I do it again?).  Any insights will be more than welcome.  I think I may have the answer, but let me back up a minute.  I baked two recipes (a dozen each) from ITJB.  The first batch, baked yesterday afternoon, a hot one (95 outside and probably 82-85 in the kitchen), the second baked this morning (set the alarm, very disagreeable, but really no other way).  First attempt, I think the little dough balls overproofed, as they really did collapse when I reamed out the central cavity.  (BTW, I figured it takes 5  hours in all, with a lot of waiting time!)  So here's the result from batch #1, baked on a preheated stone, 475 F, with a little bit of shpritzing the oven before loading.  I used bread flour, not high gluten.  I stretched the centers, even poked them with fork tines before the "shmear" (well hidden, but it's in there!):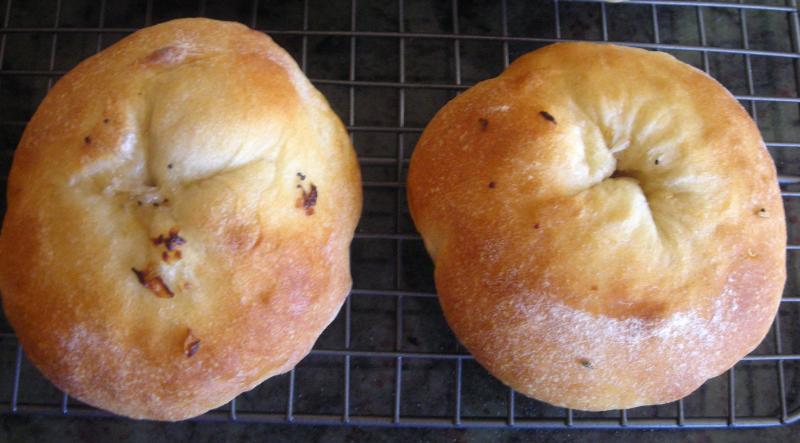 Next is the result from batch #2, baked in the very early part of what turned out to be another very warm day, so a much more reasonable second proofing (albeit, I thought, a full proof).  I used high-gluten flour.  The result--a little more open, but still pretty "softball-like"!  I didn't shpritz the oven this time and put the stone on the middle rack (where I could watch the centers rise up and nearly close up--again.  Oi!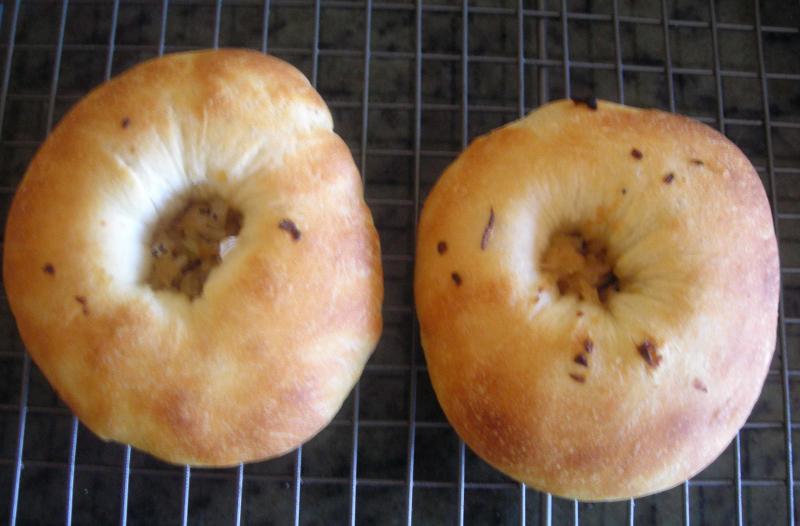 Now, I remember that, some months ago, I baked some bialys without the "softball effect" and I tried to remember details.  What did I do differently, I wondered.  A flash of insight (if my memory is still working, which is often somewhat iffy):  I don't think I used a stone but put the bialys, resting on the parchment-lined baking sheets after the second proof and shaping and shmearing, directly in the oven--yes, that's right, NO STONE.  So, think I, maybe it's that hot, hot, preheated stone that created a huge oven spring (wish I had taken time-lapse photos this morning!).  
Anyway, here are the bialys of long ago (a first attempt, mind you), using the ITJB recipe (high-gluten flour used).  Any ideas out there?  I've got to get this right!
Joy