Greek Pide A Sequel - EO baked
A sequel to my previous WFO bake of my Greek Pide.  This time it was baked in my electric oven 'EO' just because...I had nothing better to do and wanted to use the dough I had frozen from last weeks previous bake and I was curious to see how the GP would turn out versus the heat of the WFO.  Well, the results were pleasing.  Flavor wise...well very pleasing from the EO..excellent from the WFO.  No doubt there are certain types of breads that benefit from the smokey hot flames, coals and intense heat of a WFO.  I pre-heated my oven and stones, 550 convection setting, for an hour..this gets the stones much hotter versus a 45 min. pre-heat.  The pizza and pide both had crisp crusts that were nicely browned without to much browning of the cheeses.  Both were done in 8 minutes.
First the same favorite for Mike..the pepperoni pizza.  One large thin crusted from previous frozen pizza dough.  Very tasty with mixed italian cheeses.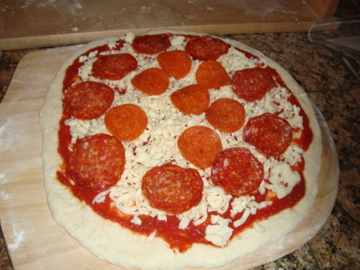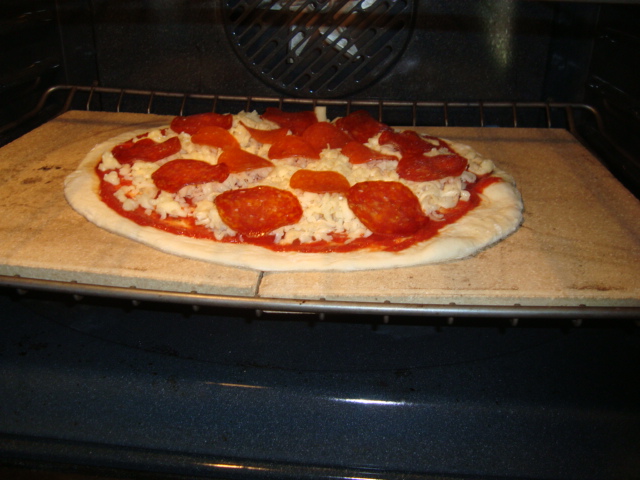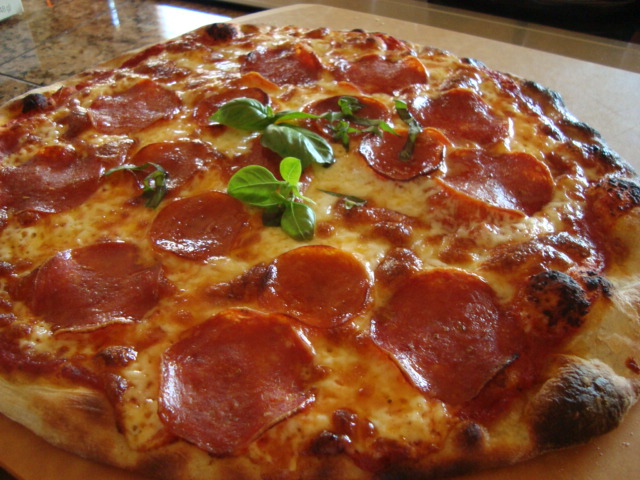 Without the charred crust the pizza would be lacking in flavor.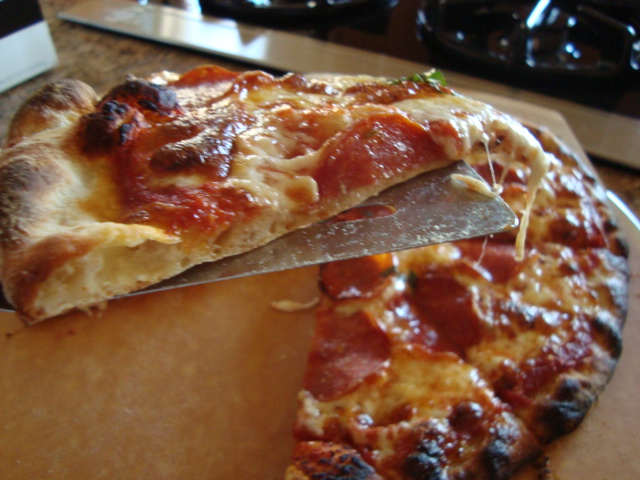 Greek Pide ..... This time with Goat Cheese.  It was tastier last bake with the creamy Feta.  I forgot the Greek Olives, remembering to add them just as I had loaded the pide onto the stone.  I did remember to add some black sesame seeds :) how pretty and tasty.  I brushed the rim with a little egg wash to help them stick.  I had to trasfer this pide to the paddle with my 'Super Peel' as it was to heavy to pull onto the paddle.  Last time I was able to pull the pide onto the peel.  I wasn't fast enough making this one and the dough was slacker after being frozen.  It would have only stretched and not moved if would have tried to pull it or lift it onto the peel.  I love my 'Super Peel'.  I might use it only once or twice a year...but when I do, it's WIW in flour.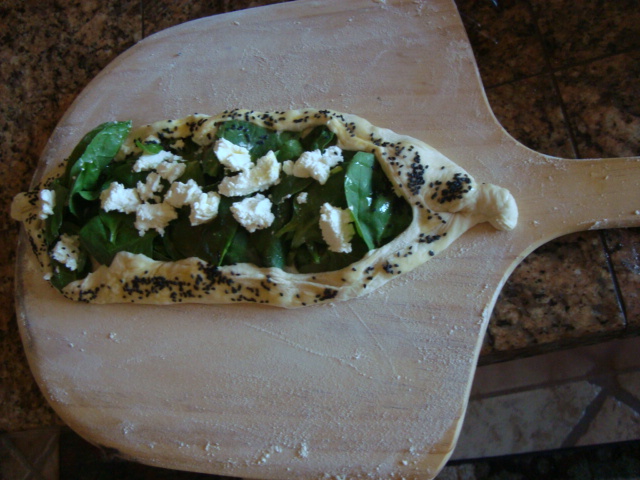 Added the Kalamata Olives I forgot earlier.  Baked at 550F convection for 8 minutes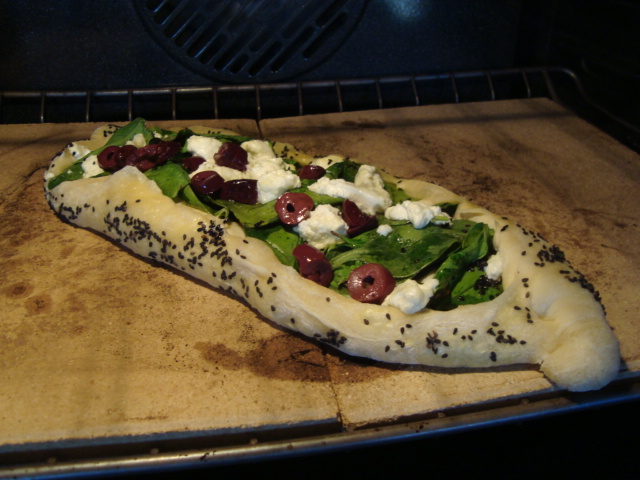 Teeter Tottering Greek Pide  -  Lovely crisp crust - I preheated the oven a few minutes longer after
                                     removing the pizza.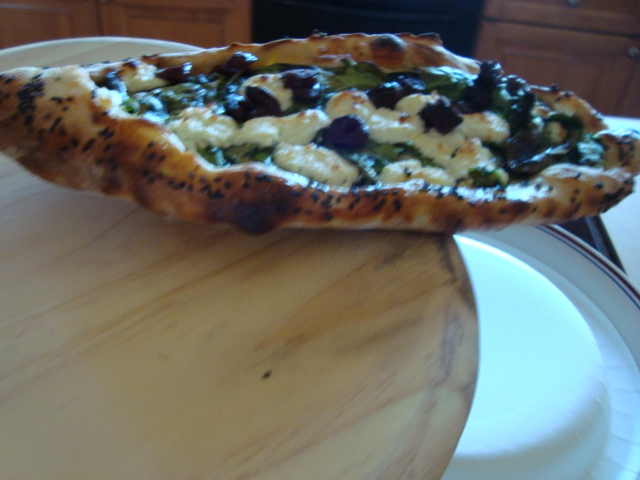 Sliced for crumb shot.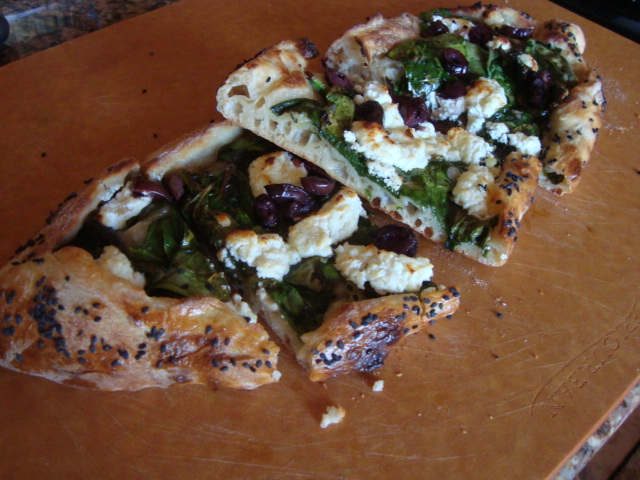 One of the 3          My Bella, relaxing after dinner : )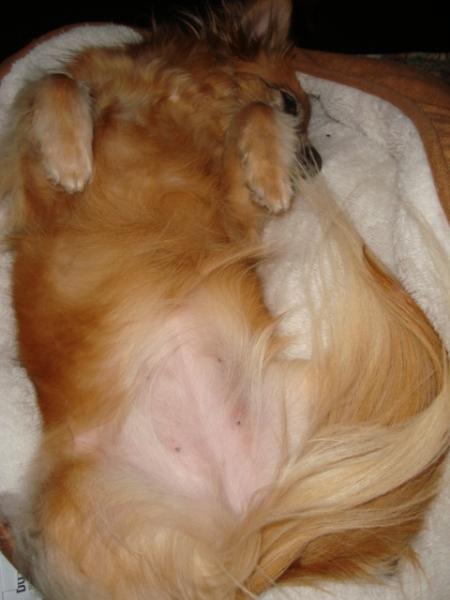 Joey just took her spot!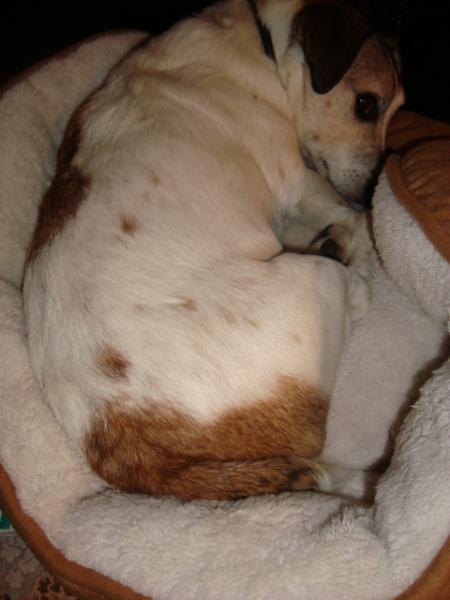 Sylvia