Ciabatta adapted from Hamelman's "Bread"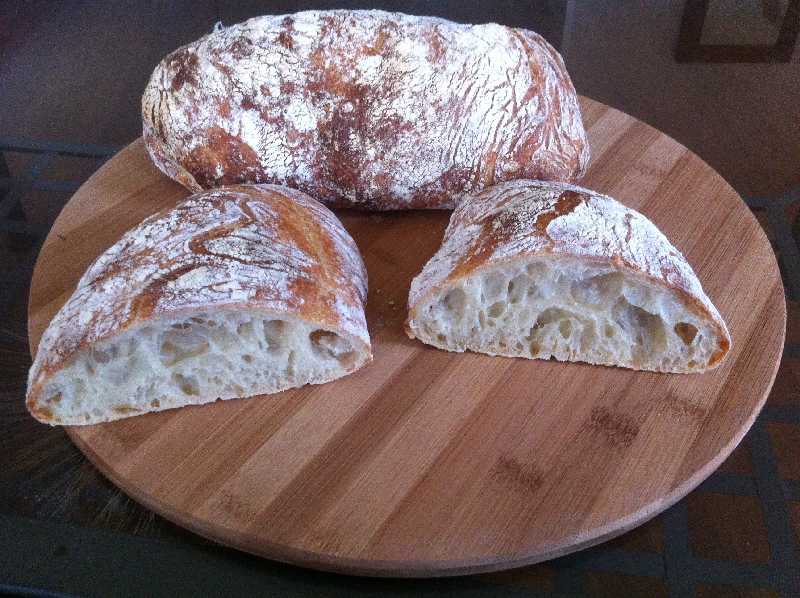 Ciabatta is another one of those breads that falls into the category of ones I seldom make, much like the baguettes I made recently and posted on in the [last entry] to this blog. Having had varying degrees of success and failure over the years, along with the fact Ciabatta isn't a particularly useful bread for my day to day sandwiches, I tend to give it a pass when deciding what to bake next. The baguette making I've been doing over the last few weeks however has given me some insight into working with our higher protein (13.3%) Canadian AP flour to achieve results similar to Ciabatta made with softer US AP or European flours. A very gentle hand in mixing, using a scant amount of yeast and a lengthy (22-24 hour) overnight cold fermentation have produced some good results so far. 
When I say "a very gentle hand in mixing" I mean almost a no knead type of mixing, combining the ingredients just enough to form a loose dough, with a few stretch and folds in the bowl during the doughs initial 1.5 hour 76F fermentation, and finally a light S&F on the bench before going in the fridge for the retarded fermentation. The dough was extremely slack after mixing, gaining some slight but noticeable strength during the S&F sessions. After the dough's 23 hour session in the fridge it was tipped out onto a well floured counter and allowed to warm up for an hour before scaling and shaping. From here on the procedure used for shaping and final proof were much the same as per Hamelman's or Suas directions, the dough placed in floured linen and left to rise for 90 minutes in the B&T proofer at 76F-78F/24.4C-25.5C . In the past I've always used silicone paper to transfer the loaves to before peeling them onto the stone, deciding this time instead to dust the peel with cornmeal in order to have as little as possible come between the sole of the loaf and the 485F stone. After the first 10 minutes of baking the oven was vented and steaming apparatus removed. The loaves had jumped nicely as hoped and looked well on their way to becoming decent Ciabatta. The oven temperature was lowered to 465F and the loaves rotated periodically for even colouring over the next 25 minutes before removing to a rack for cooling. The great thing about these types of breads is they're ready to eat just hours after baking, unlike sourdough/levain style breads or rye breads that often need a minimum of 24-30 hours cooling to properly set the crumb before slicing and allow flavours to develop. The volume of these loaves is deceiving compared to it's weight, which started out at roughly 550 grams and ended up at 348 grams, resulting in what I'd describe as air, contained within a bubble of gelatinized starch and coagulated gluten. This particular mix of ciabatta literally steamed itself from the inside out, creating a shiny open crumb to a degree I've never managed in the past. The flavour of the bread is good, quite good in fact, considering that I normally prefer breads with a more assertive flavour than an all white wheat mix can offer. The biga preferment used in this mix, along with the extended cold ferment contribute a faint sour background note to the overall flavour profile, without which I don't think the bread would be nearly as enjoyable to eat as it is. The texture of the bread I feel is it's strong point. With a crunchy, fly away crust and chewy crumb from the gelatinized starch, it's ideal for layering other flavours on top of. A good olive oil, ripe tomatoes, sharp cheese and salami are some obvious choices that come to mind, but good with so many types of food it's not surprising Ciabatta has become as popular as it is over the last twenty years or more. 
Additional photos and links to formula and procedure below.
Note: We'll be away for a few days visiting the wild West Coast of Vancouver Island and unable to respond to any comments after tomorrow and until we return on Thursday.
Cheers,
Franko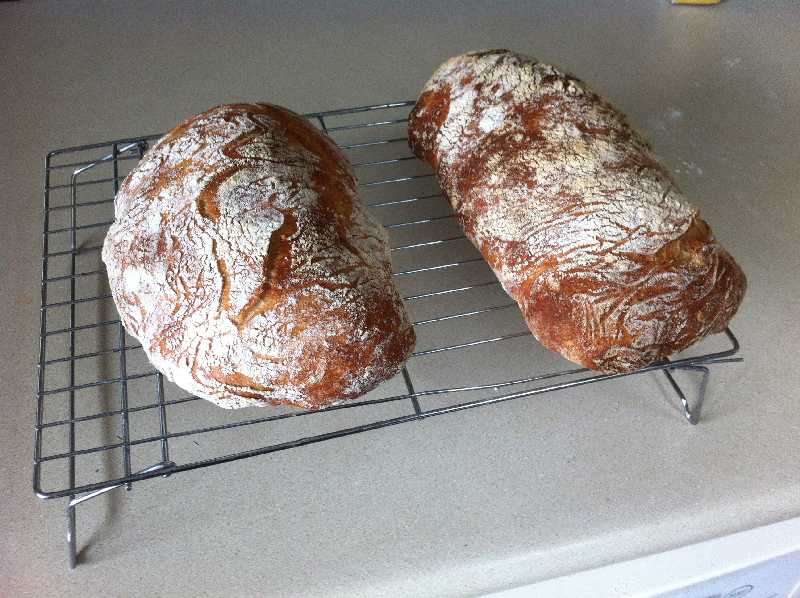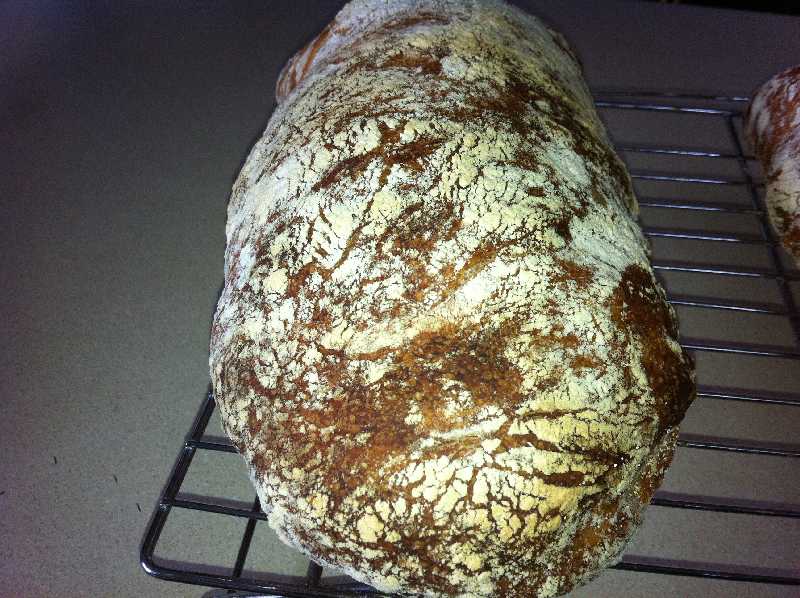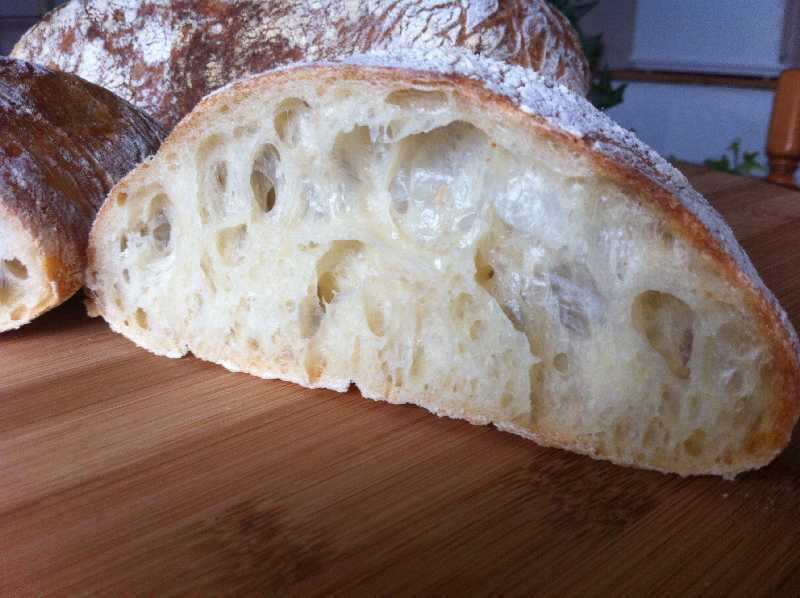 Link to working spreadsheet for Ciabatta with Biga Formula [here]
Link to procedure text for Ciabatta with Biga [here]