Wood Fired Oven - Pizza - Greek Pide
Yesterday, with warmed weather and some time to fire up my oven.  I made several pizza's for us and the neighbors.  
The oven was a little cold.  So a slow buildup from smaller fires to larger hotter ones where done through the day.  I made use of the smaller firing for my favorite roasted peppers and Italian sausages.
I was so inspired to make a version of the Turkish Pide bread after viewing a site called 'The Pizza Goon.com'  and even more inspired to after seeing breadsongs last post on 'Pide'.  'I apologize to breadsong'.  I'm having trouble with my links.
'thepizzagoon.com' what a fun site to visit.  I used his shaping and much inspiration for my Greek Pide.  How fun and easy these are to make.
I choose one of my favorite pizza recipes from P.R. 'American Pie' and also posted on TFL by Floyd with included recipe.  The only changes I made was to add a little more hydration.  I thought the dough was well suited for the Greek Pide and it turned out I was very happy with the results.
Roasted Peppers in the WFO directly on top of the burning coals, makes for a very fast char that ends with a perfectly, not overcooked inside and a char that removes easily and leaves a lovely sweet smokey flavor...this works much better than setting them in a pan to roast in the WFO.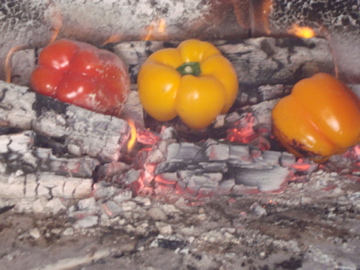 Roasted peppers and sausages in the beginning smaller firing to warm up my cold WFO.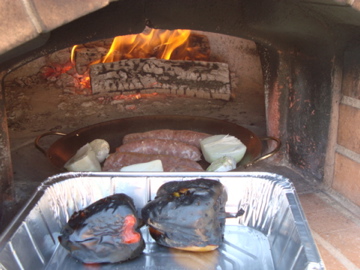 Peppers in EVOO, garlic and sea salt ......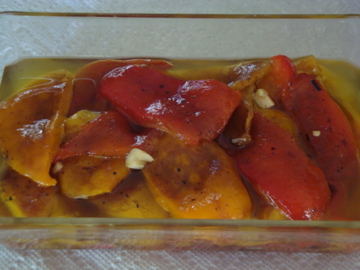 I shaped my pizza's large today.  This one has been pulled onto my lightly flour 14" paddle.  I will top it and into the wfo
                   that's now very hot and ready for pizza's.
                           My photo's are small.  The best I could get to download today.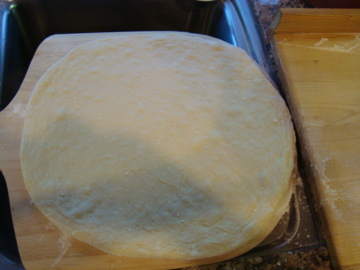 Pepperoni's just out of the oven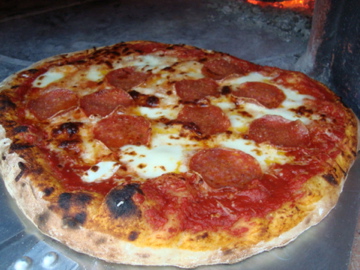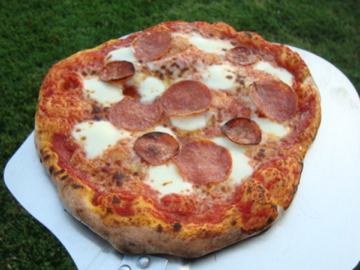 Underside of crust....... best I could get.  Remember this is a one man bake, photo shoot..hubbies watching tv :)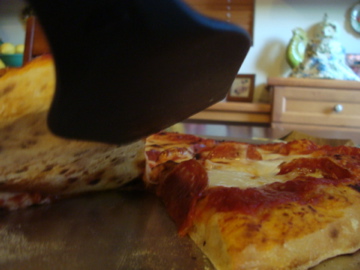 This ones for 'thebrownman'  Love, the Roobios Sangria!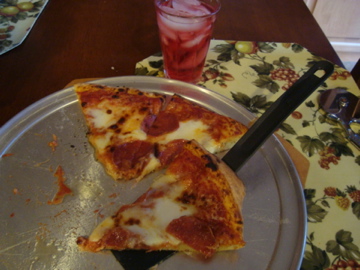 About now the oven had cooled, a little, and I made a Greek style Pide.  Quick and easy to make and oh so delicious..I had put my last two dough balls into the freezer and wish now I would have made some more.  They keep nicely for enjoying later with a little warm up.  These are great!
                                   Piled on some spinach first, topped with feta, sliced kalamata olives and drizzled with EVOO.  Forgot to add some seeds on the crust....next time!  Though these are traditionally done in a WFO.  They should bake up beautifully in a regular oven on a stone.  What a wonderful replacement for a salad or appetizer or anytime.
               Just shape your dough into a long oval, place ingredients, fold up sides, take ends, slice, twist together and roll.  Place onto a lightly floured pizza paddle and into a hot oven.  Also, you can form you Pide on parchment paper and bake for easier handling.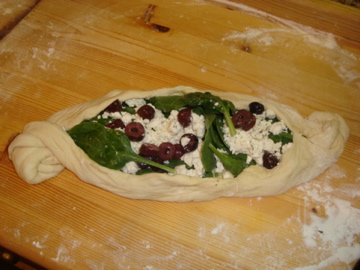 The fire was cooling down and baked the Greek Pide nicely.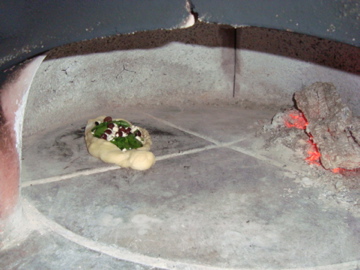 Out of the WFO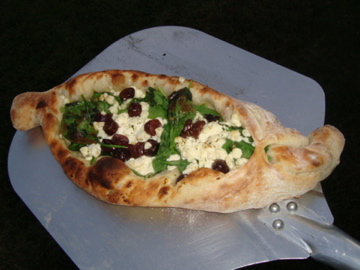 Crumb turned out just as I hoped with a nice crisp crust on the bottom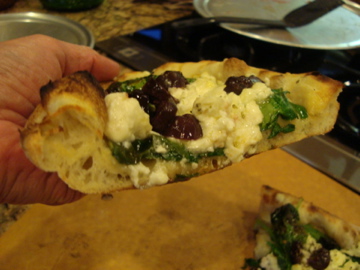 Another thank you to thebrownman.  I had thawed out some lovely frozen pie ready peaches, the last from last summer.  I wanted dessert and by the end of the day was to tired to prepare a pie crust for the cooling oven...  What a great idea, I saw thebrownman's post with his 'Crumble' Perfect and fast.  Into the oven...I didn't make near enough crumble..to tired again..it was made with chopped pecans, cinnamon, brownsugar, rolled oats, canola oil...fast and easy..we enjoyed dessert :)
                 So much better for the waistline, too!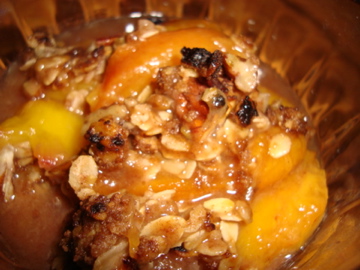 Sylvia