Sourdough bread triology: 1, 2, 3
These are my first few attempts at baking with wild yeast only.
The first was a San Francisco style sourdough, recipe from Weekend Bakery. Not much rise/oven spring. The crust was crunchy but the crumb was way too chewy. The starter was 100% rye at 100% hydration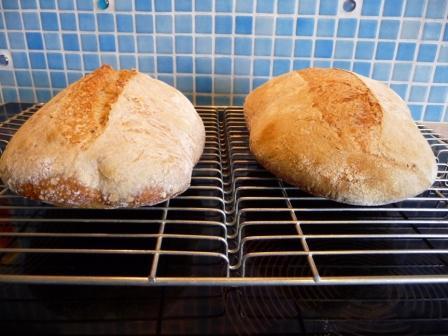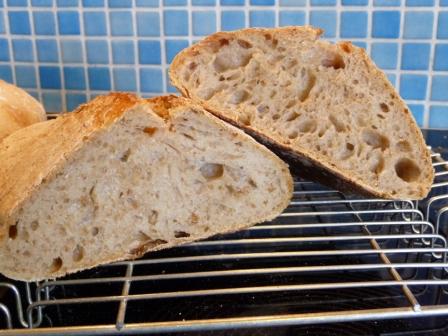 Then I tried Syd's San Francisco Style Sourdough from here. This turned out to be a Mr. Jekyll and Dr. Hyde loaf, one side rather nice looking and the other burst open. The crust was crisp but pale in color. The texture of crumb was somewhat closer to my liking though, not as rubbery as the first time around but with mine tunnels instead of well distributed holes. The starter was 100% rye at 100% hydration. Suggestions from those who have tried Syd's recipe, or from Syd self, would be most welcome.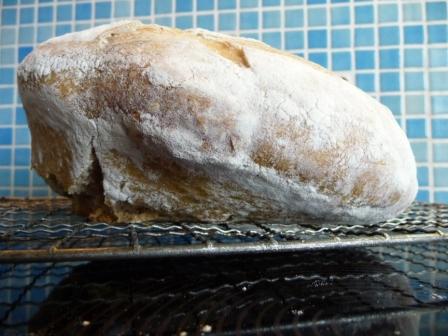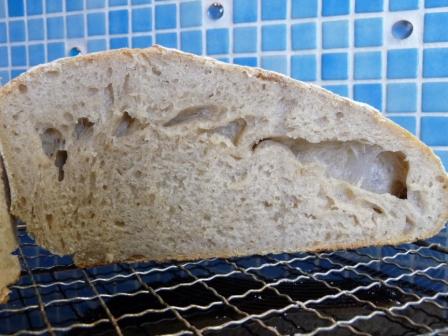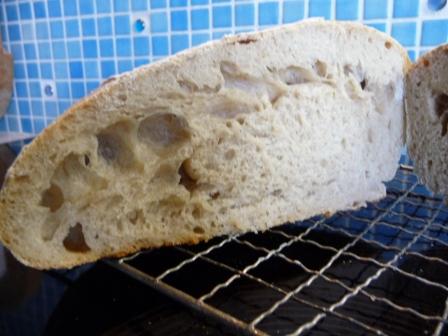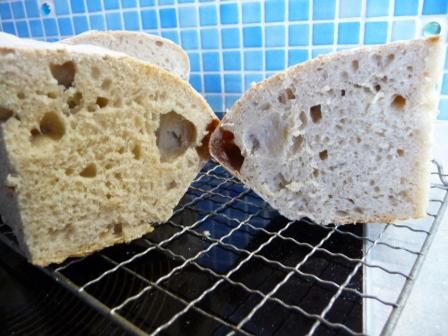 Then there was the third time around, almost a charmer, called Vermont Bread from Home Cooking Adventure. The crust was thin and crisp, the color was more golden then in the previous breads, the texture of the crumb was pleasant yet still slightly chewy and the holes more evenly distributed. I think these bread has a more acceptable oven spring than the previous attempts. The dough after final proof has a much tighter feel. One of the two breads looks pregnant, one side protruding from a burst underneath. This bread turned against me as I was shaping it, I couldn't get the seam straight and it twirled in my hands when I placed it upside down in the proofing basket. Still, I am very happy with this recipe and think this could be the beginning of a long relationship. For this recipe I converted some of my 100% rye starter to 25% rye and 75% white flour over the course of 5 days at 100% hydration. I also changed the overnight starter of the recipe. Since my starter is used rye at mealtimes I used 40gr rye from the final formula for the overnight starter and added 40gr white flour to the final formula instead. Beginner's luck perhaps, but more of a gut feeling that this might agree better with my starter than to be feed white flour alone.