San Francisco-style Sourdough Bread & Flaxseed Rye
This weekend, I baked another version of my San Francisco-style Sourdough and Hamelman's Flaxseed Rye Bread.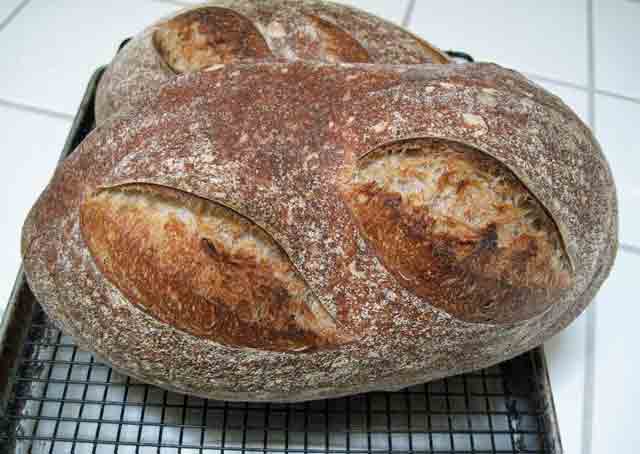 I baked two large bâtards of San Francisco-style sourdough bread. My procedures were modified to accommodate other demands on my time. My starter was fed only once before mixing the levain, and the activated starter was not retarded. The levain was retarded. The levain was then fermented at 76 rather than 85ºF. (I document these details for my own reference, to see if the differences make a difference. Others may find comparison of the procedures I used among my sequential bakes of this bread of some interest. Or not.)
Preliminaries
I started with my stock refrigerated 50% starter that had been fed two weeks ago. This feeding consisted of 50 g active starter, 100 g water and 200 g starter feeding mix. My starter feeding mix is 70% AP, 20% WW and 10% whole rye flour.
I activated the starter with a feeding of 40 g stock starter, 100 g water and 100 g starter feeding mix. This was fermented at room temperature for 16 hours, then refrigerated for about 20 hours. I then mixed the stiff levain.
Stiff levain

Bakers' %

Wt (g)

for 1 kg

Wt (g)

for 2 kg

Bread flour

95

78

157

Medium rye flour

5

4

8

Water (Warm)

50

41

82

Liquid starter

80

66

132

Total

230

189

379
Dissolve the starter in the water. Add the flour and mix thoroughly until the flour has been completely incorporated and moistened.

Ferment at room temperature for 6 hours. Refrigerate for 12 hours.

Remove from refrigerator and ferment further for 3 hours at 76ºF.
Final dough

Bakers' %

Wt (g)

for 1 kg

Wt (g)

for 2 kg

AP flour

90

416

832

WW Flour

10

46

92

Water

73

337

675

Salt

2.4

11

22

Stiff levain

41

189

379

Total

216.4

953

2000
Method
In a stand mixer, mix the flour and water at low speed until it forms a shaggy mass.

Cover and autolyse for 40 minutes

Add the salt and levain and mix at low speed for 1-2 minutes, then increase the speed to medium (Speed 2 in a KitchenAid) and mix for 6-8 minutes. Add flour and water as needed. The dough should be rather slack. It should clean the sides of the bowl but not the bottom. (Note: Today's dough was considerably looser than any of the previous mixes using this formula. It has been raining heavily. I assume my flours had a higher moisture content. I considered adding flour but did not.

Transfer to a lightly floured board and do a stretch and fold and form a ball.

Place the dough in a lightly oiled bowl and cover tightly.

Ferment at 76º F for 31/2 to 4 hours with a stretch and fold at 45 and 95 minutes. (Note: Even after the first of these foldings, the dough was very smooth and had good strength. After the second folding, it was quite elastic.)

Divide the dough into 2 equal pieces. (Note: I had made 2 kg of dough. I had decided to bake two large bâtards today rather than three or four smaller boules.)

Pre-shape as rounds and rest, covered, for 10 minutes.

Shape as boules or bâtards and place in bannetons. Place bannetons in plastic bags.

Proof at room temperature (68-70º F) for 1-2 hours.

Cold retard the loaves overnight.

The next morning, proof the loaves at 85º F for 3 hours. (If you can't create a moist, 85 degree F environment, at least try to create one warmer than "room temperature." For this bake, I took two loaves out of the fridge and started proofing them. I took the third loaf out about an hour later and stacked it balanced on top of the other two. I did one bake with the first two loaves and a second bake with the third loaf.)

45-60 minutes before baking, pre-heat the oven to 480º F with a baking stone and steaming apparatus in place.

Transfer the loaves to a peel. Score the loaves as desired, turn down the oven to 450º F, steam the oven, and transfer the loaves to the baking stone. (Note: These loaves were baked at a lower temperature for a longer time because of their larger mass. A boule of the same weight would require an even longer bake because the center of the loaf is further from the oven heat.)

After 15 minutes, remove the steaming apparatus, and turn down the oven to 425º F/Convection. (If you don't have a convection oven, leave the temperature at 450º F.)

Bake for another 20-25 minutes.

Turn off the oven, and leave the loaves on the stone, with the oven door ajar, for another 15 minutes.

Transfer the loaves to a cooling rack, and cool thoroughly before slicing.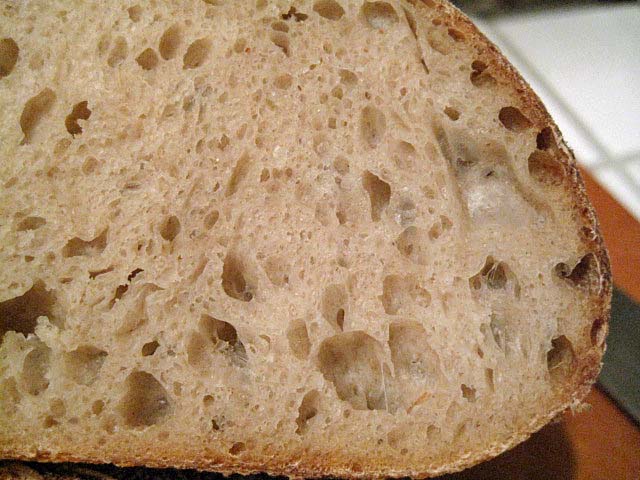 Comparing this bake to previous ones, the crust was thin and crunchy-chewy. The crumb was quite chewy. The flavor was good with a mild sourdough tang and a more prominent flavor from the whole grains. I think the differences are attributable to my having one less feeding of the firm starter and not fermenting it at the higher temperature.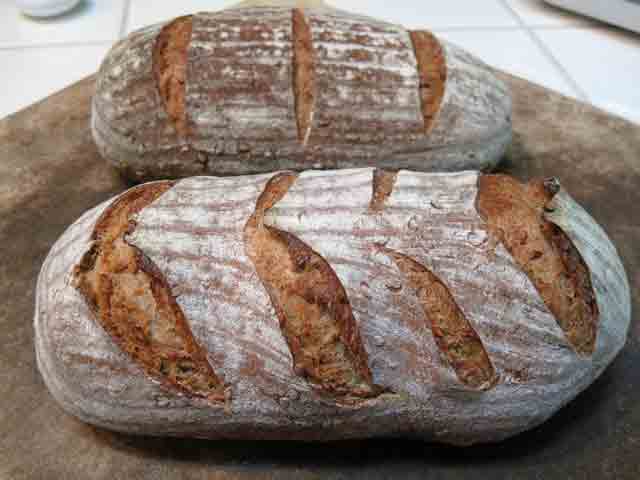 Hamelman's Flaxseed Rye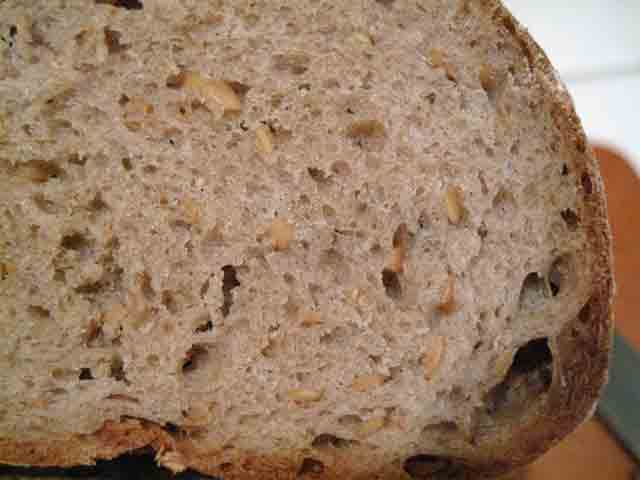 Hamelman's Flaxseed Rye crumb
This bake was inspired by hansjoakim's recent bake of this bread. Looking through my TFL blog, I found I had only baked this bread once before, back in September, 2009. (See Hamelman's Flax seed rye bread - Thanks, hansjoakim!) That time, I made one large boule. I found the dough extremely slack. This time, I substituted first clear flour for the AP, and the dough was tacky but much less goopy. This time, I made two 500 g bâtards. I need to make more rye breads, if only to practice my "chevron cut" scoring until I get it right!
Recalling how delicious this bread was and how much my wife - not a big rye bread fan - enjoyed it, I am amazed that it's been so long since I baked it again. Once more, I must thank hansjoakim for the prompt to bake this delicious bread. 
The flavor of this bake was as good as I remembered. It was delicious just cooled and the next morning, toasted - a nice accompaniment to pickled herring and scrambled eggs. And, again, my wife enjoyed it a lot. It is telling that she chose it over the San Francisco Sourdough for her own breakfast.
David