This week project JR's Poolish Ciabatta - sort of
Well three and a half month's of steady baking have been an interesting journey. My biggest influences have been this website, Jeffrey Hammelman's pro baking videos, thanks to a link on this site and Peter Reinhart's (PR) the Bread Baker's Apprentice (BBA) also found from a link on this site!  Also of influence has been Mr. Lahey's no knead bread, though I note that he does stretch and fold.  Artisan Bread in 5 minutes a Day also provided some food for thought but I like the idea of structured dough development.  The version of this book also advocates using 2 Tbs 2 1/2 yeast for a 6 cup flour recipe where I use 3/4 tsp . . .
I wanted to test the principles of using time and temperature to extract maximum flavour from the flour. PR says dough will keep for 3 days in the fridge, while the 5 minute folks advocate keeping dough for 2 weeks. I have also discovered that lean breads don't keep very well nor have I been happy with the results of freezing. My plan is to do a full recipe batch, but bake daily or so in 1/4 batches, so every day is fresh bread.
My formula is based on PR's Poolish Ciabatta from BBA. After 3 rounds with this, I have consistently added more water than the recipe calls for and still do not have a dough resembling the book photos. I have had however consistently great bread!
I have been using JeffryeyHammelman's stretch and fold technique: s&f rest 30 minutes, rinse and repeat for 2 hours, followed by a 2 hour bulk ferment at room temperature, then into the fridge for the night.  In this batch I added 1/4 cup wheat germ and 1/2 cup semolina for a bit of a flavour kick, all in the poolish.
The next day I divided about 1/4 of the dough and pre-shaped a ball. The rest of the dough was re-shaped into a ball and returned to the fridge.
Here is day 1's bake:
This was good bread.
Day 3's bake: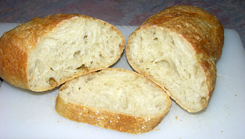 The crumb is getting better and the flavour is better.
Day 4's bake: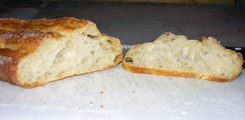 Well we seem to have found the holy grail.  I thought I had ruined this loaf by scoring too deeply and too often, but I loved the result!
Is it normal to be excited about what is coming out of your oven?  I think so.  I guess I have become a baker.
I still have 1/4 of the dough which I will bake on day 6 or 7.  As Jeffrey Hammelman the use of time and temperature will improve your dough, to a point.
So far the results are delicious!
Regards
SS