My take on the classic New Zealand/Australian Pavlova
I love this cake, the crisp meringues, chewy chocolate ganache, fresh vanilla cream and strawberries work so well together.
I used the meringue recipe from the 'Burke Street Bakery" book , I love this book. The cake I made was  28cm so it is quite large.
http://www.bourkestreetbakery.com.au/
Meringue
8 egg whites
500 grams caster sugar
2/3 teaspoon natural vanilla extract
2/3 teaspoon white vinegar
Preheat oven to 140 degC and line 3 baking trays with paper, I used a 28cm cake tin for a template. Place the egg white into a clean bowl( making sure NO yolk is added) and whisk on high speed until firm peaks form. With the motor still running, slowly pour in the sugar and whisk until shiny, firm peaks form. Using a rubber spatula fold through the vanilla extract and vinegar. Spoon the meringue mixture onto the paper and using a palette knife spread the meringue evenly. Bake for 25 minutes (rotating trays) then turn oven down to 100 degC for another 15 minutes. Allow meringues to cool in the oven (this helps to prevent cracking) you can even leave them in the cold oven overnight. Use a palette knife and gently run it under the meringue to release it from the paper.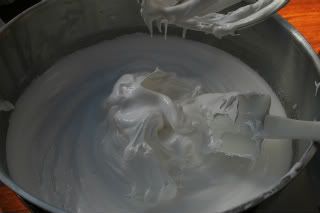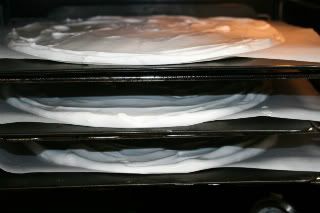 I always flip the bases so I'm working on the flat (bottom) side, it make is easier to spread the ganache and helps to keep the cake nice a level.
For the chocolate ganache I used equal parts of chocolate and cream, 300 grams dark chocolate and 300 grams heavy cream. Pour the cream into a saucepan and bring the cream to a gentle boil. Remove cream from the heat and stir in the chopped chocolate, stir mixture until it starts to come away from the sides of the pan. Allow to cool and spread evenly over all 3 meringue bases
For the Vanilla cream and decorating the cake I used 1.8 litres of heavy cream (shock!!, but it was a really large cake) and added 8 tablespoons of instant vanilla pudding to stabilize the cream. Whisk together until firm peaks form and spread over 2 of the meringue layers and then add the chopped strawberries. Assemble the layers and decorate with the remaining vanilla cream.
I normally add strawberries on the top, but this cake was a birthday cake for my daughter's boyfriend. I had a football theme made with piped chocolate and chocolate plastic.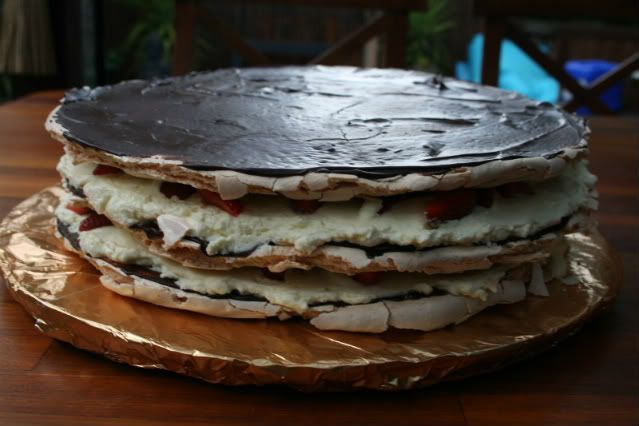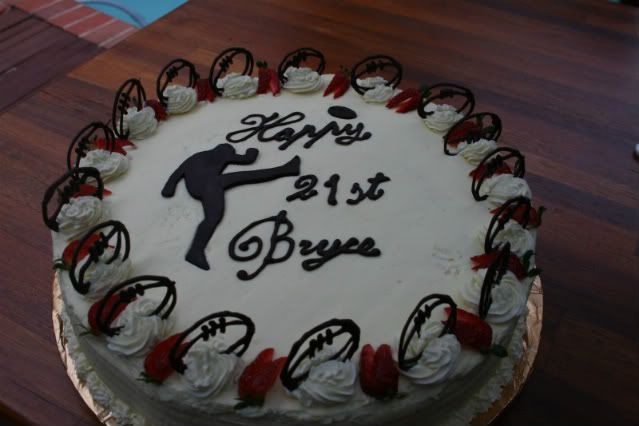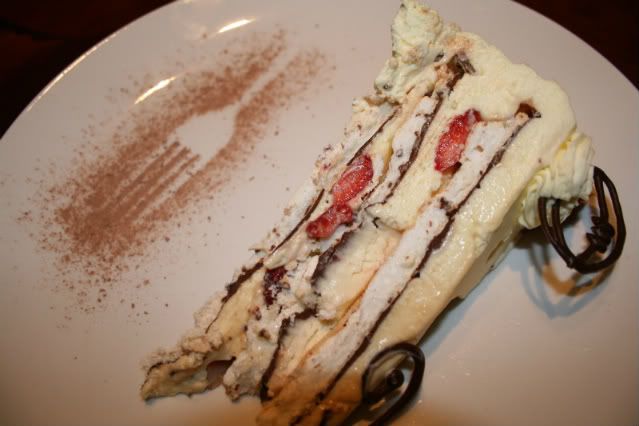 Now that I have my sourdough starter up and running again I can't wait to try some of the sourdough recipe in this book.
Cheers Sonia