Hello,
Browsing through an old baking text (Professional Baking by Mr. Wayne Gisslen), I was so happy to find a gingerbread formula with a pain d'épices variation – which included 50% rye flour (!).
This bake is for MC, who kindly gave me some beautiful Fairhaven whole rye flour, which I used in this bread :^)
I made some slight flavoring adjustments based on recipes by Flo Braker (adding fresh nutmeg and black pepper) and Martha Stewart (adding fresh ginger); grateful too for these posts, showing different ways to make pain d'épices.

(experimenting with photo borders...)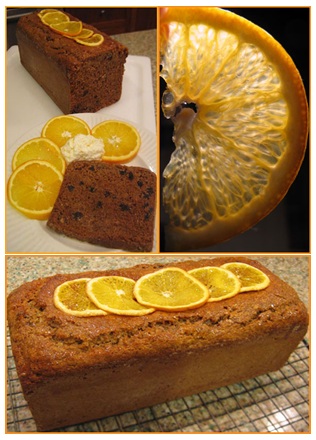 With our cool, wet weather, I thought the sunny orange and warm spice in this bread would be a lovely thing to bake,
and I was happy to have this taste of France here at home.
The bread was really good yesterday, and is better today; can't wait to see how this tastes tomorrow
(the flavors of the spices are developing really nicely).
Honeyed-orange ricotta is a lovely accompaniment (drizzled honey (to taste) over fresh ricotta,
grated some fresh orange rind over, gave it a quick stir – yum!).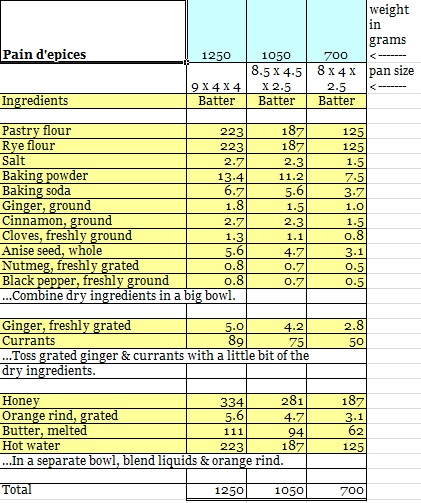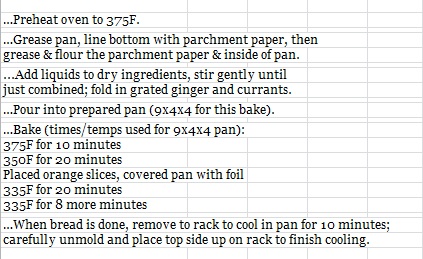 (I wanted to try out my new 9x4x4 pullman pan, and estimated the batter weight for the pan. I used the weight of Rose Levy Beranbaum's pound cake in The Cake Bible (684g) as a guide for the smallest pan, then scaled/rounded up from there. Did a long bake in a reducing oven, hoping to bake the bread through in that large pan, without overbrowning it).
Happy baking everyone,
:^) breadsong