Old Style Sicilian Bread Roll- Nfigghiulata Antica
A book I've owned for many years and still one of my all time favourites for Italian cooking is Carlo Middione's 'The Food of Southern Italy'. Middione's Sicilian Bread Roll in the Old Style or Nfigghiulata Antica he believes may predate calzone, going back to the Saracen occupation of Sicily in the ninth century. The preparation of this dish takes slightly more time than a typical calzone or pizza but it's a nice change from the norm with the variety of meats and vegetables Middione uses in his recipe, and the fact that tomatoes, so typically found in these types of dishes, is not a component. Other than the exclusion of tomatoes, there doesn't appear to be any strict guidelines to what you might use as a filling, but I stuck close to the recipe given, with a few minor additions of my own. The filling in this roll was ground pork and veal lightly sauteed, sauteed onions and fennel, blanched chard and cauliflower flowerettes, black olives, julienne strips of salami and small cubes of provolone cheese.  My own inclusions were the fennel, some ground black pepper, scant amount of salt, some oregano and grated parmagianno . The dough can be whatever your favourite pizza dough happens to be, but recommend keeping the hydration to somewhere in the low 60% area to make the dough strong enough to hold the filling without tearing when it's rolled up. Roll or stretch the dough out to a rectangular shape as for cinnamon buns and brush all but the bottom 2 inches with olive oil. Spread the filling evenly over the dough and roll towards you tightly as you would for cinnamon buns.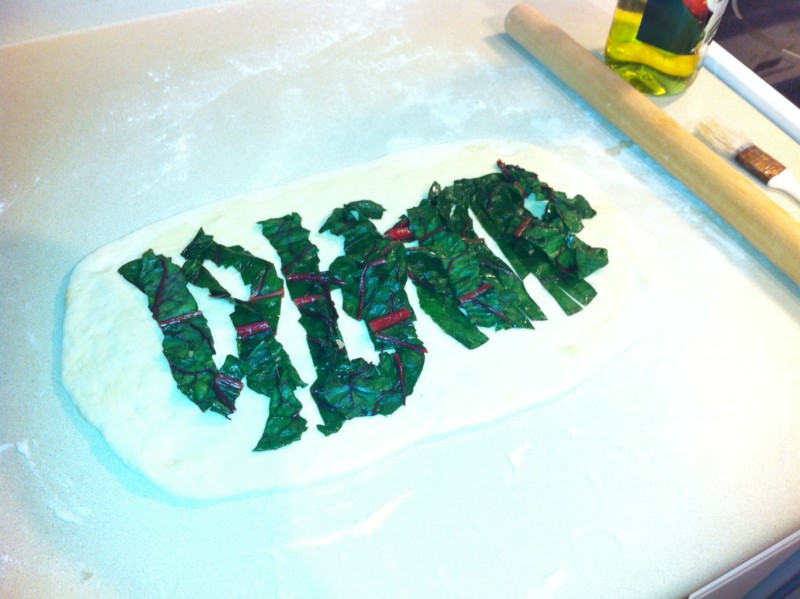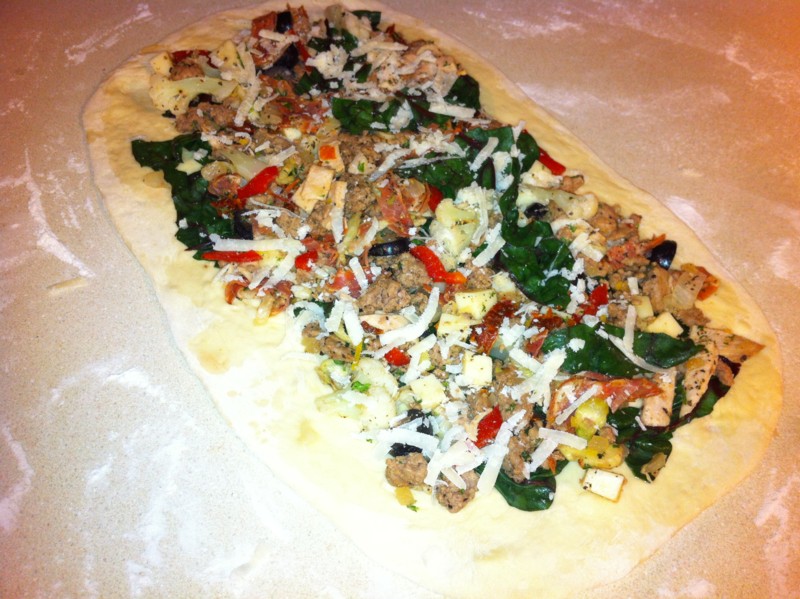 Once rolled, ensure that the seam and ends of the roll are tightly sealed so that the filling wont leak out during baking, transfer to a paper lined cookie sheet, seam side down, and brush with olive oil. Gently bend the roll in a wide curve or crescent, the crescent shape being an important symbol in Saracen culture. While Middione doesn't mention this in his recipe, I took some scissors and snipped small steam vents along the length of the roll to keep the roll from getting soggy during baking.
Proofing time was 30-35 minutes at 75F/23C, and best to have the roll slightly under proofed to keep it intact during baking. Bake in a pre-heated 350F/176C oven for 15 minutes, brush with any oil that may be in the pan or use fresh, and continue baking and brushing with oil periodically until it takes on an appetizing colour and there is some evidence of melted cheese. Baking times are approximate based on the size of the roll made, so your senses and individual preferences are the best guides to use for when it's time to remove the roll from the oven.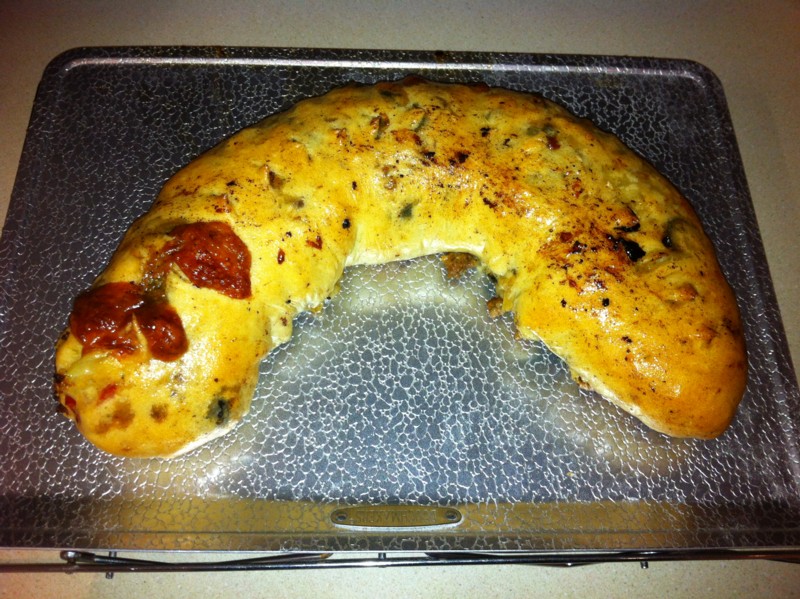 Let the roll cool for 15-20 minutes to firm up before slicing, make a salad in the meantime, pour a glass of wine and enjoy!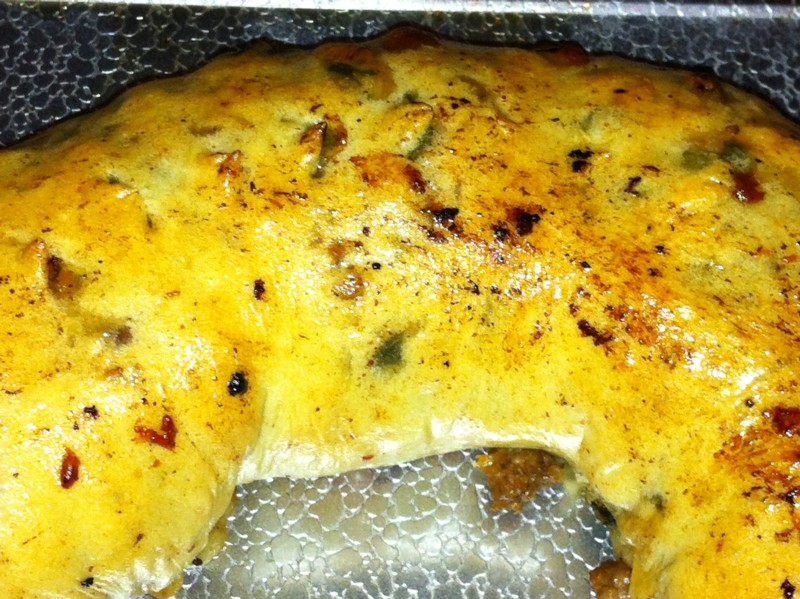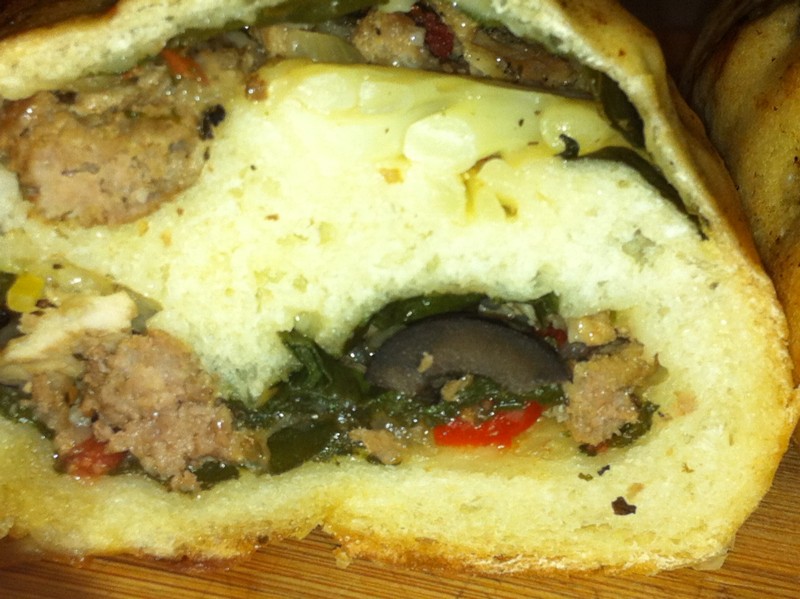 Ciao,
Franko