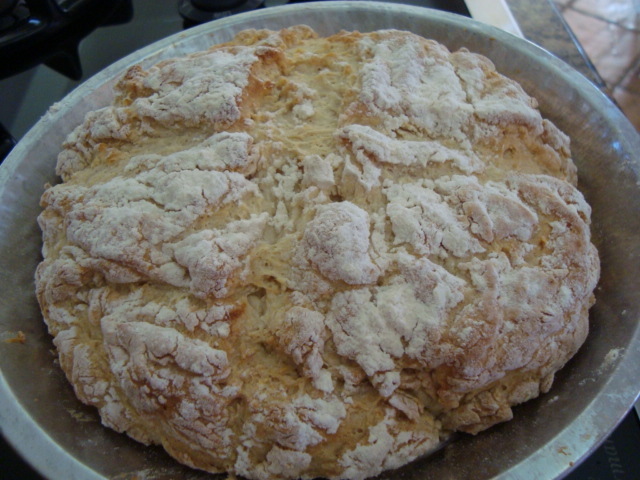 This isn't the prettiest soda bread I've made but then it was very tasty and first of the season.  
I had only about 3/4 of a cup of regular all purpose flour.  I usually use all regular AP.  Today I added my King Arthur AP flour to the regular all purpose to bring the total up to 280 grams measured...not counting the reserved AP that is added to board, hands and light knead of the SB.  Having your soda bread turn out requires that you work the dough quickly and lightly handling it as little as possible.  
I have similar instructions with photos on an older blog post of mine... search box - Sylvia's Irish Soda Bread, there is also instructions to make soda farls.
Today I used:
280 G of KAAP mixed with Regular flour -   Also set aside a small bowl of apx. 3/4 cup of KAAP for mixing, sprinkling heavily the board, hands and any extra you feel you might need to handle this tacky dough.
7 g fine Sea Salt
7 g Baking Soda
289 g Buttermilk  - well shaken
3/4 reserved KAAP flour for  board, mixing, hands
In a deep medium bowl.  Wisk together dry ingredients.  Make a well in the center of the mixture.  Pour in your buttermilk.  
With a fork.  Gently, quickly, mix together to form a mass of just moistened dough together in a shaggy ball.  Use floured hands and gently push to hold together and dump out onto a well floured board.  Shape gently and quickly just to form a ball and gently flatten a little with well floured hands.  Do not over mix.  Sprinkle flour on top and slice a deep cross all the way down, to sides if desired 'traditional cross'.  Place into a pie pan with a little flour on the bottom of the pie pan if desired.  I don't use anything in my pan.
Baked 375F in a pre-heated convection oven  for 30 min.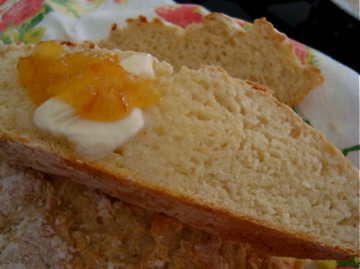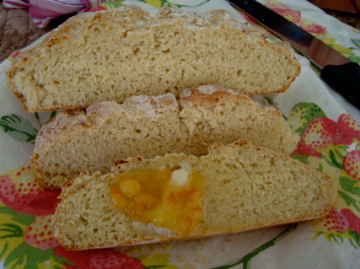 Sylvia