February 29, 2012 - 11:51am
need your opinion on the kitchenaid professional 5 plus mixer
I have an opportunity to acquire a used Kitchenaid professional 5 plus mixer. The mixer is in excellent condition.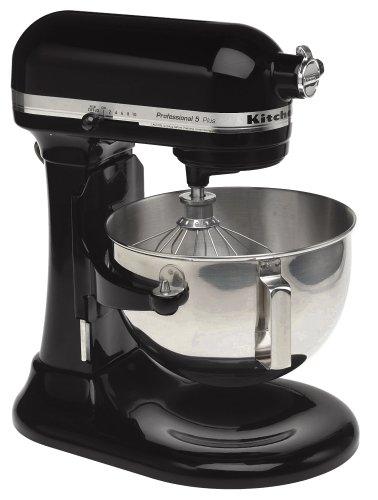 The mixer comes with bowl, paddle, spiral dough hook and whip beater. Bowl capacity is slightly over 5 quarts (measured by pouring in water). The mixer moter is 450 watts (though I recognize that wattage alone is not the best criterion for evaluating the ability of a mixer to knead dough).
I've been able to run the (empty) mixer at all speeds. The motor runs smooth and the transition from one speed to another is precise. Unfortunately, the seller won't allow me to actually make anything in the mixer, so I can't test it further.
Besides general use, I am most interested in it's use for mixing and kneading bread dough. I am a home baker (not professional). I bake several loaves of bread at a time about 2x a week and, besides baking (and cooking) for my family, I also sell my bread to a few neighbors and co-workers on a weekly basis.
I make bread dough for both sandwich loaves and artisan loaves. I normally make 3-5 lbs of bread dough at a time. My breads are typically "lean" doughs (flour, water, salt, yeast) and I use either a sourdough levain (100% hydration) OR a preferment (with IDY yeast - either a biga or a poolish).  My breads always contain some whole grain flour (typically 20% - 50% of total flour weight) and have a hydation of 68% - 72% (baker's percentage). Some of my breads include seeds or soaked whole grain grits in the dough
I've posted some questions below, but if you have other thoughts to share, please do contribute.
QUESTION: How efficiently can this mixer knead bread dough? Will the dough end up climbing up the spiral dough hook? Is the kneading (on speed 1 or 2) reasonably gentle?
QUESTION: Can it handle the quantity and hydration of the doughs I typically make? (I don't think the kind of bread I make to be particularly stressful for a mixer but am open to feedback).
QUESTION: If you own this mixer, how durable have you found it to be?
QUESTION: If you wanted to purchase this mixer, what would you be willing to pay?
I would really like to hear from TFL members who own this model and use it for bread doughs. Any thoughts/experience you are willing to share would be immensely helpful.
Thanks in advance - SF