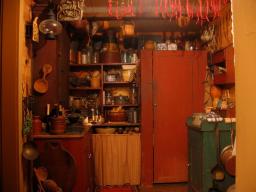 COLUMBIA Submitted by weavershouse on December 31, 1969 - 7:00pm.
Today I made the Columbia loaves again and this time they were huge and the best tasting yet. I think my sourdough starter is getting better with time. I made it in January. I followed mountaindogs adjustments to the original recipe but changed the schedule because of places I had to be at certain times. It worked out well.
I made the lavain at 7:00 a.m., let it sit 8 hrs., 3:00p.m. mixed the dough, let sit 20 min. kneaded 10 min., let ferment 1 hr., stretched and folded, let sit till 8:30p.m. when I turned it out, cut in two, let rest, shaped, covered and put in fridge overnight. At 6:00a.m. I took it out and let it sit till 8:30 a.m. when I baked it. It did rise a lot in the fridge but I let it sit 2 and a half hours and it made much larger and lighter loaves.
I tried to take a picture of the crumb but could not get it, don't know why. It just whites out. Anyway the crumb was nice, no large holes but medium, well distributed holes. And, again, so delicious.