February 19, 2012 - 10:56am
Over the past three or four weeks I've been experimenting with small adjustments, one at a time, to my process. Three of them appear to be adding positive nuances to my loaves. They are:
• longer autolyse, prior to adding yeast (or levain) and salt.
• using  new steam-generating containers.
• warming retarded, pre-shaped dough, and final proofing at elevated temperature: 82°F
With both baguettes and sourdough loaves I've been hydrating the flours for five hours before adding yeast, levain or salt. With the sourdough I've cut the hydrated flour-water ball into cubes, with a bench knife, before adding the liquid levain. With baguettes I simply sprinkle the yeast and salt on the dough ball (on alternate sides) before resting it in the refrigerator for five hours--a trick I adapted from the USA baking team's baguette formula published by the BBGA in Bread Lines.
Recently, a TFLer posted a backyard grill "moisturizer" (?) as a potential steam-generating vessal for bread baking. I tried to find his/her post again using the search function, but couldn't find the magic words, so I can't give credit. Nonetheless, when I read it it seemed like a possible alternative for me. In response to an earlier posting I'd made Mebake commented I should be getting better bloom from my baguette scoring, and attributed the lack thereof to my using a towel-lined sheet pan, on the top shelf, to generate steam; i.e., the pan was seriously preventing radiant heat from reaching the tops of my baggettes.  I took that comment to heart, and have since been searching for long, narrow pans--two of them--to replace the sheet pan to place one on each side. Until I read the aforementioned post I'd had no success. Subsequently, I found the pair pictured on Amazon--they are longer and narrower than ones in the post. I found, loaded with hot water, they sloshed badly so I added the small towel fragment rolls on either end, and I've been using them without their lids. I'm certainly satisfied with the bloom I'm getting on sourdough loaves. Next weekend I'm baking baguettes for the first time since purchasing them. I'll also be revisiting steaming from the bottom of the oven with these new containers in another future bake.
I retard both sourdoughs and baguette dough at 54°F for 15 hours. Heretofore, I've been preshaping the loaves immediately after removing the dough from the chiller, and resting them for an hour at room temperature, which varies between 68°F and 76°F depending on the seasons. Subsequently, I'd final proof in my homemade proofing box at 76°F, or in the kitchen when the air-conditioner was controlling the temperature, also 76°F. For the past three weekly bakes I've pre-warmed the proof-box, and rested the pre-shaped dough in it at 82°F, and final proofed at the same temperature. Doing so has consistently cut 1/2 hour off of the final proof time. More importantly, I'm perceiving I'm also consistently getting a modestly more open crumb.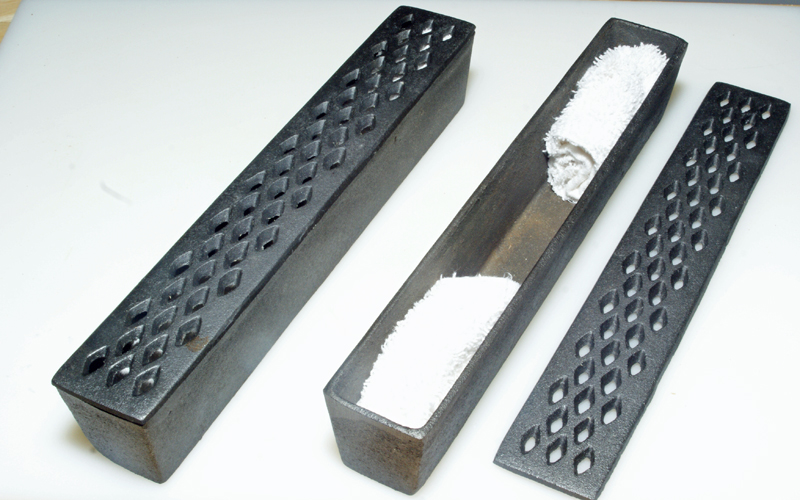 ....and today's results.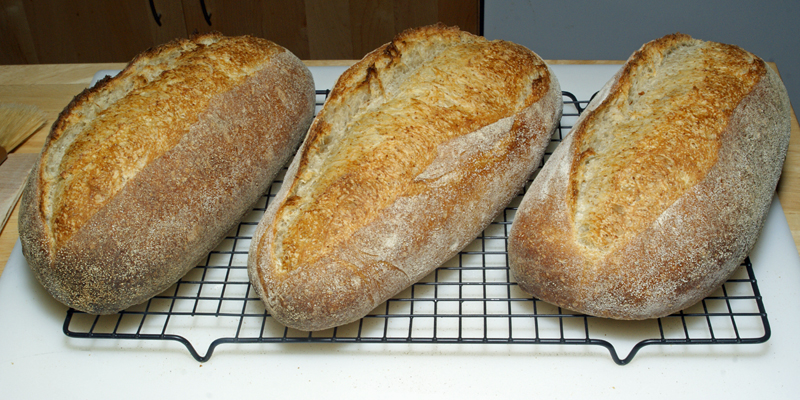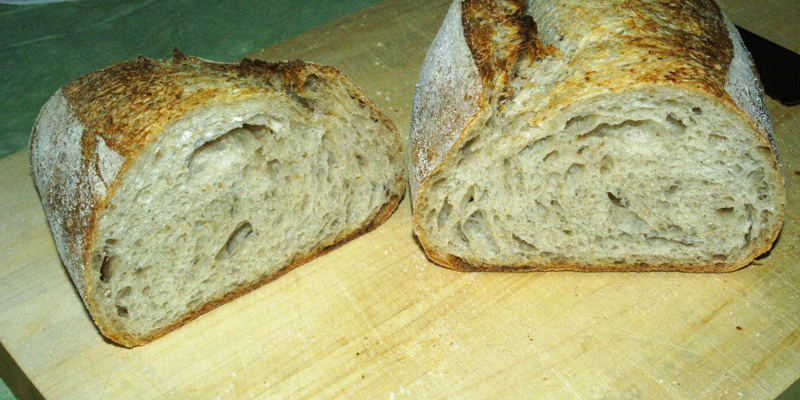 David G