February 16, 2012 - 9:57am
PiPs Walnut and Sage 100% Whole Wheat.
I didn't want to cut into it. Not then. I thought that there might be something purple or green or both inside. It could easily have been a purple people eater or even something much, much worse. I had to wait until the morning light - didn't want to be crippled by darkness if it was something horrible ........and emerged very hungry. I would have needed every advantage to escape if it had attacked. I contained it in a brown paper bag so it stayed nice and comfy, unperturbed...... and had no reason to attack anyone ......until it was too late......and the bread knife struck when it was least expected. Sleep well my friends in bread. We dealt with this purple menace on the morrow.  We lived through the night.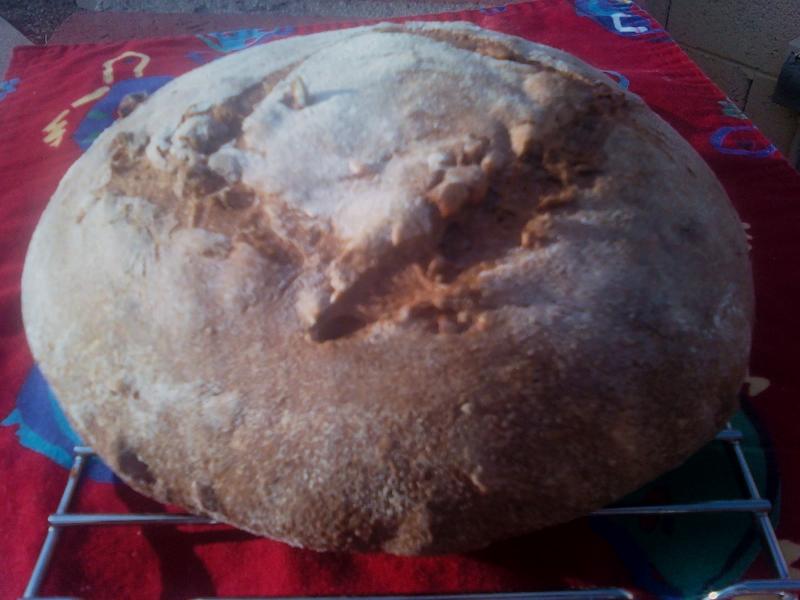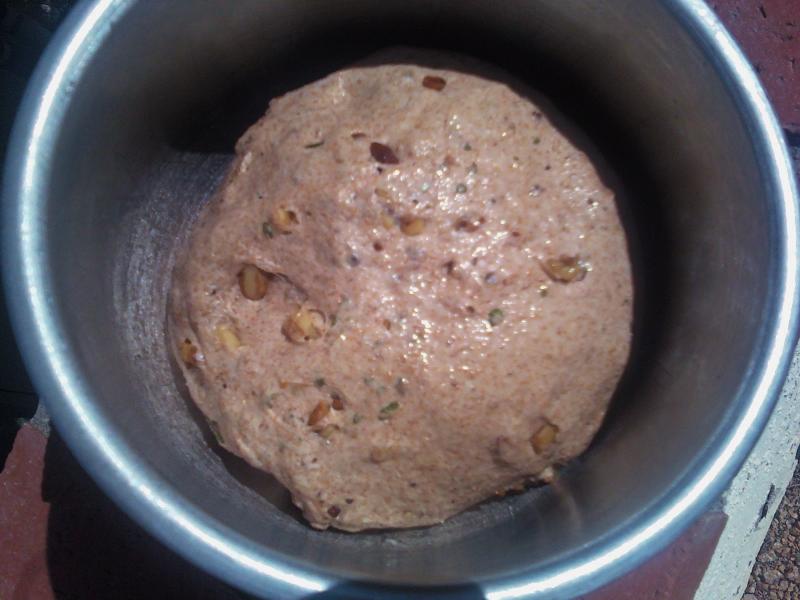 The brown bag containment field worked overnight I am pleased to say and once under the bread knife, it was purple after all!!! The cell phone camera just doesn't do it justice. This is one handsome round of bread and the smell is unique but nice as well. Even when using the home ground whole meal wheat berries, the crumb is not dense, but slightly open, soft and moist too. The home grown sage comes through well and the walnuts, which I thought would be too many and too much, are also very tasty and in balance. What a great concoction Phil has pulled from his Hulking bag of tricks!  Have had it plain, toasted and with goat cheese this morning and it just grows on you subtely. Before you know it - its nearly gone - but I did freeze half of it. I cut your formula in half and got a small round. It didn't spring as much as I thought it would in the cast iron enameled pot I used but I think the pot was too big and I should have used a smaller one. It did rise well in the basket during final proof. I did let it go 1 and 3/4 hours instead of the 1 hour in Phils formula until it passed the poke test. This is a sophisticated, fined and elegant yet rustic kind of bread that is in a new class - the purple one.....a bread that people want to eat. Very nice indeed Phil.