February 12, 2012 - 7:20pm
My San Francisco Sourdough Quest, Take 3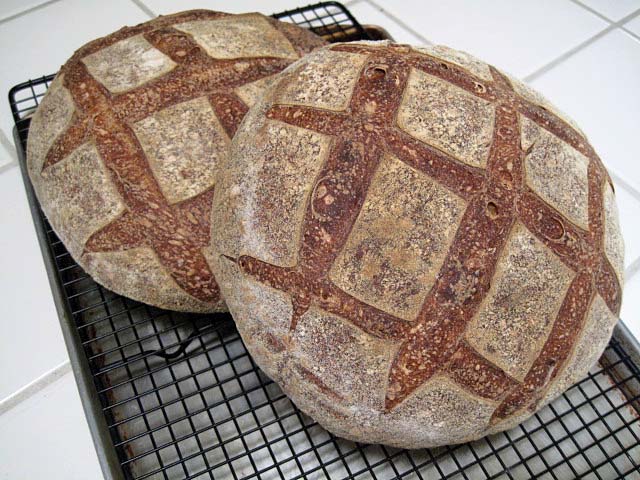 San Francisco-style Sourdough Bread 2/12/2012
Today, I baked two more loaves of my evolving San Francisco-style Sourdough bread. (See: My San Francisco Sourdough Quest and My San Francisco Sourdough Quest, Take 2)
The only change in the formula was to double the amount of dough, so each loaf was twice the weight of those previously baked. As those who have followed this adventure may note, there were also some minor changes in the procedures. The only really important one was to bake the breads at a lower temperature for a longer time, as an accommodation to their larger mass.
Those who have asked for ingredient weights in metric measures will be happy to note that weights are now given in grams.
So, here are the formula and procedures for today's bake. I have adjusted the tables below for 1 kg and for a 2 kg batch of dough.
Stiff levain

Bakers' %

Wt (g)

for 1 kg

Wt (g)

for 2 kg

Bread flour

95

78

157

Medium rye flour

5

4

8

Water

50

41

82

Stiff starter

80

66

132

Total

230

189

379
Dissolve the starter in the water. Add the flour and mix thoroughly until the flour has been completely incorporated and moistened.

Ferment at room temperature for 6 hours.

Cold retard overnight.

The next day, take the levain out of the refrigerator and ferment at 76 degrees F for another 1-2 hours. The levain is ready when it has expanded about 3 times, and the surface is wrinkled (starting to collapse).

Final dough

Bakers' %

Wt (g)

for 1 kg

Wt (g)

for 2 kg

AP flour

90

416

832

WW Flour

10

46

92

Water

73

337

675

Salt

2.4

11

22

Stiff levain

41

189

379

Total

216.4

953

2000

 

Method
In a stand mixer, mix the flour and water at low speed until it forms a shaggy mass.

Cover and autolyse for 20-60 minutes

Add the salt and levain and mix at low speed for 1-2 minutes, then increase the speed to medium (Speed 2 in a KitchenAid) and mix for 5 minutes. Add flour and water as needed. The dough should be rather slack. It should clean the sides of the bowl but not the bottom.

Transfer to a lightly floured board and do a stretch and fold and form a ball.

Place the dough in a lightly oiled bowl and cover tightly.

Ferment at 76º F for 3 hours with a stretch and fold at 1 hour.

Divide the dough into two equal pieces.

Pre-shape as rounds and rest, covered, for 10 minutes.

Shape as boules or bâtards and place in bannetons. Place bannetons in plastic bags.

Proof at room temperature (68-70º F) for 1-2 hours.

Cold retard the loaves overnight.

The next morning, proof the loaves at 85º F for 2-3 hours. (This is ideal, in my opinion. If you can't create a moist, 85 degree F environment, at least try to create one warmer than "room temperature." For this bake, one loaf proofed at about 76 degrees and the other at 85 degrees F.)

45-60 minutes before baking, pre-heat the oven to 480º F with a baking stone and steaming apparatus in place.

Transfer the loaves to a peel. Score the loaves as desired, turn down the oven to 440º F, and transfer them to the baking stone.

Steam the oven.

After 15 minutes, remove the steaming apparatus, and turn down the oven to 415º F/Convection. (If you don't have a convection oven, leave the temperature at 440º F.)

Bake for another 30-35 minutes.

Turn off the oven, and leave the loaves on the stone, with the oven door ajar, for another 15 minutes.

Transfer the loaves to a cooling rack, and cool thoroughly before slicing.
Note: Because I was baking larger loaves, the oven temperature was set lower and the bake time was lengthened. Also note that, if you make two loaves of this size, it may be prudent to bake one at a time, unless your oven stone is larger than my 16 X 14 inch one.
Those who enjoy soft crust and cannot abide a sour-tasting sourdough would be well-advised to skip making this bread. On the other hand, it is as close to my ideal San Francisco-style sourdough as I expect to get.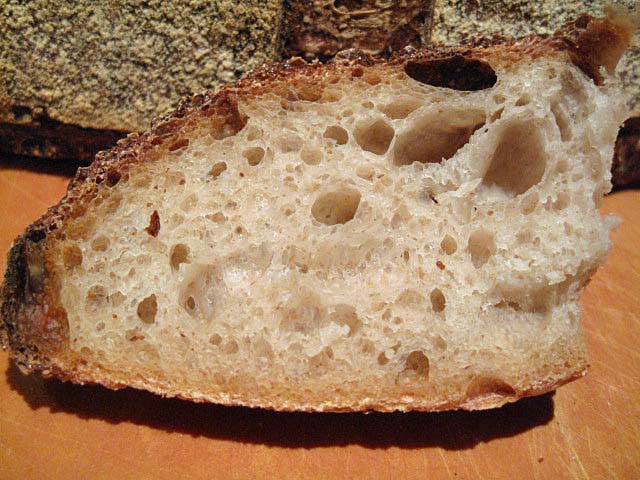 San Francisco-style Sourdough Crumb
The crust was thick and very crunchy but not "hard." The crumb was denser than my first attempt but somewhat open and fully aerated with varying sized alveolae. The crust had a sweet, nutty flavor. The crumb had sweetness but a moderately present acetic acid tang.
I can't promise I won't tweak this further or conduct experiments on, for example, the difference between proofing at room temperature, 76 degrees F and 85 degrees F. However, I expect to be making this bread regularly pretty much as I did this week.
I also baked the Tartine "Basic Country Bread" and Hamelman's "Pain au Levain" this weekend.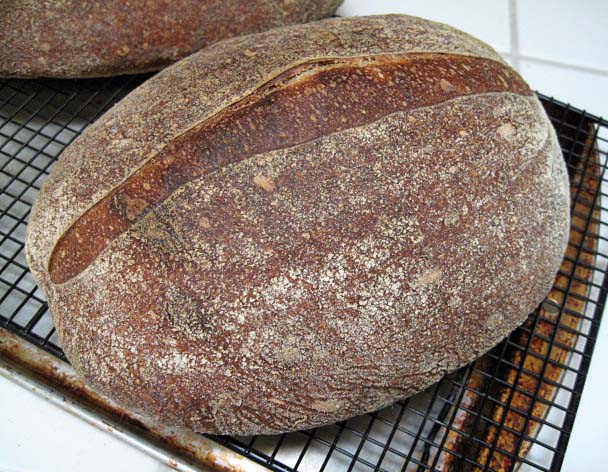 Tartine Basic Country Bread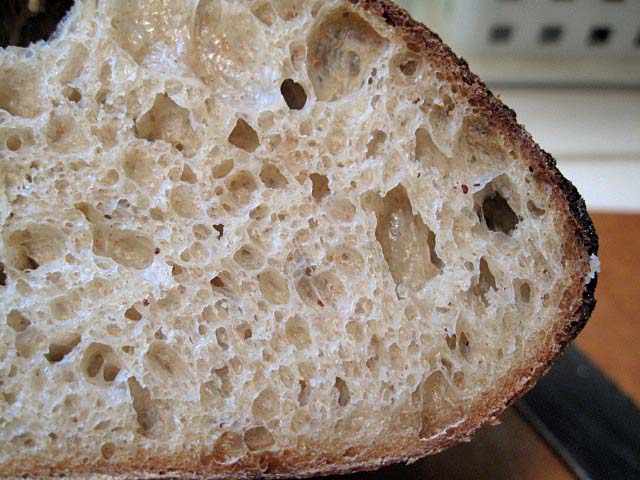 Tartine Basic Country Bread crumb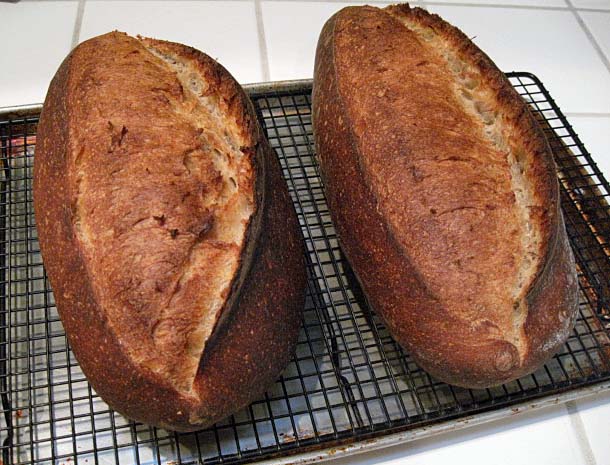 Pain au Levain, from Hamelman's Bread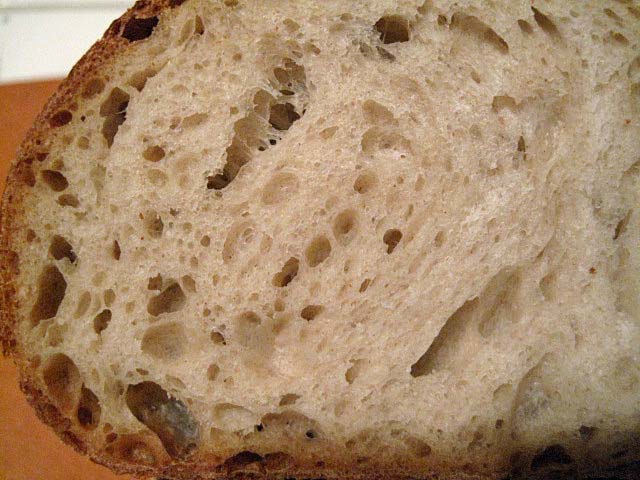 Pain au Levain, from Hamelman's Bread, crumb
David
Submitted to YeastSpotting