February 10, 2012 - 7:21pm
isand66's SD Avocado Bread Meets Its Sunflower Seeded Guacamole Heart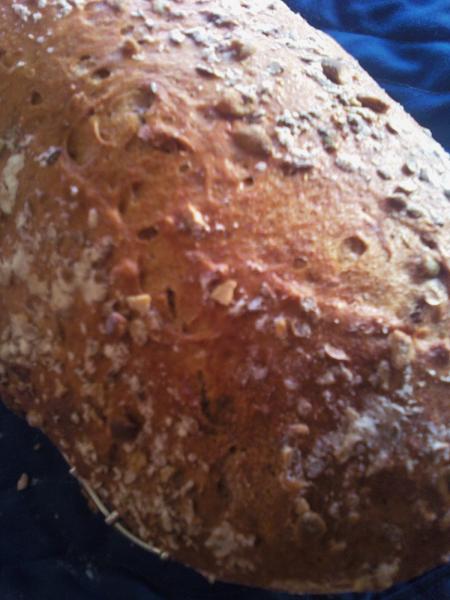 I took isand66's SD Avocado Bread, cut it half for one mishapen and poorly double Y chicken foot slashed loaf and then gussied it up even more than isand66 managed.  I didn't have enough bread flour so I subbed the missing with AP instead.  Since isand66 said the dough was very wet I cut 15 g from the amount in the recipe.  I also added 1 clove of minced garlic, 1/2 of a chopped fine green onion 1 tsp of finely chopped rosemary and 1 T of  finely chopped sun dried tomatoes packed in oil  - just like I do in  Focaccia Romana or Pizza Dough.  Also added about 20 g of sunflower seeds, holding  some back for the crust and also milled all the other grains from whole berries and used Pink Himalayan sea salt because ...eeerrr....pink is this year's cool bread color in case you didn't know and I do try to be cutting edge even if I can't take one and slash a loaf half decent for the life of me.  Since I got started late due to levain near death experience when it reached 1000 F for most of overnight and had to refresh it in the morning hoping for the best, I used PiPs easy half day bread technique for this bake instead of isand66's overnight retard.  No time!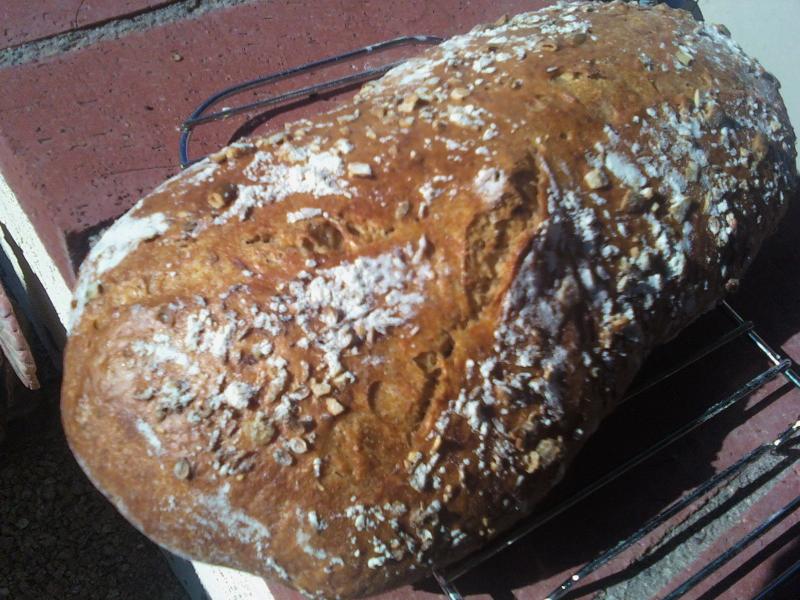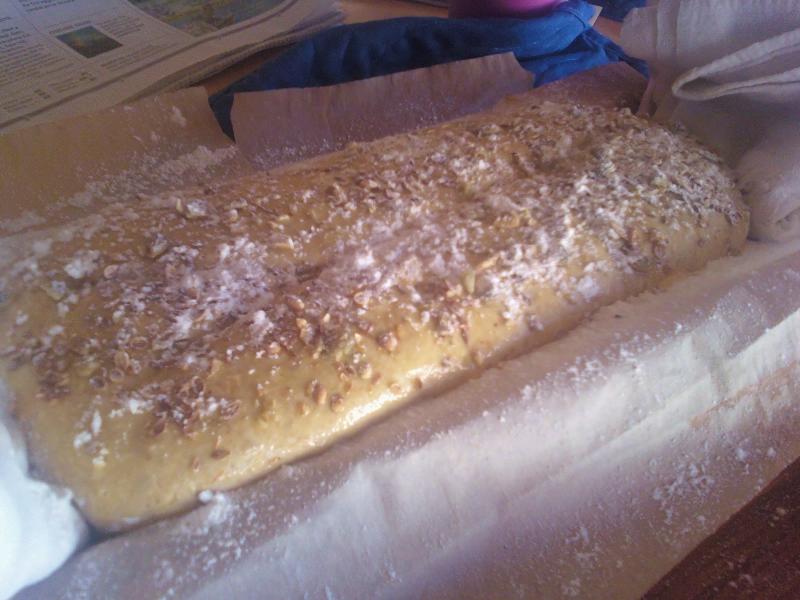 Oddly, you would think that the avocado and yogurt would come through, at least tint the crumb a tiny bit green, but you can't taste or see them at all in the baked bread.  For some unexplained reason the bottom 1/2" of the crumb was closed but the rest was OK,  more open and fluffy.
The crust was crispy and crunchy when it came out of the oven due to leaving it in the oven for 10 minutes after turning the oven off and leaving the door open.  It softened and was chewy later.  The taste was very subtle, nicely savory.  The bread was baked on a stone and steamed the normal way with a Pyrex loaf pan half full of water and a 12" cast iron skillet heating up for 45 minutes at 500 F.  When the bread went in to bake a cup of hot water was tossed into the skillet.  The oven was down to 450 F for steaming 15 minutes.   Then the steaming apparatus was removed, the oven turned down again to 400 F,  the convection was turned on to bake until the center of the loaf was 208 F.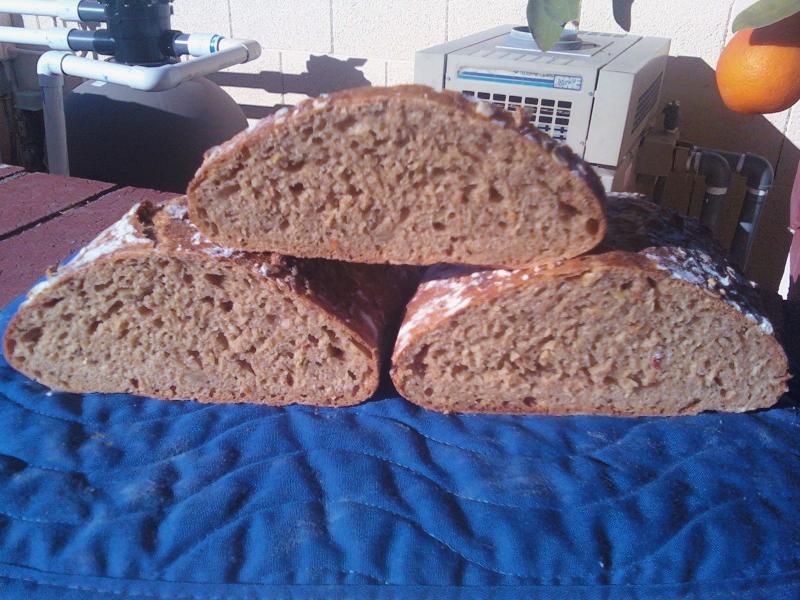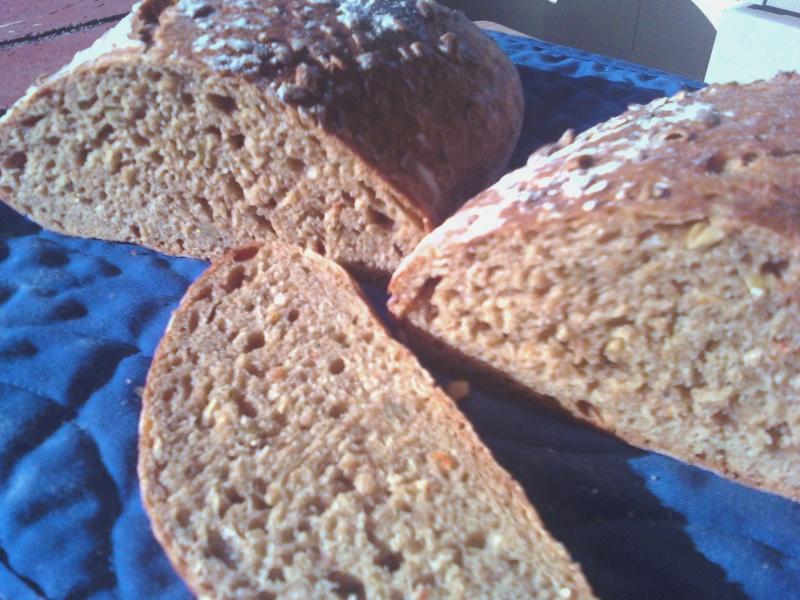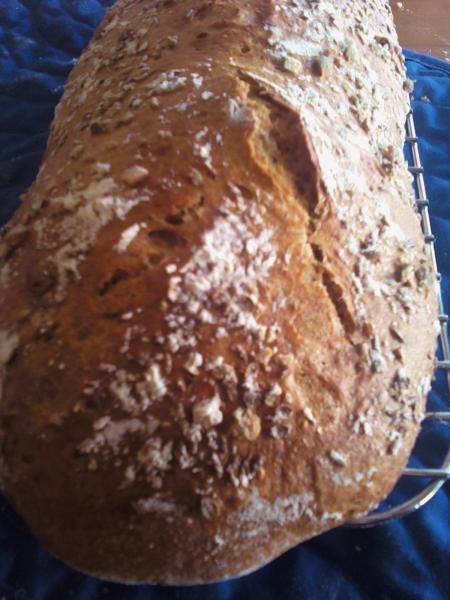 A nice bread that I will make again.  I like breads with barley, WW and spelt taking up some room with the white but, I will skip the avocado next time.  I guess I will keep the yogurt to help wit the sour which was medium for this bread and pleasant.  It toasted nicely and was, of course, even better.  This is a good sandwich bread for sure.
Thanks to isand66 for the recipe and inspiration.   Check his blog for the other recipe details.