February 1, 2012 - 12:46pm
Andy's Whole Meal Pain Au Levain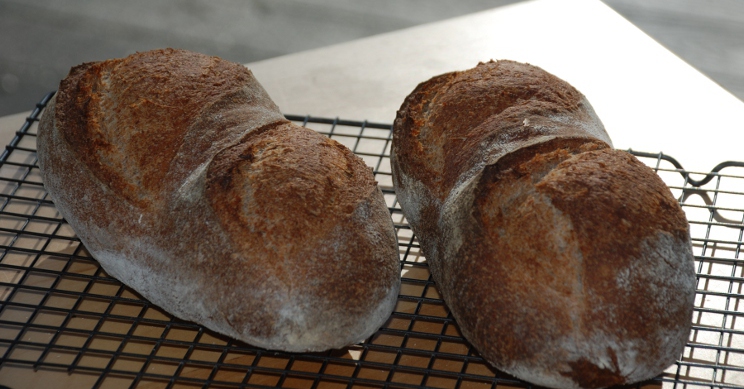 When I was complaining the other day that I couldn't catch up with Andy, I didn't mean that I would never be a professional baker and turn out staggering numbers of authentic, healthy, artisan loaves, because of course I will never do those things.   I meant that I can't even catch up with trying to bake some of his formulas.   And he just keeps making the situation worse.    Back in November he posted wholemeal pain au levain.     I have been meaning to make it, but got distracted with mixed levains and other things and didn't get to it.   After my January croissant waistline debacle I decided that I have got to start baking more lean wholegrain breads, so that brought me back to Andy's formula.   Frankly I never expected such loft and lightness out of a 60% wholegrain bread.   But then I've never made a bread out of starter and soaker before which is what this is.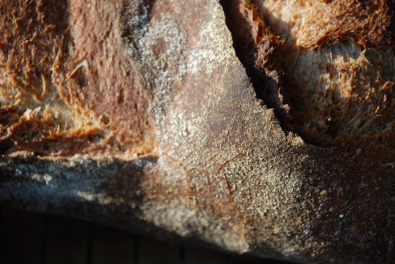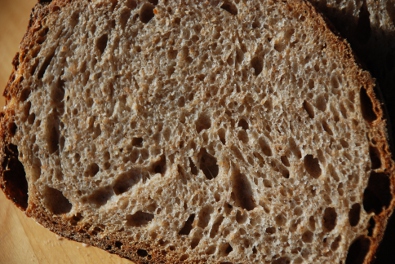 True I was unable to follow the formula 100%.   I was a bit short of whole wheat flour so substituted in some whole rye to the soaker, and I didn't do the overnight retard immediately after the mix because it didn't fit into my schedule.   Short of those (hopefully not critical) deviations, I followed directions, and I'm glad I did.   This has a delicious crunchy, nutty flavor, and the crumb isn't the least bit gummy (ok that's how I tend to think of high percentage whole grain breads - it's my problem.)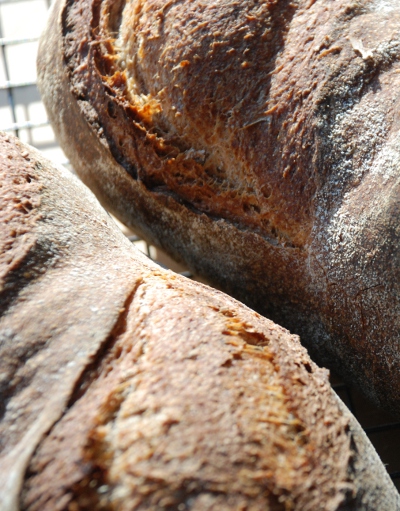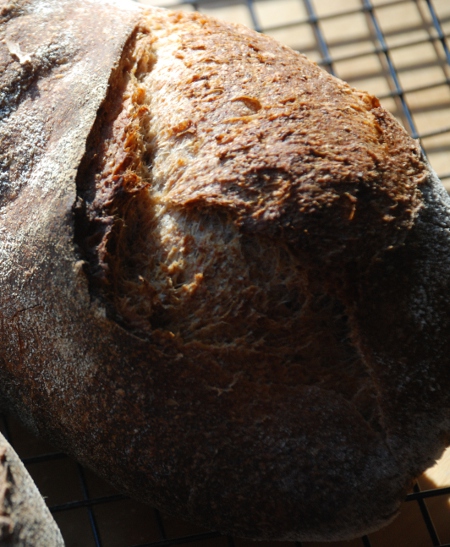 Some baking notes: 
1. Andy's instructions call for mixing the starter, soaker, and additional flour.   Then retarding overnight.   Then Bulk Ferment for 3 hours which of course includes some warm up time.   I did not do the retard and was concerned at 1.5 hours into the bulk ferment that the dough would overferment.   I decided to end  after 2 hours, which seemed to work out.  
2. There was no call for additional water to be added to the final dough.   However, I was unable to mix the raw flour into the soaker, starter combo without a little bit of water.    Thus my hydration is 73% rather than Andy's 70%.    For a 73% hydration dough, it wasn't even slightly wet which I assume is attributable to the high percentage of whole grains.  
3. When I realized that I was short of whole wheat flour, I was scratching my head about what to add to the overnight soaker.   My husband strolled into the kitchen just as I reached this conundrum and suggested whole rye.  Despite my surprise (he's not a baker and doesn't like rye) I had to agree with his suggestion, as I thought the key point was having something that could stand up to an overnight soak without turning into gum.   Should I have done something else like whole spelt?
4.  I used King Arthur All Purpose to substitute for Carr's Special CC Flour and King Arthur Whole Wheat to substitute for Allinson's Strong Wholemeal. 
Formula and Instructions as Modified
Whole Wheat Pain Au Levain

 

 

 

 

following Andy's Wholemeal PAL formula

 

 

 

2/1/2012

 

 

 

 

 

 

 

 

 

 

 

 

 

Prepare Starter day before - 2 feedings

 

 

 

1/31/2012

 

3:20 PM

9:00 PM

Total

Percent

 

Seed

50

 

 

 

 

 

KAAP

28

47

140

215

94%

 

Rye

2

3

8

13

6%

 

Water

20

34

83

137

60%

 

 

 

 

 

365

7.7

 

 

 

 

 

 

 

 

Prepare soaker at 9:30 night before

 

 

 

KAWW

315

 

 

 

 

 

HM Rye

80

 

I added some whole rye to soaker since

Water

355

 

I ran out of whole wheat

 

Salt

12

 

 

 

 

 

 

762

 

 

 

 

 

dissolve salt in water, add ww flour, mix with paddle for 3 minutes

 

 

 

 

 

 

 

 

 

Final

Starter

Soaker

Total

Percent

 

KAAP

80

188

 

268

40%

 

Rye

 

11

80

91

14%

 

KAWW

 

 

315

315

47%

 

Water

17

120

355

492

73%

 

Salt

 

 

12

12

1.8%

 

Starter

320

 

 

 

 

 

Soaker

762

 

 

 

 

 

starter factor

0.88

 

 

 

 

 

prefermented flour

 

 

 

30%

 

Total

 

 

 

1179

 

 

Note: the 17g additional water was needed to incorporate the raw flour

 

 

 

 

 

 

 

 

 

 

 

 

 

 

Mix all ingredients - first incorporate the new flour and water

 

Then mix for 7 minutes in Kitchenaid at low speed

 

 

with a couple pauses to scrape down

 

 

 

Note that dough is very strong at this point

 

 

 

Bulk ferment on counter for 1.5 hours

 

 

 

Stretch and Fold on counter very gently

 

 

 

Bulk ferment for 30 more minutes

 

 

 

Note that dough seems very fermented at this point and

 

starting to slacken

 

 

 

 

 

Cut in two and preshape

 

 

 

 

Rest 20 minutes

 

 

 

 

 

Shape into batards and place in couche seam side up

 

 

Proof for 2 hours until dough starts to soften

 

 

Flip onto peel dusted with coarse rye and slash

 

 

Bake for 20 minutes in 450F oven with steam

 

 

22 minutes without