December 30, 2011 - 10:49am
During the holidays, and for the first time, we baked 1-lb. loaves, one-third smaller than our usual 1.5-lb loaves. We did this because we gifted a number of family and friends that live alone, reasoning that a larger loaf would likely stale before it was consumed. Furthermore, I can bake three 1-lb per load in my household oven, but only two 1.5-lb loaves otherwise. We  baked more than was needed, so we've been consuming the leftovers. We've realized the smaller loaves serve our needs--there is only two of us--as well, or possibly better than the larger loaves. I'll continue to make larger loaves to share at our frequent community pot-luck dinners, or when we entertain.
I also like simply hand-shaping batards, and proofing the loaves on a couche vis-a-vis bannetons.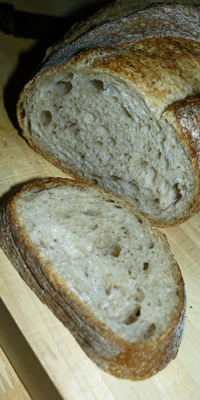 This formula is 10/45/45: Whole Rye Flour/KA Bread Flour/KA AP Flour, with  14% of the flour (all Bread Flour) prefermented in the levain build. Hydration is 68%. I retard the dough for 15 hours at 54°F.
David G
David G