December 23, 2011 - 4:09am
De-gas, or not De-gas? That Is The Question...
Well, first of all, apologies to the Bard and everyone else for that pun. It's actually a serious question I'd like to put to fellow sourdough breadheads.
Sometimes I end up with a tighter crumb than I like with breads I've done many times with identical flours and using the same process, with the same baking times in the same oven.  At their best these breads have nice, open spongy crumbs. I know there are multiple factors at play here (proofing, ambient temp, shaping etc), but I'm so far unable to confidently pin down this tight crumb phenomenon to anything in particular.
If I was still a betting man, my money would be on de-gassing being the main factor. Recently, after turning out one of these high-rise but tight crumb breads, I decided next bake not to de-gas. Hey presto - lovely open, airy crumb! Yet, I usually de-gas, and usually turn out breads with reasonably open crumbs, so the correlation between not de-gassing and open crumbed breads is hardly compelling.
Here's something else to complicate the equation. Recently, I tried PiPs' process of slap-kneading a la Bertinet when making a Gerard Rubaud bread, followed by my usual stretches and folds. I was incredulous at just how light and air-infused the dough was at the completion of the bulk proof. I couldn't de-gas it, even though I tried (gently)! It was just so full of air, and I'm not referring to obvious bubbles on the surface (the surface was not particularly gassy). It resisted de-gassing, exhibiting a sort of resilience I have not encountered before.
I suspected I'd let the BP go too far, but the FP was unremarkable, and the finished loaf was just superb - extremely light, with a richly flavoursome, caramelised, crackly but thinnish crust. I took a picture, which doesn't communicate the quality of the bread, but here it is: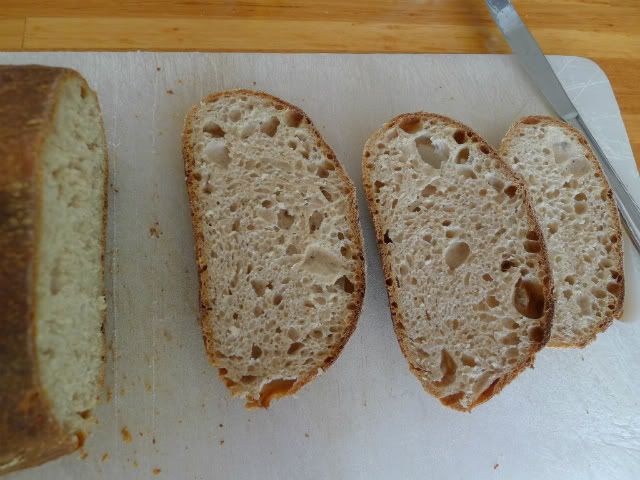 I repeated this bread next bake, with the same Bertinet kneading at the beginning of the BP and the same S&Fs - in fact, I thought everything was more or less replicated from the previous bake, and that the results would be similar. They were not. The incredible lightness of the dough was not evident this time; nothing wrong with it, but it was like any other SD dough I had made. The baked loaf exhibited an amazing rise,  changing its cross-sectional shape to just about a perfect circle - quite a contrast to the photographed loaf.
I was quite excited, anticipating a spectacular crumb. However, when I sliced it open I was greeted with one of the tightest crumbs I have seen in my home-baked SD breads. Was so pouty about that that I didn't take a pic! The flavour was good, but...
Next bake, I went back to one of my own formulae I call, rather unimaginatively, "My Three-grain Levain". The mix is not far away from Gerard Rubaud's.  I returned to my usual process (autolyse, stretch and folds only). This time, I decided not to de-gas. The result was thrilling - one of the best breads I have done. Voila: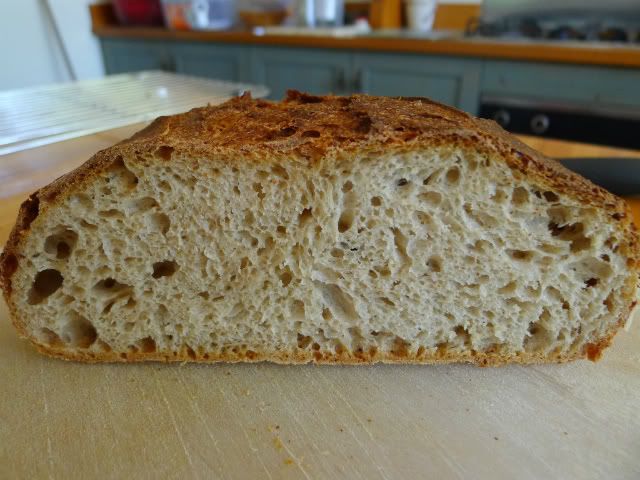 Anyone have any feedback or comments on the tight crumb phenomenon? Would like to iron this out, because hundreds of sourdough breads down the track, while I am often chuffed with my breads, I still lack consistency. I think this is one of the key differences between a good baker and a great one, actually, and probably between amateur and pro bakers. So, in the interests of filling in one more gap in my knowledge, over to you good folk...
Happy and safe Christmas/festive season all.
Ross