December 22, 2011 - 1:10pm
Replicating Tartine Basic Country Bread
I've been cooking Chad Robertson's Basic Country Bread for awhile with great success. Last week I was in San Francisco and decided to get a loaf of the real thing for comparison. This is not an experience for the faint of heart: you have to order 72 hours in advance, and it is literally impossible to find parking in the neighborhood at 5 pm which is the appointed time to pick up your loaf.
But, I persisted. And was surprised to discover the loaf currently offered out of the bakery is quite different than the recipe in the book--with a darker and moister crumb, and distinctively more sour.
I brought the loaf back to New York with me and after a bit of fiddling think I'm pretty close--actually as close as I'm going to get considering the differences in flours between East and West Coast. (I used KAF)
Here are the two loaves with Chad's on the right (what remained of a huge miche):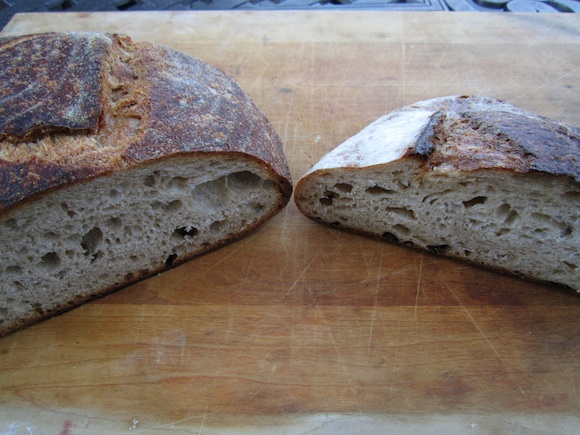 And here's a close up of the crumb (again, mine is on the left, theirs on the right)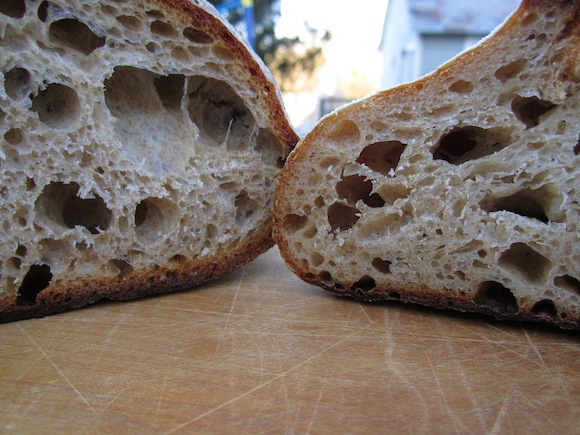 I like the variation better and will be making it from now on. Here are the differences:
800 grams bread flour and 200 grams whole wheat flour (vs 900/100 in the recipe)
80% hydration (vs 75% in the recipe)
retarded 14 hours in refrig at 39 degrees F to increase sourness (and match the sourness of the loaf I purchased at the bakery).