November 6, 2011 - 10:49pm
More Trouble with ITJB Vienna Bread
After last night's poor results on the Vienna Bread recipe from Inside The Jewish Bakery, I received some excellent tips and advice.  I wasted no time putting them to work tonight in a fresh bake.  Unfortunately I am still not getting it right.  I have the same result, albeit less severly, in this next bake. 
The essential change in this bake over my first was to change to a lower protein flour.  This bake was done with 100% unbleached Pendleton Mills Morebread flour, which is right at 12% protein and 0.55 ash content according to the specs in their technical booklet.  The dough took slightly less time to form a window pane, and the house is warmer today so proof times were closer to those prescribed in the book.  I also baked these to a slightly higher internal temperature (208F) than the called for in trying to get them properly colored up on the crust.  When the crust color seemed right, the IT ended up being high. 
Here are the latest results: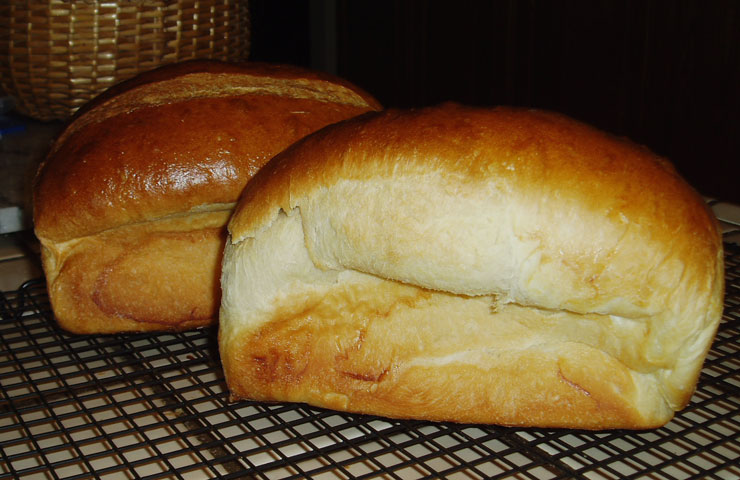 These loaves started to contract almost immediately upon unpanning them.  I rotated them over onto their sides at the first indication of trouble, and the contractions predominated on the "top" sides after that.  Thus the "hourglass" is lopsided in the cross section on these.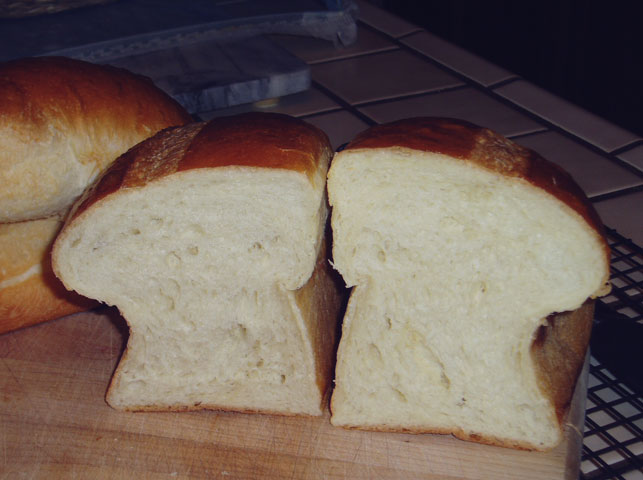 It is interesting that the compressed, doughy patch is on the side of the loaf that is not sunken in.  The sunken in side does not have that doughy, compressed effect.  Also, the crumb seems to be pretty uniform across the cross section, with considerable openness, indicating vigorous activity.  That may be contributing to the problem.
The flavor in this bread is, again, very good.  The crumb is light and tender, but still with a good "bite", even with the reduced strength of the flour.
I will bake this yet again once I find some quality flour that is below 12% protein.  Also, based in part on the information provided in response to my blog post on the previous loaves, I will  consider reducing the yeast in the next batch if further reducing the strength of the flour does not solve this.  I always get explosive response from instant yeast, and I seem to have to reduce it in nearly every formula I bake with it.  This one seems headed in the same direction, but I will stick to varying only one thing at a time.  More baking for me that way!
Thanks for stopping by.
OldWoodenSpoon