November 5, 2011 - 11:52am
Chocolate, Chocolate Chip, Hazelnut, Chipotle Chili Biscotti
A couple of days ago David G. posted this recipe in his blog here.  Being a chocoholic that refuses recovery or treatment, I could/would not resist the temptation to indulge.  First, though, I must point out in my defense that I have never baked a biscotti before.  Ever.  They came out well enough to rapidly become an endangered item in the kitchen though!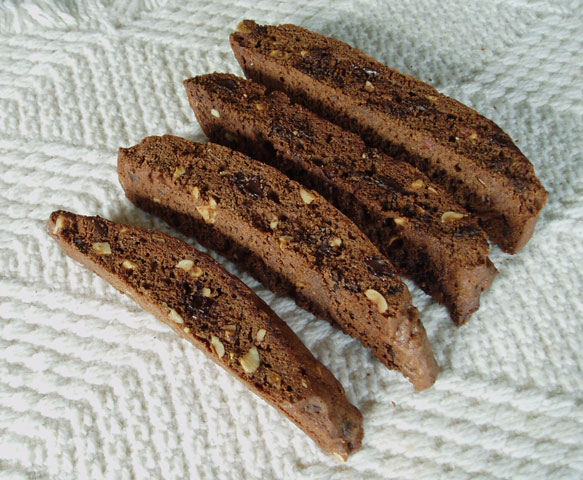 David mused in his original blog post that he thought these would be better with as much as 3/4 teaspoon of chipotle chili.  My wife and I both enjoy the heat, and neither of us has ever had chocolate with chili before, so I used a scant teaspoon.  Well, more like a fat 3/4 teaspoon, of chipotle.  All I can say is, "I gotta do this again!".
The heat of the chili just trails off the back of the bite, and does not persist overly long, but it is there and lends a lingering tangy tail to the chocolate flavor.  I also used the Hershey Special Dark chocolate chips, but had to settle for the plain old Hershey Dark Cocoa I had in the cupboard since the grocer did not have the special dark cocoa powder on the shelf.
Never making a biscotti before, I did not know what to expect.  I certainly did not expect the dough to be so sticky, and I wonder what it really should be like.  It also took twice as long as the recipe prescribes to bake to the first stage where I could cool and cut them, and they took twice as long as well in the second stage to dry them out/crisp them up.  My oven temps are spot on because I test a couple of times a year, and I have no trouble with bread timings.  I just think I made some kind of mistake, or should have added more flour, making these up.
If you like chocolate, you will really love these!  Try them if your waistline will stand it.  Mine won't, but I went for it anyway!
OldWoodenSpoon