October 28, 2011 - 10:45pm
I have been quiet on TFL, mostly, for several months, posting a comment in a thread only rarely, and not taking/making/having time to post any of my baking.  Life has been good, but very busy, and so has work.  Good, and very, very busy.  What time I've had free I've not wanted to spend in this same chair, and at the same computer, where I make my living all day (and night too, sometimes), but I have still found some time to bake.  Not a lot of time, especially last spring and summer, but some.  I can proudly say, however, that no "store bread" has come into this house in two years.  :)  I'm not going to recap  it, or even describe it, but this collage of selections from the last  6 months or so fills in some of the gaps.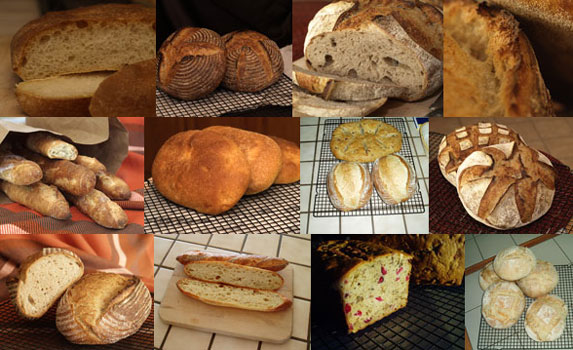 There was more, but the evidence all disappeared.
In addition to some baking, one of the things that has soaked up much of my free time has been the completion of my wood fired oven (Denzer style), which has reached a successful near-end milestone.  I have the oven completed, and everything left to do is for looks.  Well, looks and protection.  After the bad outcome from my 2010 effort, which you can see in my blog posts here I put it under wraps for the winter, and took up the project again this summer after things dried out.  I finally was able to get it successfully completed, except for the final finishing strokes, earlier this October.  Here is another collage that tells an abbreviated version of that saga too.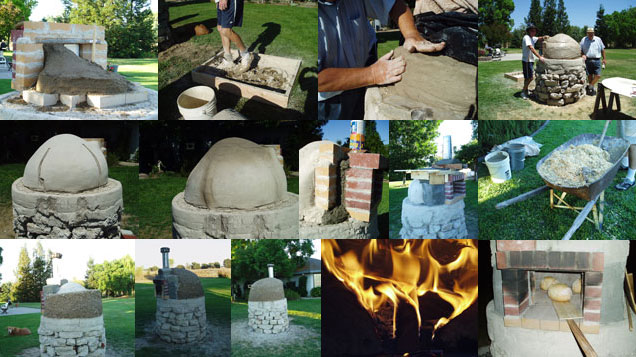 I've been able to bake in it three or four times so far, and the first fire and first bake are both at the bottom right of the collage.  Based on my limited experience at it so far I know it is going to be a challenge to get to where I can reliabely and predictably produce quality bakes from it.  Heat management and timing are everything, as those with much more experience than I will confirm.  I am hoping that it will not get so wet around the oven this winter that I cannot get to it to bake.  I really hate to think of having to leave it wrapped again all winter when it is so nearly completed, and fully capable of sustained baking.  
I am really looking forward to a little more personal time this fall and winter, and hope to be able to post some of the lessons I expect to learn about managing a Denzer-style oven.  There is much more information available on this topic for an Alan Scott oven, but even then there is not an overabundance.  I'll at least be able to share my mistakes in hope of saving others from making them!
It feels good to be coming back, and I look forward to sharing with you all.  Until then, thanks for stopping by.
OldWoodenSpoon