October 21, 2011 - 11:35pm
Andy's Rye sourdough w/sunflower soaker
I've always admired Andy's (ananda)recipes, and earlier printed and baked one of his. The blog can be found HERE. He describes the bread as being one of the tastiest imaginable.
I, however, regretfully, did not remain true to the recipe, and deviated, mostly out of necessity and scheduling. Firstly, i didn't have any pumpkin seeds, so i used only sunflower seeds. Secondly i reserved no seeds for the garnish (blame it on my forgetful mind!). Thirdly, i prepared and used 20% more rye levain than called for in Andy's recipe, as i wanted a faster ferment and consequently baking the same day i mix. Fourthly, and most importantly, i ended up retarding in bulk the dough, as even the additional Levain took a while, and i couldn't afford to stay up late for baking. The last factor, did increase the tanginess/ sourness of this bread, although within tolerable limits ( in a nice way).
Baked in a deep Pullman look alike.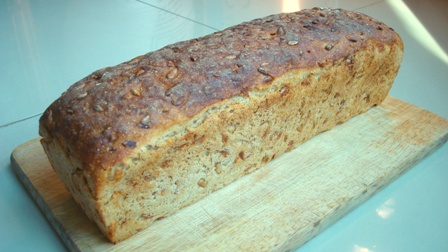 Soft, and Very, Very aromatic!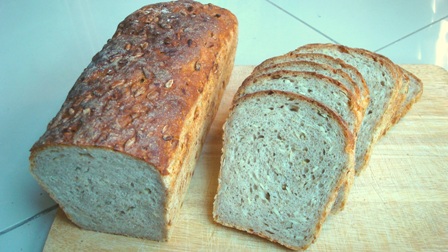 Speckeled with sunflower seeds.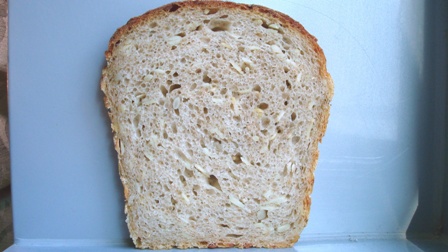 I'am not in a position, therefore, to be able to verify the claim Andy made to the flavor of this bread, but judging from the flavor of my version, Andy's un-retarded version should be more subtle in sourness, and would allow the seeds to show presence better. The sunflower liquor has some solid presence as it permeates throughout the loaf. Pumpkin seeds were all that was missing from the combination.
Thank you andy for the wonderful recipe!