October 20, 2011 - 1:52pm
Is this the diffinitive answer to that age old question, how much does a cup of flour weight?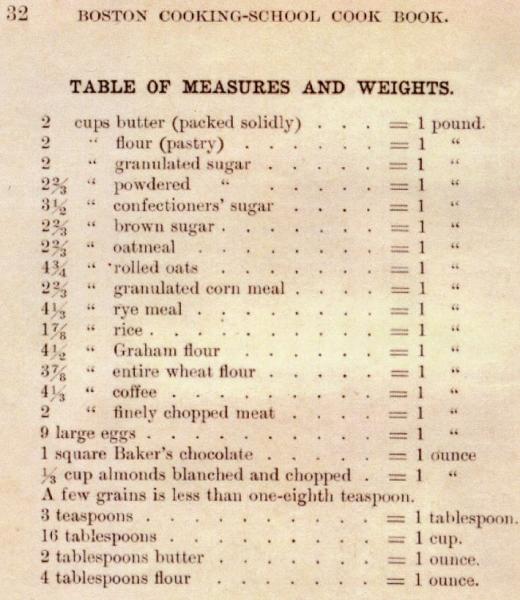 Fereek gave the web address of an online Boston Cooking School Cook book with this table of weights and measures in it. I do remember my mother telling me that a sack of flour could be figured out into how many cups of flour in it, (for baking lots of stuff, you could figure the cups in your recipes and buy enough flour for all of them) by multiplying the pounds of flour in the sack by 2 hence a 10 pound sack of flour would have 20 cups, and make aproximately 5 lots of bread (4 loaves per recipe) and a 20 pound sack would be 40 cups of flour etc. Same for sugar.
This explains why some old recipes don't work when converting them to measuring cups of flour an 8 ounce dry measure is not the same as an 8 ounce weight measure, the dry measuring cups are actually fluid measures used for dry goods.
And I do know for a fact that pound cake is pound cake because you use a pound of flour, a pound of sugar and a pound of butter! Hence a pound cake!
So to sum up a cup of flour weighs half a pound! or 8 ounces weight, not 4.5 or 5 or 3.75 but a half a pound!