October 12, 2011 - 7:55am
San Francisco Sourdough Culture: King Arthur Bread Flour vs Milled Whole Wheat
I got some of the San Francisco sourdough culture from http://www.sourdo.com/. I decided to make two different starters -- one that was fed nothing but King Arthur Bread Flour, the other fed nothing but home-milled hard red and hard white wheat. Both produced extremely active cultures within 4 days of 12-hour feedings. I used the basic sourdough bread recipe from BBA, using KA Bread Flour for one, and an 85% extraction sifting of hard red wheat (13%) for the second. Both were given a light wash of egg yolk whisked with milk before the seasame seeds were sprinkled on. They had a 5 hour bulk fermentation and a 2.5 hour final proof.
The KA rolls were crunchy on the outside, but were very much 'white bread'-like on the inside. My wife likes them, I'm thinking about turning them into french toast. They have almost no sour flavor at all, and not much depth. The whole wheat rolls, on the other hand, have a more assertive sour flavor (but still nowhere near King Arthur's New England sourdough). They also (unsurprisingly) have way, way more flavor overall.
I'm going to keep both alive and separate and try again in a few weeks. I'll also try a much longer bulk fermentation.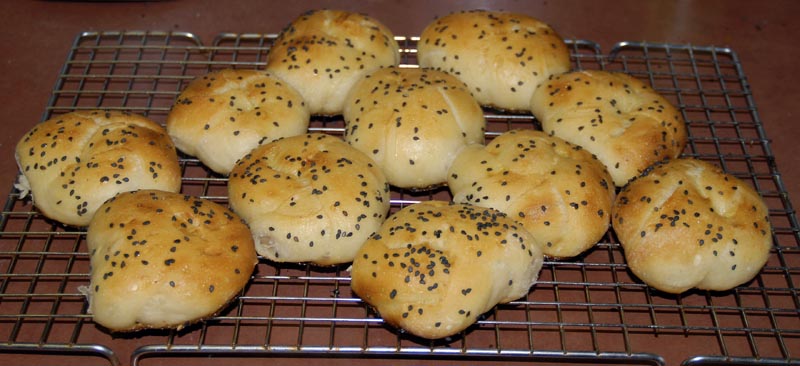 King Arthur Bread Flour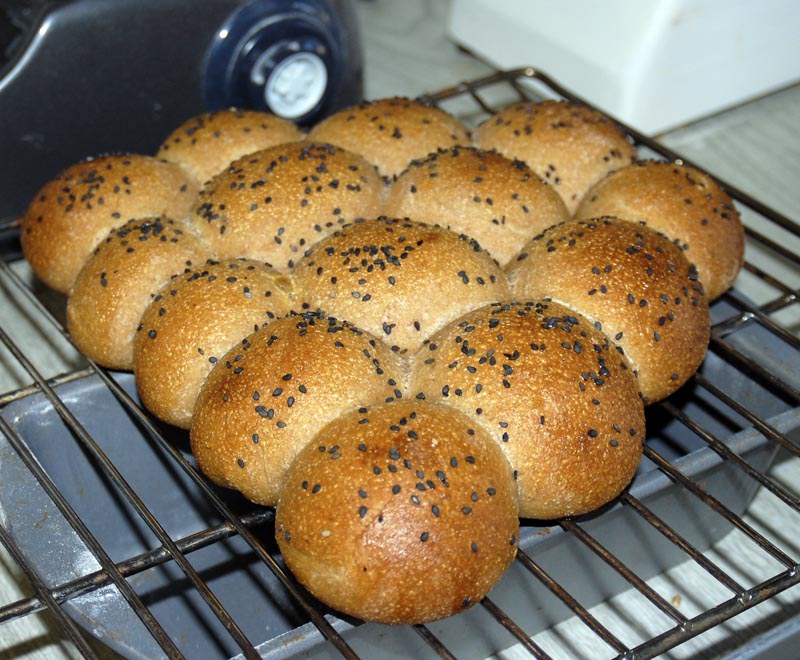 Whole Wheat