Portuguese Pumpkin Fritters
These fritters are a great way of using up butternut squash when you're sick of the usual risotto/roast/soup dance every time you buy one. This recipe asks for basically 2 basic techniques: handling a wet dough and sugar syrup.
Serves 2 people (over the course of a few days :P)
Dough:
292 Flour (I used bread flour)
680gr of Squash (orange fleshed ones preferred
2 Eggs
29 gr Sugar
25 gr 70% hydration starter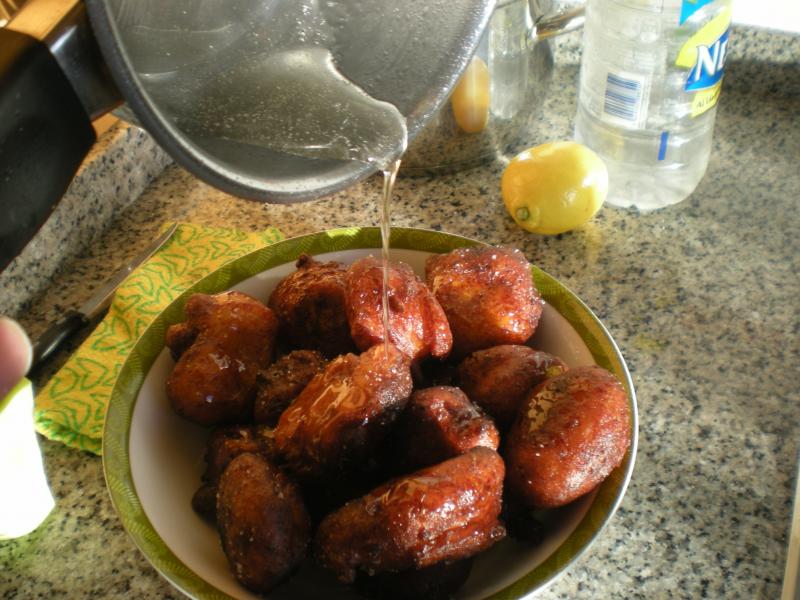 I peeled, cubed an boiled my butternut squash and drained as much water from it as I could before putting it all in a container and storing it in the fridge overnight.

In the morning, I drained the squash pieces again, took the starter out (which I had measured the night before) and began measuring the flour.

Starting with the flour, I dumped it in a big bowl and added the starter. Added the squash and, with a fork, mashed everything together. I suppose if you're feeling particularly violent that day you could use your hands. The mixture seemed dry at first, but there was definitely enough water to carry the flour.

I left this mixture alone for about half an hour, I wanted to give the yeast a head start before adding the eggs since this was the first time I was working with an enriched dough.

I added the 2 eggs, whole, and started whisking everything with my hand. I added the sugar last, all in one go and continued mixing it by hand until it felt like thick batter.

I put a towel over the bowl and left it to rise for about 6 hours. I checked it periodically to see that there were signs of yeast activity. This dough will never be firm. It's closer to a poole in appearance than anything else. 

After 6 hours, I started heating up about 800 ml of sunflower oil (if you can afford it, olive oil is what is traditionally used) - I used a very deep frying pan and so had to use all of that oil, you're welcome to frying them in smaller batches.
_______________________ 

As usual, get the oil very very hot. (oil becomes more fluid as it gets hotter, and mine was approaching the consistency of water)
Using 2 tablespoons, roughly form balls to drop into the hot oil. Don't worry about getting the shape perfect, they're supposed to look like blobs anyway. Fry them until they start to brown, but do not let any actually burn as that will ruin their taste.

After draining the fritters on some kitchen towel, make a start on your syrup. I made lemon syrup, but I suspect any type of sugary syrup that goes well with pumpkin would be good. 


water (I used about 120 ml)
sugar
3 or 4 fingers of lemon rind (avoid the white part) 
 I'm afraid I can't give you more detailed instructions, but I blagged this part quite successfully. I'm sure there will be some syrup recipes online either way. You want to get the syrup between the thread and soft ball stages so as to candy the lemon rind. 

Other syrups that would go well would be cinnamon or orange, or, you could add sugar to wine and serve them together.
-----------------------------------

To serve these fritters, place them in a deep dish or bowl and pour the syrup over them. You can serve it there and then or the day after (they are usually softer the day after). No need to refrigerate.